feature
Inspiring Presentations at Oberlander Prize Forum II: Landscape Activism
BLACK - What are the meanings and implications of that one word? That lone word projected on a large screen marked the beginning of Jane Edmonds' provocative keynote at the October 28, 2022, Oberlander Prize II: Landscape Activism symposium held at the Nasher Sculpture Center in Dallas, TX. The symposium featured a diversity of voices and a unanimity of purpose: demonstrating that landscape architecture and design are a foundation for activism addressing race, gender, sexuality, the environment, and other pressing issues. The symposium proceedings were recorded and will be posted soon on The Cultural Landscape Foundation's YouTube page. Edmonds' presentation probed the political, social, cultural, and economic meanings of "BLACK" and "WHITE," and drew on the inspiration of Mel King,  the Boston educator, community organizer, and activist, and her own extensive experience in civil rights work and time as a cabinet-level member in the administrations of Massachusetts governors Michael Dukakis and Mitt Romney. She described the evolution in landscape activism from early, targeted justice campaigns to the current, broader mandate to utilize landscape design as a means of realizing equity and belonging, connected to place and place-making, for all people.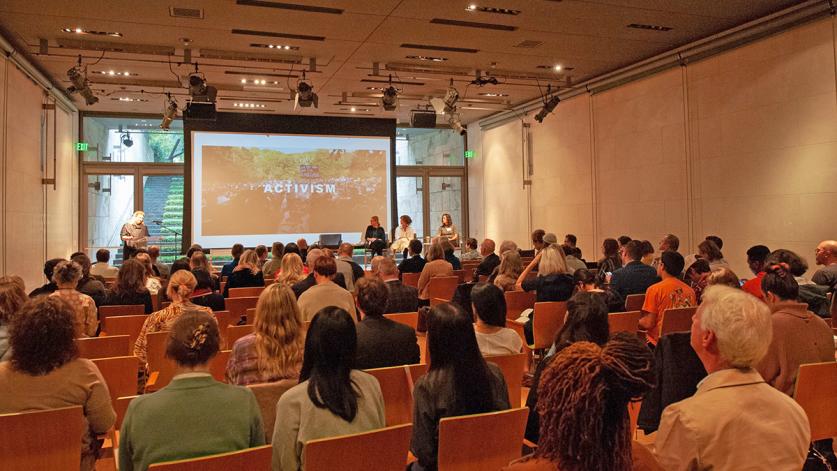 The symposium's first panel, themed "Design as Activism" and deftly moderated by Gina Ford, FASLA, Co-Founder and Principal of Agency Landscape + Planning, featured presentations by Chelina Odbert, CEO and Founding Principal, Kounkuey Design Initiative; Maura Rockcastle, ASLA, Principal and Co-Founder, TEN x TEN; and Sierra Bainbridge, RLA, Senior Principal and Managing Director, MASS Design Group.  They explored numerous topics including: the ways in which landscape architecture has a critical but often overlooked role in shaping inclusion, justice, and equity across the public realm; how design can help support and propel positive change by leveraging landscape as a medium through which communities can heal; and the role of truth telling. "I was looking for was my firm could engage more in DEI [diversity, equity, and inclusion] through a landscape activism lens. It was interesting to learn how other firms incorporate it into their practice," one audience member commented.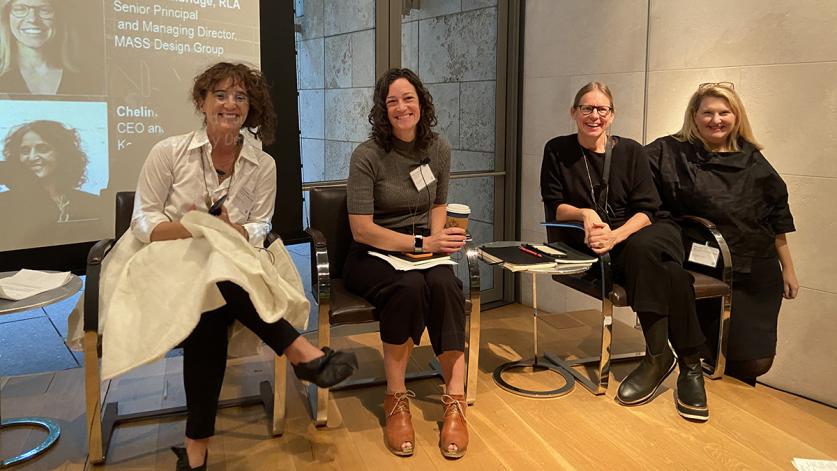 "New Knowledge Creators, NGOs, Entrepreneurs," the second panel, began with an impassioned and powerful reading of the words of Toni Morrison by Naomi Davis, founder of the Chicago-based non-profit Blacks in Green (BIG). Davis explained how her neighborhood-focused "sustainable square mile" initiative addresses equity, the economy, and the environment. Next up was Lee Pivnik, founder of the Institute of Queer Ecology in 2017, an "ever-evolving collaborative organism that seeks to bring peripheral solutions to environmental degradation to the forefront of public consciousness." In a video presentation, Dakota Keene, Partner, Mithun, and Robin Little Wing Sigo, Director of the Suquamish Research & Strategic Development Department, engaged in a wide-ranging conversation about community-focused and sustainable site design, cultural and educational projects, and co-designing with Indigenous Communities.  Panel moderator Angela Kyle, a Pensacola, FL-based urbanist, kin-keeper, and non-profit founder, expertly wove together the themes of the presentations in a probing and informative Q&A session. "I had my mind expanded in ways I did not expect—from issues of race, politics, democracy, and practice—all of which we can influence," recalled another attendee.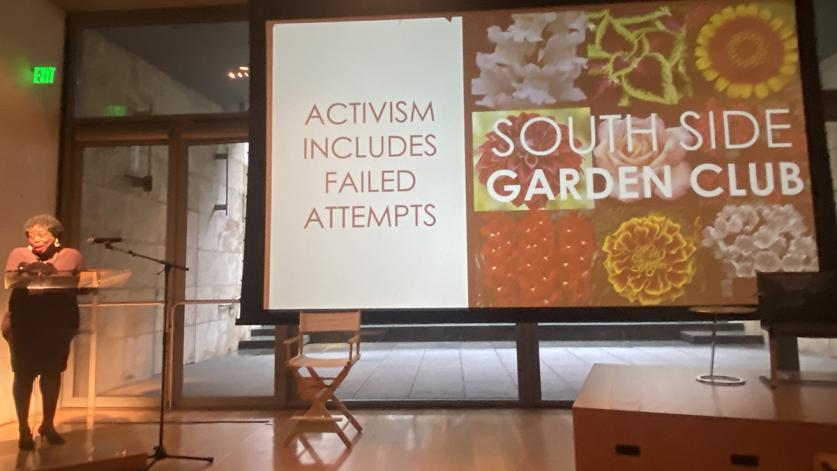 The final panel, "Reshaping Practice," brought together Marc Miller, President of the Black Landscape Architects Network, and two presenters from OLIN, Danielle Toronyi, Research Development and Knowledge Manager, and Max Dickson, Landscape Designer.  Among other things, Miller addressed the paucity of Black landscape architects and the need to increase their representation in an increasingly diverse world. Toronyi and Dickson operate within the framework of the Olin Labs, which supports emergent research projects. Toronyi is investigating how to improve access and inclusion of disabled people in public life. Dickson's research and advocacy initiative seeks to expand understanding of LGBTQ+ landscapes, histories, and futures while creating space within the profession for LGBTQ+ landscape architects and architects to advocate, share work, and support one another. Dynamic panelist April De Simone,  architect and founder of Designing with Democracy, concluded by drawing from the other panelists' presentations to call for the creation of safer, more accessible spaces to address "spatialized" and "structural" inequities. "Definitely topics that need to be in the forefront of landscape architecture," an attendee concluded.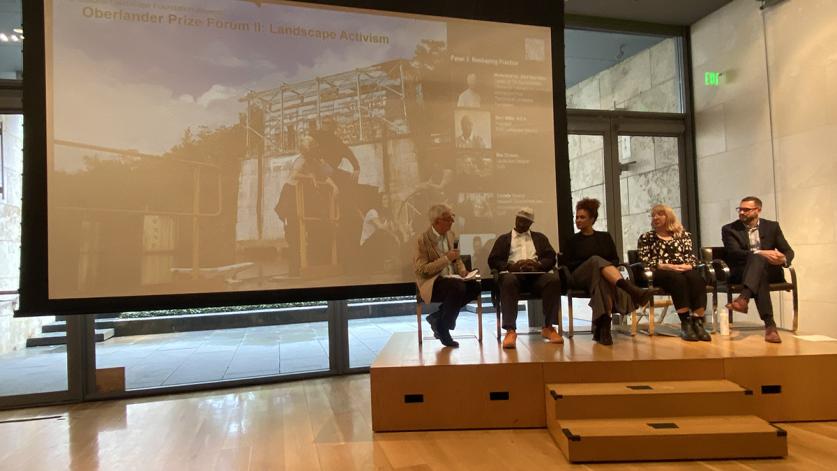 The daylong Forum was co-curated by Oberlander Prize Curator John Beardsley, Gina Ford, and TCLF President and CEO Charles Birnbaum. The Nasher Sculpture Center in Dallas generously donated the use of their auditorium for the event. A reception took place the night before the Forum at Turtle Creek Waterworks, a signature revitalization project by inaugural Oberlander Prize laureate Julie Bargmann, commissioned by Deedie Rose. Following the reception, a speakers' dinner was held thanks to support from ABC Stone, Lapitec, and Victor Stanley.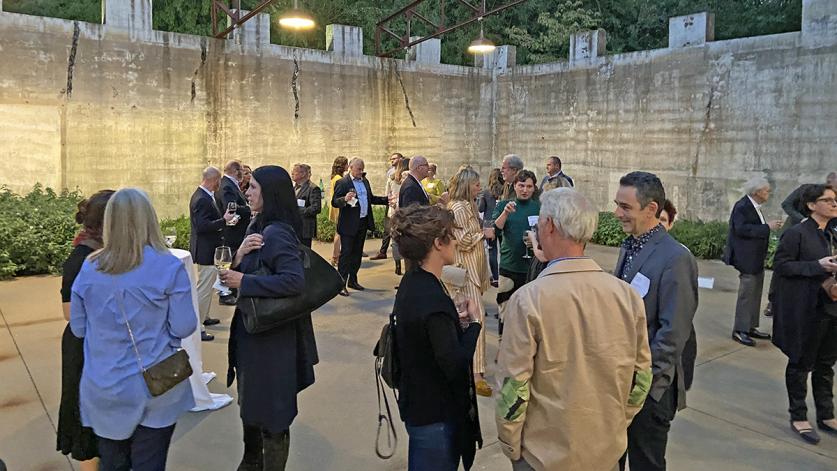 Attendees filling the Nasher auditorium included Oberlander Prize laureate Bargmann, along with practitioners and community activists. One attendee summarized the event as "one of the best seminars I have attended in this industry." The Forum also drew attendance from students from several universities, who attended thanks to underwriting by generous sponsors. The event was made possible by Presenting Sponsors ABC Stone, Joan Shafran & Rob Haimes Foundation, Lapitec, Joeb Moore & Partners, OJB, OLIN, Reed Hilderbrand, Trahan Architects, Nievera Williams, Thomas L. Woltz, Victor Stanley, and West8; and sixteen additional sponsors and friends. Educational Partners included ASLA, AD EX and ASLA Texas.
As noted at the outset, the proceedings were recorded and are currently being richly edited. As with the earlier Oberlander Forum, Courageous by Design,  videos from this recent Forum will posted on the foundation's YouTube page; they will be posted in the first quarter of 2023.