feature
Mayor Frey Accepts Stewardship Award on Behalf of Minneapolis
On October 22, 2019, The Cultural Landscape Foundation bestowed its Stewardship Excellence Award on the City of Minneapolis, Minnesota, for the successful rehabilitation of Peavey Plaza. Co-hosted with Green Minneapolis, the ceremony took place in the Target Atrium at Orchestra Hall on the city's Nicollet Mall, where city residents and officials gathered to receive the honor.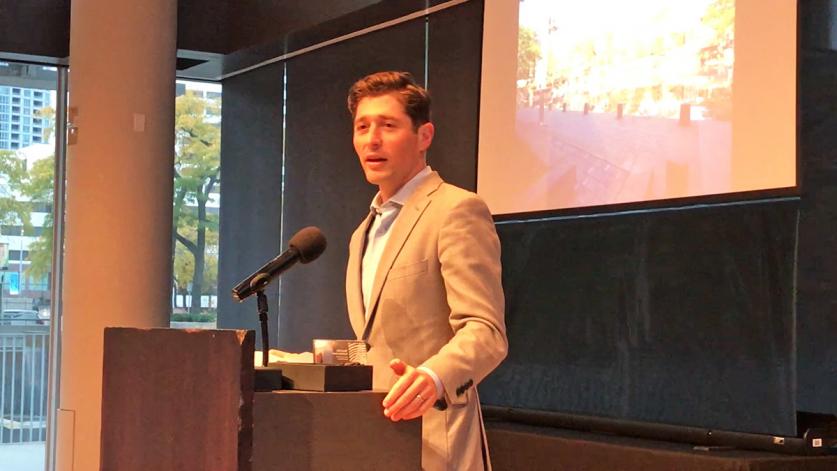 Created in 1975 by celebrated Modernist landscape architect M. Paul Friedberg, Peavey Plaza officially reopened with a ribbon-cutting ceremony on Thursday, July 18, 2019, following years of work to rehabilitate the once-imperiled landscape, which is listed in the National Register of Historic Places. The rehabilitation by the Minneapolis-based landscape architecture firm Coen+Partners resulted in an innovative and sympathetic renewal of the revolutionary 'park-plaza's' character-defining features. Friedberg described the two-acre site as "a mixture of the American green space and the European hard space." Although plans were announced in 2012 to demolish the plaza, which lies adjacent to the city's Orchestra Hall, the news quickly drew the attention of local and national advocacy organizations, including TCLF.
TCLF board member and Minneapolis resident Charlene Roise, who played a key role in the plaza's rehabilitation, was on hand at the award ceremony to give remarks, noting that "Peavey Plaza needed help, and it took a village to resuscitate it." Roise thanked the myriad groups and organizations involved in the decade-long efforts, including a "core group of preservationists who consumed much beer, wine, scotch, and even some coffee along the way." Roise also announced plans for a TCLF-sponsored What's Out There Weekend event in the Twin Cities, for which work is already underway.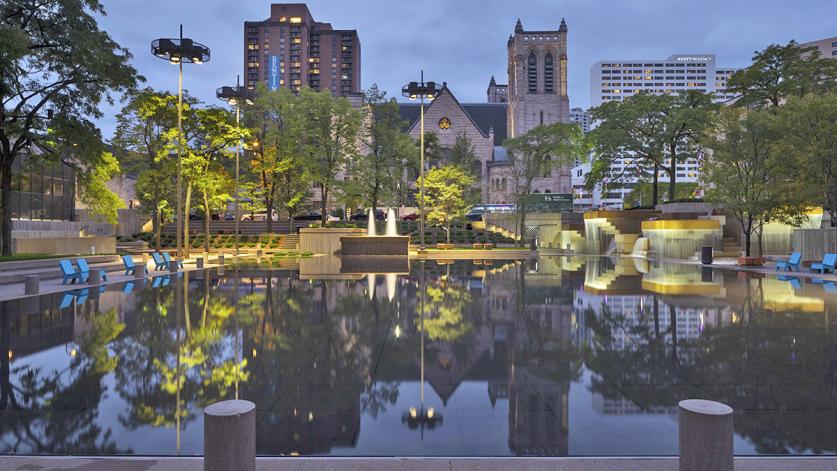 TCLF's Charles Birnbaum officially conferred the Stewardship Award, variously evoking in his remarks the wisdom of architecture critic Ada Louise Huxtable, landscape architect M. Paul Friedberg, and The Mary Tyler Moore Show's Rhoda Morgenstern. "Peavey, happily, was not an either-or scenario," Birnbaum said. "What we see today illustrates that design and historic preservation can and do go hand-in-glove, and that the leadership of thoughtful landscape architects can solve complex problems and create spaces that, generations from now, will tell the story of who we are, where we came from, and where we are going."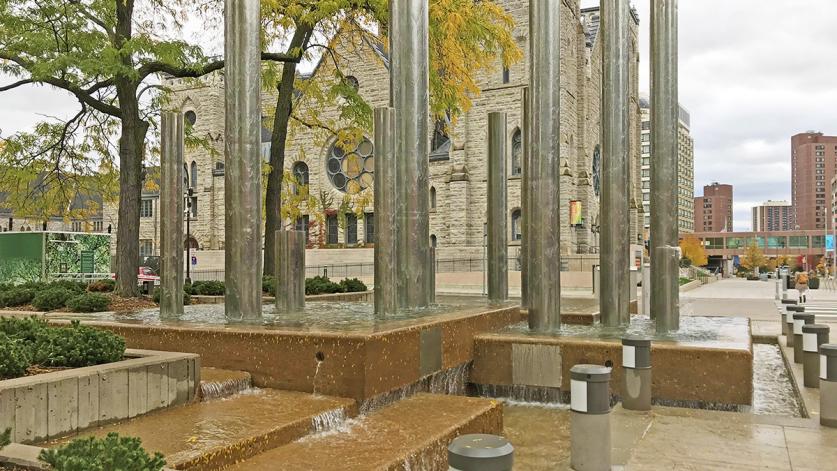 Receiving the award for the city, Minneapolis mayor Jacob Frey spoke compellingly about a "vacant, hollowed-out area" that had been revived: "The vision that it took—from mayors to council members, to private-sector leaders, to donors—to step up and fulfill this potential is something really beautiful…it probably took some guts, and it took a whole lot of work in getting there." Recalling the ribbon-cutting ceremony, which had taken place months before in the plaza's new pool basin, Mayor Frey continued, "…to see two or three little four-year-old kids…enjoying this space to its fullest is emblematic of what we're striving for in terms of urban architecture and design, and it's something that The Cultural Landscape Foundation prides itself in." 
TCLF's Stewardship Excellence Awards honor individuals, local groups and organizations, government agencies, and others whose work demonstrates the sound stewardship of the nation's significant cultural landscapes and will help educate and inspire future generations of stewards. Past recipients include the Golden Gate National Parks Conservancy, the Indianapolis Museum of Art, the Presidio Trust, and Chicago Mayor Richard M. Daley.