feature
A Banner Year for TCLF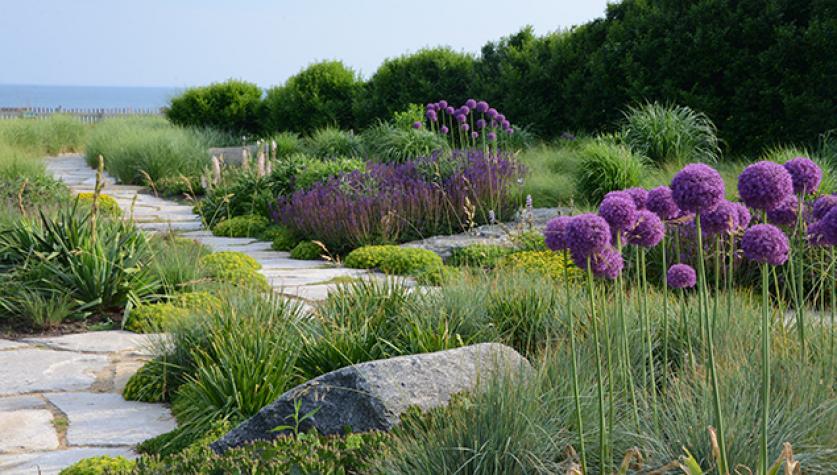 "Great public places and works of landscape architecture deserve to be treated like great buildings," wrote Michael Kimmelman, architecture critic for the New York Times, in 2014 – an idea that TCLF has long promoted. The cultural shift signaled by Kimmelman's statement has continued in 2015, and TCLF's accomplishments have been numerous. Tax-deductible contributions to support the Foundation's mission and programming are welcome.
Highlights from 2015 include:
• LAUNCHED – TCLF organized The New American Garden: The Landscape Architecture of Oehme, van Sweden, a traveling photographic exhibition now on view at the National Building Museum in Washington, D.C. Significantly, it is the largest monographic landscape architecture exhibition in the museum's history; 
• SAVED – The Russell Page-designed garden at the Frick Collection in New York City, a nationally important Landslide site threatened by the museum's recently proposed expansion, was saved; and TCLF made the garden the central issue of the debate;
• EXPANDED – TCLF programming increased in scope to encompass all of North America with a major international conference in Toronto; expansion of the What's Out There database into Canada; a What's Out There Weekend Toronto; and a new online Toronto city guide;
• INCREASED – The 12th Pioneers video oral history, about Nicholas Quennell, was unveiled in October, and oral histories of Harriet Pattison and Bill Johnson were videotaped this summer.
Here are some details on the 2015 Year in Review:
Landslide, our annual thematic compendium of threatened and at-risk landscapes, continues to be one of TCLF's most high-profile and effective initiatives. Following the monographic approach of the 2013 Landslide about Dan Kiley, in 2015, TCLF presented the work of Wolfgang Oehme and James van Sweden in a traveling photographic exhibition, along with a complementary website and gallery guide. The exhibition debuted at the National Building Museum in Washington, D.C., and is the largest monographic exhibition on landscape architecture in the museum's history.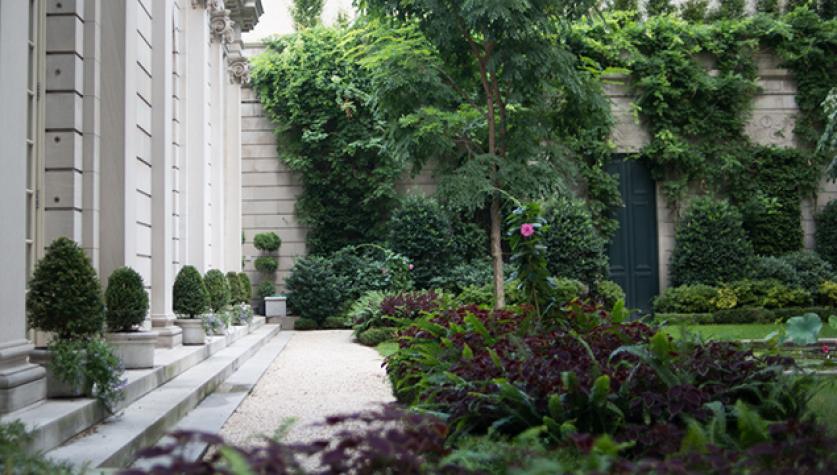 In addition, several major Landslide sites were saved this year, including the Russell Page-designed garden at the Frick Collection in New York City and the Hannah Carter Japanese Garden in Los Angeles, while the Garrett Eckbo-designed Tucson Community Center was listed in the National Register of Historic Places. TCLF has also taken the lead in preventing the demolition of Pershing Park in Washington, D.C., and the confiscation of Olmsted & Vaux-designed parkland in Chicago for the Obama Presidential Library. Special thanks to The Davey Tree Expert Company, Landscape Architecture Magazine, and the American Society of Landscape Architects (ASLA), who help make Landslide possible.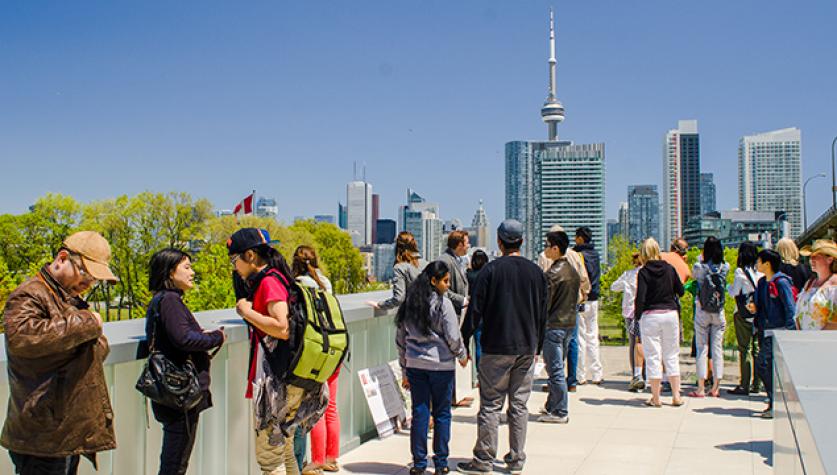 What's Out There, the free, searchable online database of designed landscapes has been expanded to include sites in Canada and now houses more than 1,900 entries, 10,000 images and 900 designer profiles. Work by students from Ryerson University and the University of Toronto was critical in adding dozens of Toronto sites to the database. The sixth year of What's Out There Weekends drew thousands of participants in Austin, Texas, Denver, Colorado, Newport, Rhode Island, and Toronto, and TCLF launched new online What's Out There Guides for Chicago, Toronto, and Washington, D.C. All of this succeeded with support from The National Endowment for the Arts Art Works program, Bartlett Tree Experts, and dozens of other supporters.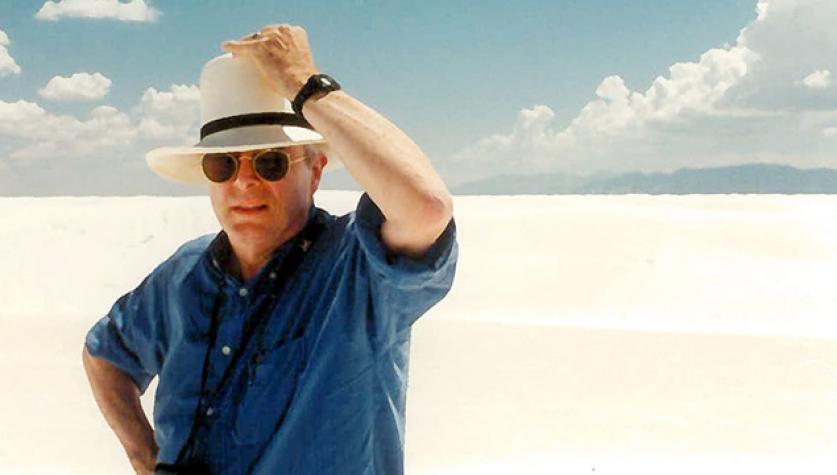 Pioneers Oral Histories, an ongoing series of free online videos about significant practitioners, now includes a twelfth entry, this one about the life and work of New York City-based landscape architect Nicholas Quennell; and videotaping for the oral histories of Harriett Pattison and Bill Johnson has been completed and post-production work is underway. More than 60,000 unique views have been registered on TCLF's YouTube channel over the past year.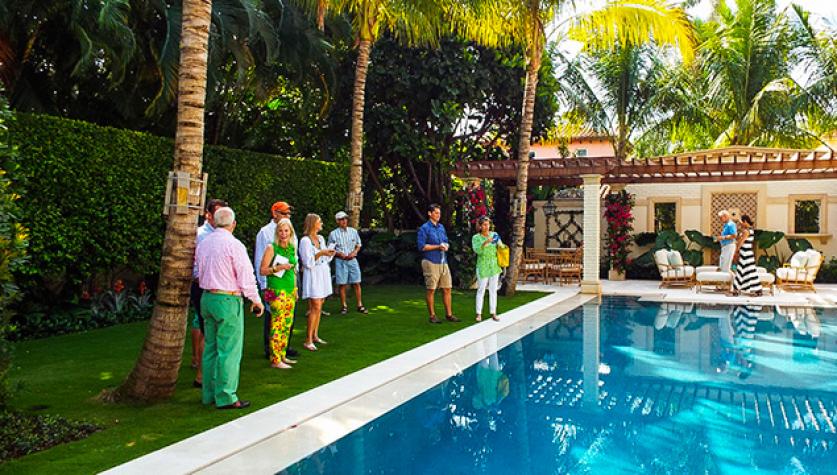 Garden Dialogues, now in its fourth year, answers the question: How are great gardens created? The Dialogues are intimate gatherings where participants hear from the garden owners and their designers—leaders in the field—about the secrets to creating distinct gardens. TCLF held 46 Dialogues in Palm Beach, Florida, Boston, Massachusetts, Dallas/Ft. Worth, Texas, the Hamptons, New York, Vancouver, British Columbia, and elsewhere, with many selling out. The Dialogues were made possible by the continued support of Seibert & Rice and The Davey Tree Expert Company.
Symposia, Conferences, and Technical Assistance: A conference titled Saving Nature in a Humanizing World was held at San Francisco's Presidio in January, and the third conference in TCLF's Second Wave of Modernism series was held in Toronto in May. Toronto Mayor John Tory opened the latter conference and City Planning Director Jennifer Keesmaat made a major policy announcement, all of which generated significant media attention. Technical assistance was provided for Innisfree Garden in Millbrook, New York, Cheekwood Botanical Garden in Nashville, Tennessee, and Yew Dell Botanical Gardens in Crestwood, Kentucky.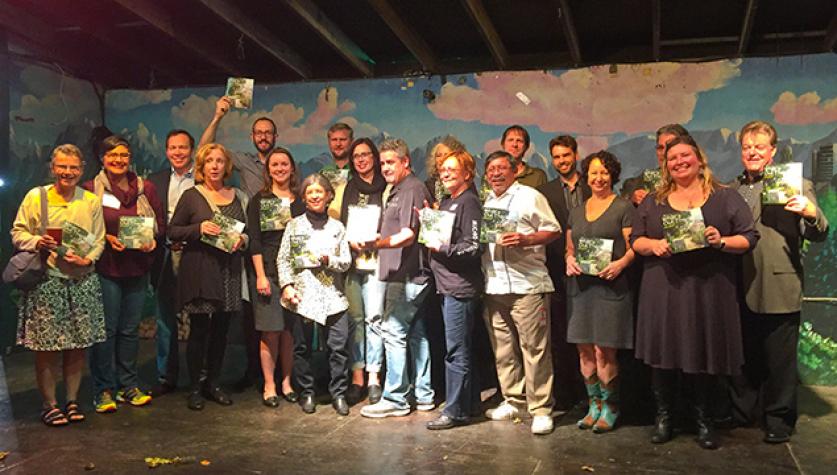 Publications: TCLF published four new What's Out There guidebooks for Austin, Denver, Newport, and Toronto, and the series Modern Landscapes: Transition and Transformation, which focuses on mid-century landscapes that have undergone significant transformation, received an Honor Award in Communications from the ASLA.
Media Coverage: TCLF's media coverage was substantial in 2015, with exposure in both social and traditional media, including the New York Times, Wall Street Journal, Washington Post, Associated Press, Reuters, The Economist, Dallas Morning News, Denver Post, Globe and Mail, San Francisco Chronicle, Toronto Star, and others. Coverage in art-and-design media outlets included Architectural Record, Architect's Newspaper, and more; internationally in World Landscape Architecture; and features in the Huffington Post.
Fellowships: The Sally Boasberg Founder's Fellowship, created in the memory of founding Board Member Sally Boasberg, named its fourth fellow, Kate Cholakis, and TCLF also welcomed SWA Cultural Landscape Fellow Christina Argo.