Houston Conference and Tours Draw More Than 1,500 Registrations

Houston Conference and Tours Draw More Than 1,500 Registrations
Houston Conference and Tours Draw More Than 1,500 Registrations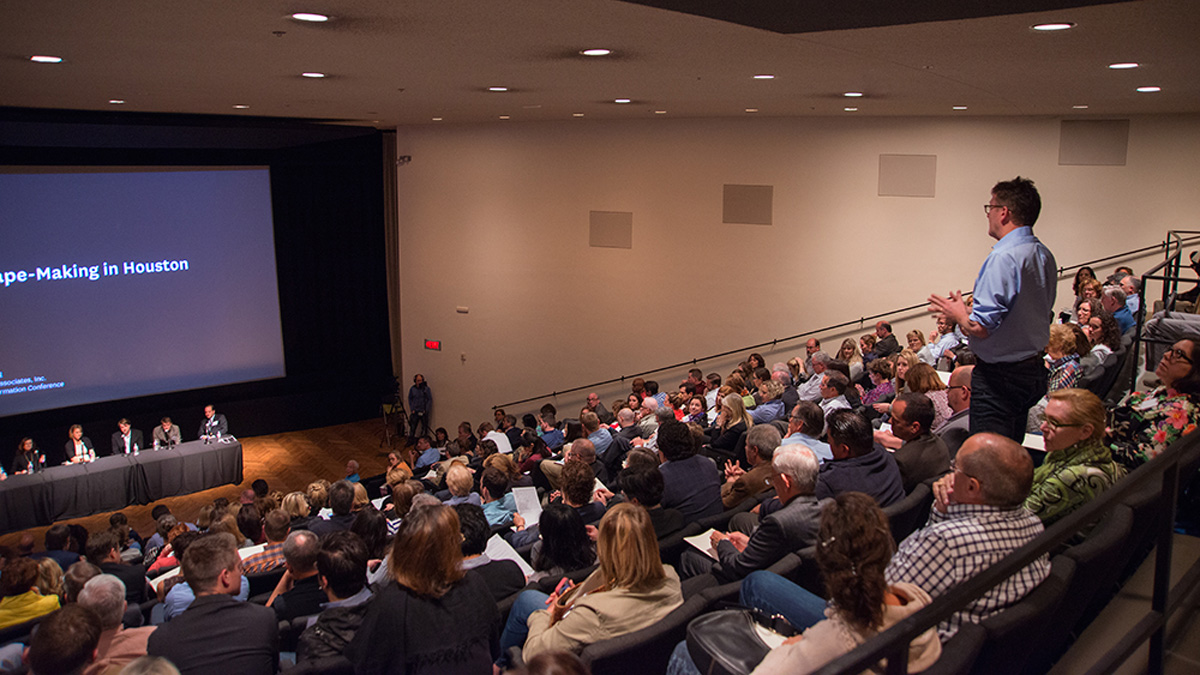 Leading with Landscape II: The Houston Transformation earned boffo reviews:
"An excellent and inspiring conference."

         - Molly Glentzer, art, design and culture critic with the
Houston Chronicle
"The Mayor … found the conference very rewarding … Thank you for including us and we definitely look forward to additional opportunities to collaborate with The Cultural Landscape Foundation."

         - Leilah Powell, chief of policy for Mayor Ivy R. Taylor, City of San Antonio
"Thank you all for allowing Houston to experience such an unbelievable conference … Being able to listen to landscape architects whom I highly respect discuss significant issues was in some ways a fantasy. I learned a lot about Houston and our profession."

           - Ben Niefield, Clark Condon Landscape Architecture; chair-elect, Houston/Gulf Coast Section, Texas ASLA
"I can not thank you enough for the conference and tours in our City. The highlighting of the work that is being completed in our parks by our local and national landscape architects is so gratifying."

                - Joe Turner, director, Houston Parks and Recreation Department
"I have a company that does a lot of presentations, a lot of communications, a lot of preparation …I know what it takes. You crushed it."

                 - Tom Bacon, Houston Parks Board
A sold-out crowd filled the Brown Auditorium at the Museum of Fine Arts, Houston, to hear international leaders in landscape architecture, three mayors, and other significant participants discuss the ambitious landscape architecture-led transformation of the nation's fourth largest city. The daylong event, which featured three consecutive panel presentations, attracted more than 350 people, followed by two days of free, expert-led What's Out There Weekend Houston tours, for which more than 1,200 registered. (The conference was videotaped and the entire proceedings will be posted on TCLF's YouTube page.)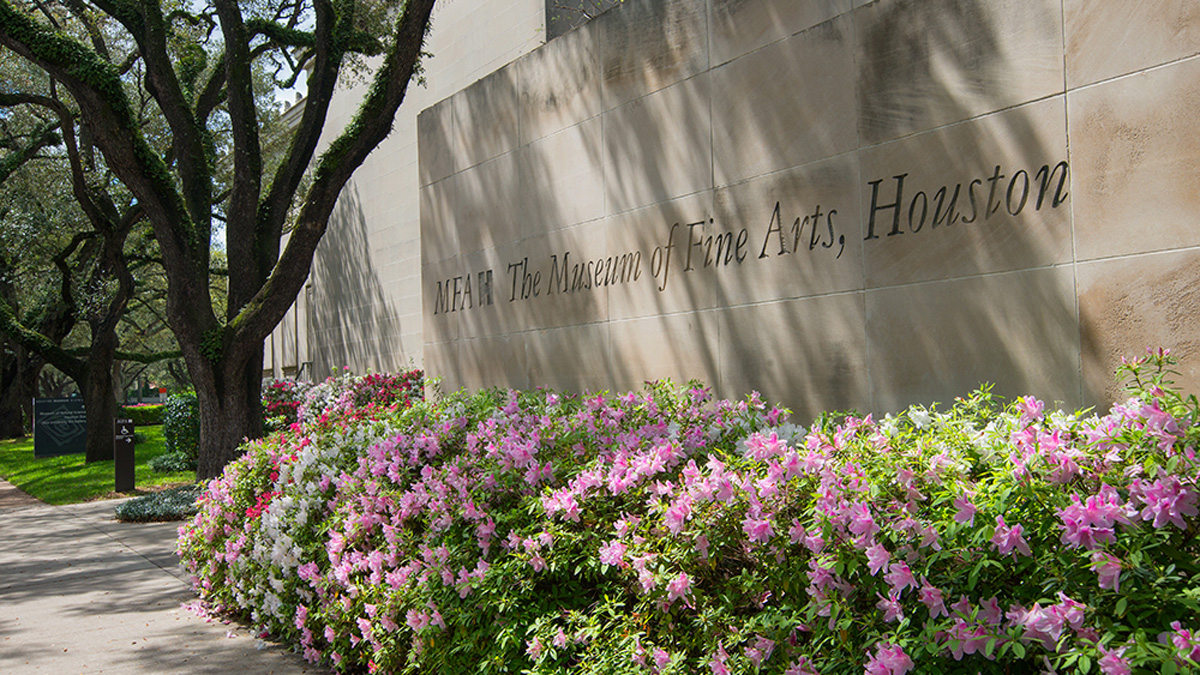 Joe Turner, the genial director of Houston's Parks and Recreation Department, opened the proceedings with a warm welcome to all attendees and participants, followed by remarks from Keiji Asakura, founder and principal of Asakura Robinson, and Sheila Condon, principal and owner of Clark Condon. TCLF president & CEO Charles A. Birnbaum provided a brief overview of the city's history, from its founding to the present day, noting that the city's development has been a product of strong municipal leadership, private philanthropy, and expert practitioners; and, since the mid-twentieth century, engineers, then architects, and now landscape architects have been the prime shapers of the city. He also said that "Houstonization" has gone from being a pejorative term to a positive one.
The first panel, moderated by Stephen Fox, Fellow of the Anchorage Foundation of Texas and lecturer in architecture at the University of Houston's Gerald D. Hines College of Architecture and Rice University's School of Architecture, looked at how recent public landscape initiatives that have constructed or re-constructed public spaces are engaging Houstonians. Kinder Baumgardner and Scott McCready of the Houston studio of SWA Group discussed the challenges of reshaping Buffalo Bayou Park, an existing linear park, to make it more accessible and broaden its user base, while coping with natural processes such as flooding. Matthew Urbanski offered valuable insights into the local cultural circumstances he has encountered while representing Michael Van Valkenburgh Associates as master planner for Hermann Park. Urbanski's colleague Jack Ohly discussed the Menil Collection's master plan.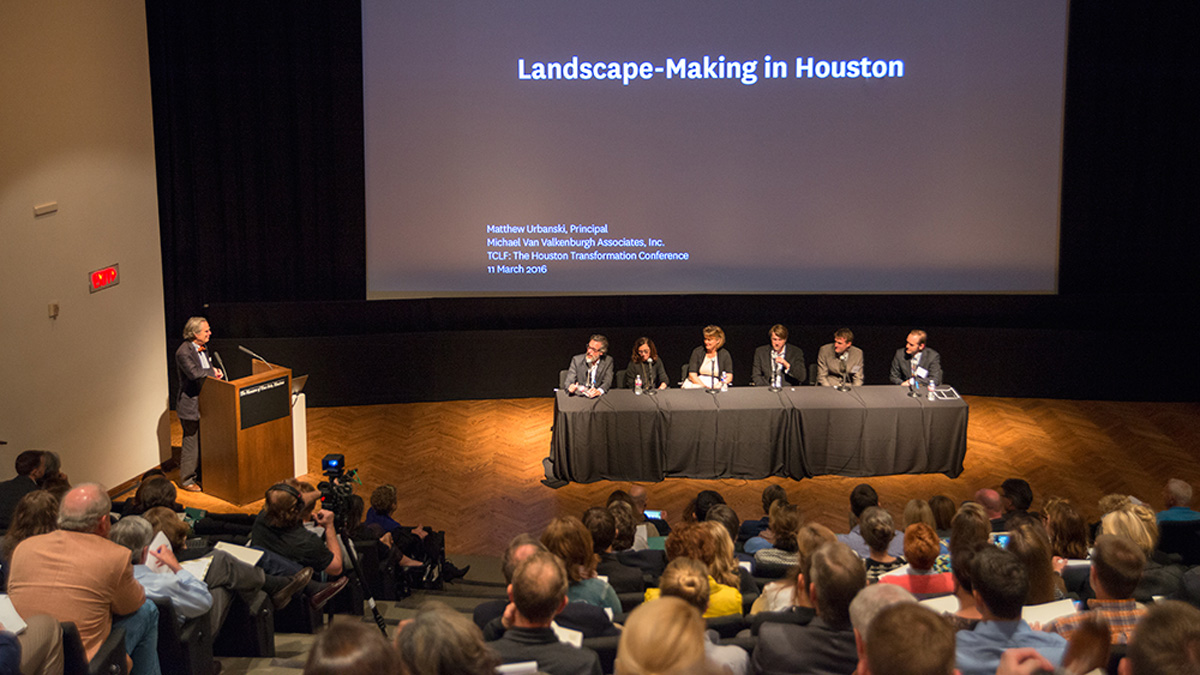 But for truly startling 'before-and-after' scenarios, the presentations by Jane Anderson Curtis, director of horticulture at the Hermann Park Conservancy, and Mary Margaret Jones, of Hargreaves Associates, were eye-openers. Curtis showed Hermann Park's great central water feature in its previous forlorn state (when locals called it the "mud hole") and after its phoenix-like resurrection. Jones outlined how a concrete parking lot and veritable wasteland in front of the city's convention center was transformed into Discovery Green, now one of the most popular parks in downtown Houston.
Frederick Steiner, who recently announced he was leaving as dean of the School of Architecture at the University of Texas at Austin to become dean of the University of Pennsylvania's School of Design, moderated the second panel, which looked at the future of a region he said is defined by "oil and water." Boom and bust cycles in energy prices affect development in an area prone to droughts and flooding. Chip Trageser, principal at The Office of James Burnett, outlined how a public-private partnership helped reinvent the Upper Kirby District's Levy Park, a once forgotten eleven-acre site.
Jamie Maslyn Larson, partner in the New York office of West 8, offered insights into the master planning for the new Houston Botanic Garden, which has garnered considerable media attention recently. She posited that the garden could become a regional leader in environmental and botanical research and spark interest in a new generation of "green" leadership and industry. Douglas Reed, partner at Reed Hilderbrand, and Stephen Spears, partner at Design Workshop, detailed a master plan that offers hope for the Houston Arboretum & Nature Center, which has been devastated by drastic climatic shifts (48% of the tree canopy had died, among other grim realities). Thomas Woltz, principal and owner of Nelson Byrd Woltz, provided a compelling look at the master plan for Memorial Park, a landscape nearly twice the size of New York's Central Park and rich in ecological and cultural history that has been invisible, untended, and, at times, forgotten over the past century.
The final panel, helmed by Christopher Knapp, co-founder and CEO of Chilton Capital Management, included three mayors—Ivy R. Taylor, mayor of San Antonio; Annise Parker, former mayor of Houston; and William Fulton, former mayor of Ventura, California, and currently director of the Kinder Institute for Urban Research at Rice University—along with Guy Hagstette, the Kinder Foundation's director of parks and civic projects; Mike Skelly, president of Clean Line Energy Partners; and Molly Glentzer, arts, design and culture critic at the Houston Chronicle. By design, all the panelists were non-landscape architects who nonetheless have a stake in urban planning.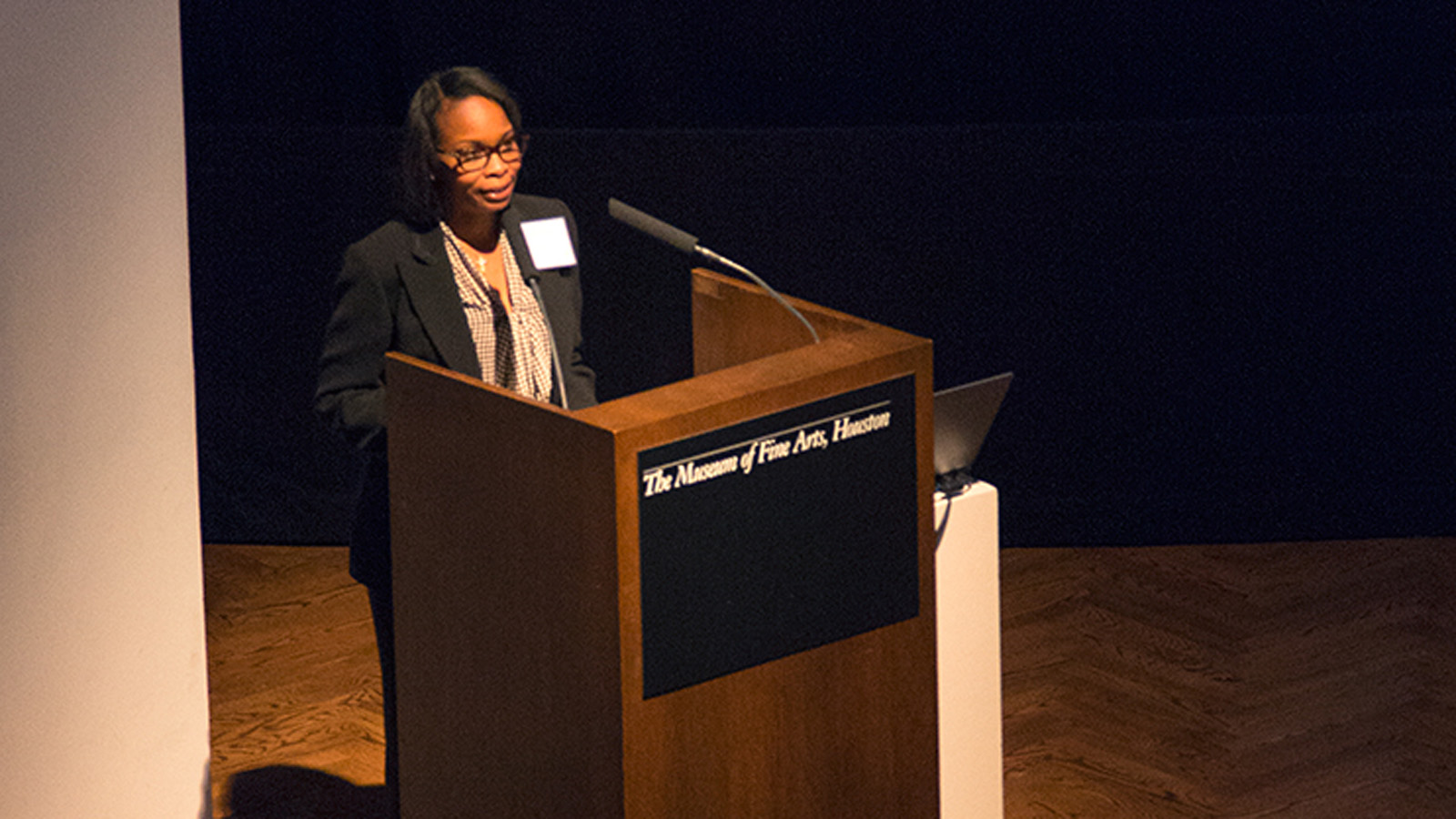 A predominant theme for the panel was the creation of pedestrian access in an automobile-centric metropolis. Fulton talked about the need to experience the city on foot and described the current landscape-led projects as an era in which the natural and urban merge. Hagstette said that up to now, the missing piece has been "the pedestrian," and that "it is natural that we turn to landscape architects to find our way back home." Skelly started on an upbeat note, saying: "As we build out the bayous we will change the conversation around Houston." He did, however, raise concerns about resource allocation and cautioned that we could "end up with private good and public squalor." Parker, the former three-term mayor, provided an inspiring valedictory look back at the achievements under her watch, but also said, "If we build things you have to make sure people use it." Mayor Taylor said the iconic image of her city is the Riverwalk, and that "the challenge is to get people to the street level." But she was very sanguine about budgetary realities and noted: "Landscape architecture is put into the frills category." Mayor Taylor also discussed inclusion and equity and expressed her hope that in future audiences, more people would look like her.
Glentzer focused on juxtapositions beginning with herself. "I am not a doer," she said, but then noted, looking out to the audience, "This is a theater full of doers." For members of an oft-overlooked profession, it was welcome praise from a well-respected critic. Speaking about what she called the 672-square mile "emerald city," Glentzer offered a poetic recitation of contrasts raised in the conference and emblematic of Houston: "Bifurcated, balanced. Simple, complex. Public, private. Nature, science. Flood, drought," before closing on an upbeat note: "Now and next."
The conference would not have been possible without the support of many individuals, organizations, and sponsors, chief among them Sarah Newberry with Uptown Houston, who was a great collaborator; the Rice Design Alliance and the Texas Chapter of the American Society of Landscape Architects, which did so much to spread the word about the conference and weekend of free tours. TCLF is grateful for the time, energy, participation, and good will of all the speakers and moderators, along with the support from our Lead Sponsors: Uptown Houston, Victor Stanley, SWA Group, Design Workshop, the Houston Parks Board, and Bartlett Tree Experts. Additional support came from Presenting Sponsors, Supporting Sponors, Friends, Partners in Educiation, and Annual Sponsor, the American Society of Landscape Architects.  Thanks, also, to Dancie Ware at DPWPR, who made important introductions; Vernon Loeb, managing editor of the Houston Chronicle, who offered insights and encouragement; and Gary Tinterow, director of the Museum of Fine Arts, Houston, who generously donated the use of the Brown Auditorium.