feature
Illuminating the Los Angeles Design Legacy of Ralph Cornell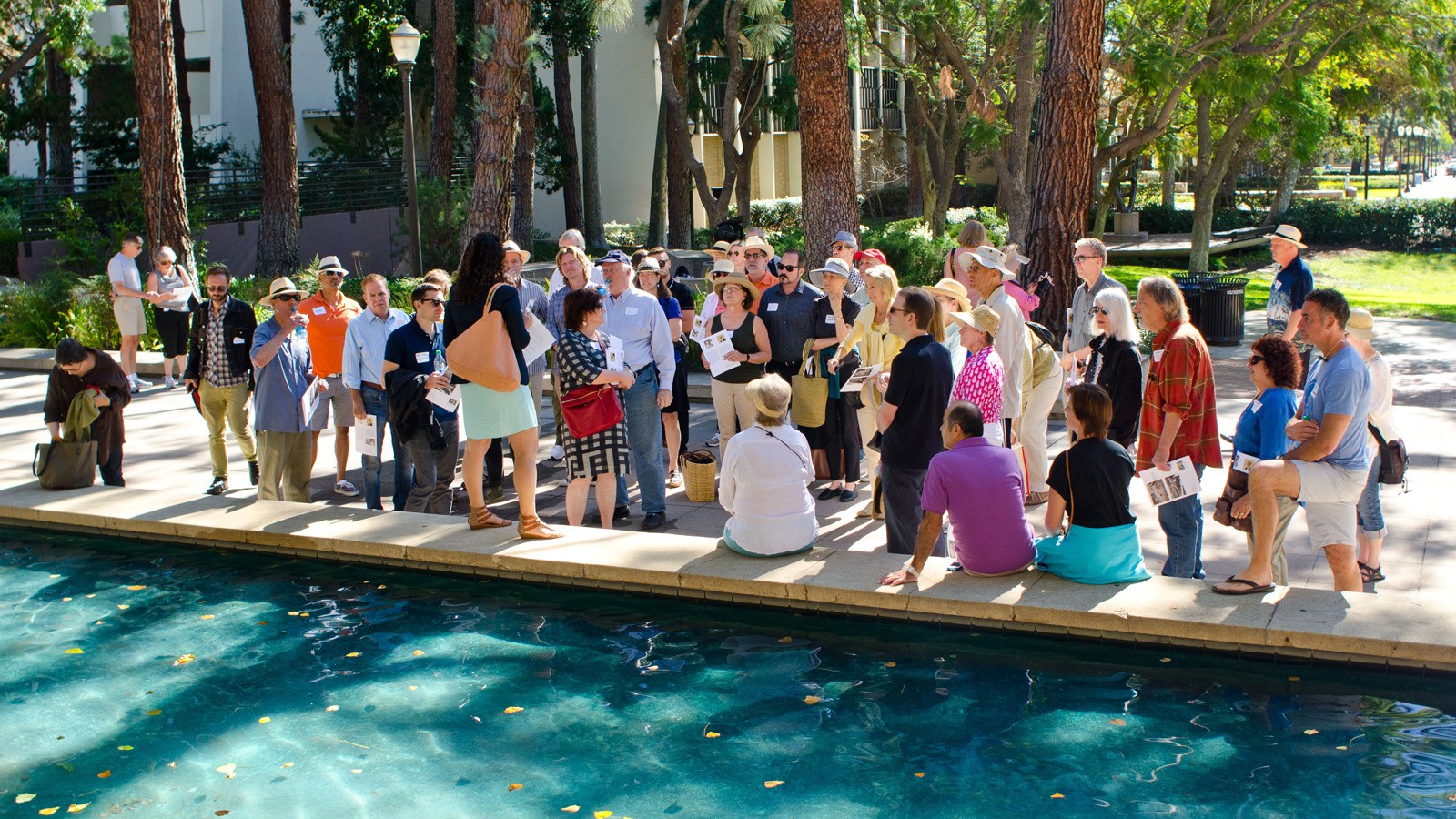 TCLF's eleventh What's Out There Weekend and the first dedicated to the legacy of a single designer exceeded our expectations in every way – great energy, enthusiasm, attendance and weather.
What's Out There Weekend – The Public Landscapes of Ralph Cornell was held in the Los Angeles metropolitan area November 7-9 and featured free, expert-led tours of thirteen of Ralph Cornell's most notable landscapes. The impetus for this year's focus followed last year's highly successful What's Out There Weekend Los Angeles where we discovered that Cornell, whose legacy in Southern California is unparalleled, remains a rather unknown figure. As our research developed, we began to realize that Cornell is truly the "Olmsted of Los Angeles."
The Weekend kicked-off with a launch event on Friday evening at the Beverly Hills City Hall presented with the generous support of Architectural Resources Group and the partnership of Beverly Hills Heritage and Friends of Beverly Gardens Park. Celebrating the 100th Anniversary of the founding of Beverly Hills—a city largely designed by architect Wilbur Cook with extensive influence from Cornell—the event provided a forum for TCLF's partners and sponsors to mingle with scholars and designers as well as Weekend guides and participants. City Hall is adjacent to Cornell's Beverly Gardens Park, the subject of one of the tours.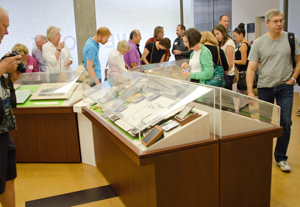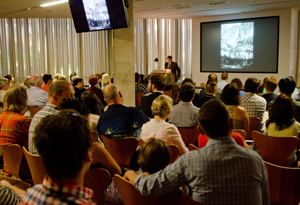 (upper) "Ralph D. Cornell: Dean of Southern California Landscape 
Architecture" at the Charles E. Young Research Library; (lower) Brian
Tichenor lecture; photos by Matthew TrauchtSaturday morning began at the University of California, Los Angeles (UCLA) Charles E. Young Research Library with the unveiling of "Ralph D. Cornell: Dean of Southern California Landscape Architecture." This retrospective of the landscape architect's life and career, on view November 7 through December 23, features a diverse array of his personal effects, drawings, renderings, and photographs— many of which have never been publicly displayed and were donated to UCLA Library Special Collections by Ralph Cornell's family. The exhibit was curated by Steven Keylon and Kelly Comras with curatorial assistance from Sam Watters and Genie Guerard and installed by Octavio Olvera. In attendance were Cornell's grandson Stuart, granddaughter Wenona, and great-granddaughter Mackenzie who joined others who pored over Cornell's portraits, sketches, plans, and detail drawings, photographic equipment and even love letters.
Following the opening, a capacity crowd attended a lecture by Cornell scholar Brian Tichenor, professor at USC's School of Architecture. Through photographs, renderings, and anecdotes, Tichenor described Cornell's childhood in Nebraska, his early experiences as a student at Pomona College, and the role he played as a young traveler collecting seeds and cuttings that were then brought back to California and introduced for agricultural and horticultural use. Tichneor went on to develop a fascinating narrative about Cornell's collaborations, commissions, and career, one that would extend from 1919 and last until just weeks before his passing in 1973.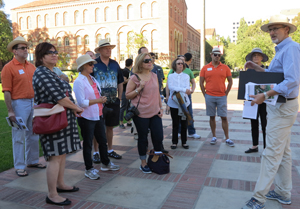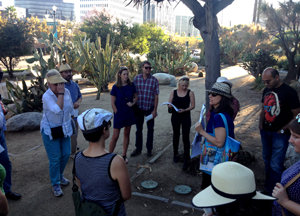 (upper) UCLA Campus tour, photo by Kelly Comras; (lower) Beverly
Gardens Park tour, photo by Steven KeylonThe first stop on the Weekend tour was UCLA's Franklin D. Murphy Sculpture Garden, led by TCLF Stewardship Council member Lisa Gimmy of Lisa Gimmy Landscape Architecture and Leslie Cozzi, Curatorial Associate at UCLA's Grunwald Center for the Graphic Arts at the Hammer Museum. As Gimmy described Cornell's design and led participants through the five-acre site, Cozzi provided background on the sculptural pieces and their artists. Participants delighted at Cornell's sculpted landforms, specimen trees, and intimate spaces situated at the heart of campus on a former parking lot. With the completion of that tour, participants explored the larger UCLA campus led by Jeffrey Averill, UCLA Campus Architect and Pamela Palmer, Principal at ARTECHO. Between 1937 and 1972 Cornell choreographed the transformation of a 200-acre Beaux Arts assemblage of Romanesque buildings to the 419-acre Mediterranean campus that today serves more than 40,000 students. Averill pointed to two of Cornell's plazas and remarked that more than one million cubic yards of soil was used to fill the arroyo that once cut through campus. Cornell's palette of native and exotic plants shades the courtyards and open lawns that intermingle with his connective circulation patterns and campus layout. The Inverted Fountain, designed by Cornell's partners Howard Troller and Jere Hazlett in 1968, was sited by Cornell in a windy location, necessitating the development of an elegant waterfall and circulating rill. A short walk from the fountain, tour participants were led by Harvey Kern and Wendy Morris through Cornell's seven-acre Mildred E. Mathias Botanical Garden. Here, participants were immersed in Cornell's genius as they walked the winding network of paths through thematic groupings of tropical, sub-tropical, and arid plants along a recirculating stream in the former UCLA arroyo. A short distance from campus, Michelle Sullivan of Mia Lehrer + Associates provided a fascinating look at Cornell's 23-block-long Beverly Gardens Park, recently restored by Mia Lehrer's office. The park, anchored by fountains on both ends and a reflecting pool in the center, runs along Santa Monica Boulevard and provides public access to a rich plant palette of palms, roses, cacti, and succulents.
Sunday's tours took participants further afield. TCLF Stewardship Council member Steven Keylon collaborated with Jessa Chisari and John Fishback of Rios Clemente Hale Studios on a walk through the Modernist Los Angeles Civic Center, a twelve-acre mall designed by the firm Cornell, Bridgers and Troller in 1956. Flanked on one end by City Hall and on the other by the Department of Water and Power and the Music Center, Cornell's Grand Park provides the central axis of the complex. Exemplifying his adept use of plants and water, Civic Center provides valuable public space for flexible programming ranging from large gatherings to intimate garden rooms.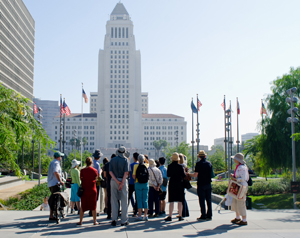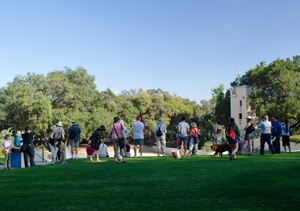 (upper) Los Angeles Civic Center tour; (lower) Pomona College;
photos by Matthew TrauchtBeyond Los Angeles, four tours in Pasadena provided participants a different view of Cornell's design philosophy of public space. Taken together, tours of Central, Memorial, La Pintoresca, and Washington Parks illustrated that Cornell designed diverse, neighborhood-scale places for passive and active recreation. Drawing on local cultural and ecological histories, Cornell's Picturesque and Beaux Arts designs for these parks, developed in the 1920s, utilize topography as well as native and exotic plants to create landscapes that are still well-loved by their users. In Claremont, tours of Pomona College and the Harvey Mudd College campuses allowed participants to view two very different Cornell landscapes. Cornell, who had attended Pomona, worked from 1919 to 1965 to develop his "campus in a garden" landscape of framed vistas, quiet study spaces, and formal courtyards distributed across the 140-acre Beaux Arts campus. Next door at Harvey Mudd College, Cornell worked with Modernist architect Edward Durell Stone and Modernist landscape architect Thomas Church from the 1950s through the 1970s to create a linear design that relied less on discrete moments and more on a cohesive processional. Also on Sunday, participants visited Hillside Memorial Park in Culver City for a tour led by Steven Keylon and Jill Glasband, Director of Community Outreach at Hillside. With a dramatic 120-foot cascade and extensive plantings of pine, olive, magnolia, and flowering shrubs, the 45-acre park stretches elegantly across rolling terrain. Lastly, at Rancho Los Cerritos in Long Beach, Cornell-scholar and horticulturalist Marie Barnidge-McIntyre provided two tours of the Mediterranean-style National Historic Landmark-listed property. Having worked there for 22 years, Marie provided participants first-hand accounts of the challenges of maintaining the site but eloquently conveyed her love for the landscape and respect for Cornell's design philosophy.
What's Out There Weekend – The Public Landscapes of Ralph Cornell provided us valuable insights into the work of this significant artist. The well-attended lecture, exhibit, and tours illustrated that the public is excited to experience these landscapes and learn more about Cornell's legacy. Without the support of our sponsors, partners, volunteers, and guides, this simply would not have been possible. We greatly appreciate lead sponsor Bartlett Tree Experts, presenting sponsors California Garden & Landscape History Society, Los Angeles Conservancy, ParkWest, SWA Group, and UCLA Library, and the numerous other partners who supported the program. We were delighted to receive a financial gift from Mrs. Rosita Cornell Smith that will be used to produce a guidebook featuring new photography and detailed text about all of the Weekend's featured landscapes. The book will available as a print publication and as a free, downloadable PDF.
What's Out There Weekend – The Public Landscapes of Ralph Cornell  has illustrated that the interest for designer-focused Weekends is strong so look for future events. As 2014 draws to a close we are looking forward to What's Out There Weekend events next year with Newport, Toronto, Denver, and Austin on the horizon.