feature
New Online Guide to Washington, DC
TCLF's series of urban landscape legacy Guides continues with the What's Out There Washington, D.C. Guide. Compiling concise and original profiles of more than 75 landscapes in the nation's capital, a comprehensive narrative about the development of the District, and detailed biographies of the landscape architects and planners who have shaped these places, the interactive Guide is a rich and compelling resource for visitors and residents alike. Video Oral histories featuring some of the designers are viewable on the Guide, providing the opportunity for the user to hear directly from Lawrence Halprin, for example, as he describes the development of the Franklin Delano Roosevelt Memorial.
The Washington, D.C. Guide spans the designed landscape legacy of the nation's capital from its late eighteenth century origins, through the seminal McMillan Plan of 1901, and into the city's twentieth century history. From Italianate and Beaux Arts to Modernist and Postmodernist landscapes, the District has been an artful model for the nation's—and arguably the world's—diversely designed cities. Inspired by Paris, Rome, and Vienna, the District was established on 100 square miles at the confluence of the Potomac and Anacostia Rivers in 1790, laid out by Pierre L'Enfant and Benjamin Banneker. One hundred years later, the World's Columbian Exposition in 1893 established new directions for the design of cities and the early twentieth century witnessed an institution of these ideals upon the landscape of Washington, D.C. Today, the District is a rich collection of parks, arboreta, institutional grounds, commemorative landscapes, plazas, cemeteries, and boulevards.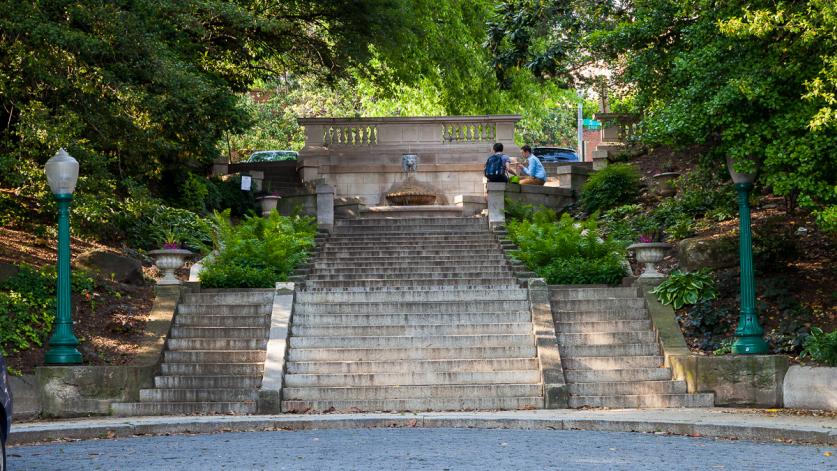 This profusely illustrated and detailed Guide is a component of TCLF's ever-expanding What's Out There, a free online database of the nation's designed landscape legacy that features more than 1,700 landscapes, 900 designer profiles, and 10,000 images.  The Guide and What's Out There also come with What's Nearby, a GPS-enabled function that locates all sites in the database within a 25-mile radius of any given location. The Washington, D.C. Guide is the second such platform, following TCLF's launch of the What's Out There Denver Guide in November.
Funded in part by a National Trust for Historic Preservation grant, the What's Out There Washington, D.C. Guide is made possible through a collaborative effort. In development of the project, TCLF gratefully acknowledges the assistance of the Washington, D.C. Historic Preservation Office, the National Park Service, and the American Society of Landscape Architects. The Media Partner for the initiative is dcist.