feature
What's Out There Weekend Reveals Houston's Landscape Legacy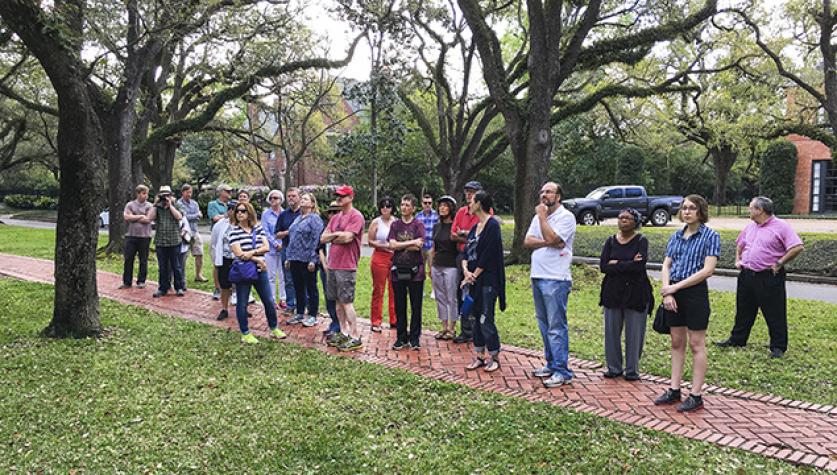 With more than 1,500 registrations for The Cultural Landscape Foundation's (TCLF) tours and conference, What's Out There Weekend Houston was a rousing success. To bring the weekend to fruition, TCLF worked closely with a number of local partners, including the Houston Parks and Recreation Department, whose staff helped to develop maps, review essays on historical sites, and guide tours.
The proceedings in Houston began on Friday, March 11, with the Leading with Landscape II: The Houston Transformation conference, which, as the Houston Chronicle reported, had the city buzzing about urban design. Then came two days of free tours—nearly 30 in all—accompanied by sunshine and bayou breezes and led by the top designers and professionals who know these sites best, some of whom had presented at the conference.
Saturday opened with a tour of the McGovern Centennial Gardens & Cherie Flores Garden Pavilion (located in Hermann Park) by the knowledgeable Jane Curtis, the gardens' director of horticulture. Later, Curtis also led a highly acclaimed tour of Hermann Park, originally designed by George Kessler and recently transformed by several leading firms. SWA Group's Scott McCready and the Buffalo Bayou Partnership's Anne Olson jointly led two tours of Buffalo Bayou Park and Sabine Promenade, where attendees experienced a range of what the 163-acre park has to offer and were given privileged admission to the cistern (an 87,500-square-foot drinking water reservoir constructed in 1927) that underlies the Sky Lawn at the Water Works.
One of the oldest structures in Houston's downtown area, Christ Church Cathedral and its grounds were thoroughly explored by a group led by Paul Weathers, principal at Clark Condon, the landscape architecture firm that redeveloped a parking lot directly to the east of the historic church, transforming it into a public garden and event space. Nearby, SWA Group's John Cutler talked about the development of the landscapes at Allen Center and the adjacent Antioch Park. At the Menil Collection Campus, a tour led by the Menil's chief operating officer Sheryl Kolasinski and Michael Van Valkenburgh Associates' senior project manager Jack Ohly elaborated on the historic character of the campus and its surrounding neighborhood while also divulging some of the plans for the future of this iconic landscape. Mary Margaret Jones discussed the transformation of parking lots near the convention center into the well-loved Discovery Green, designed by her firm Hargreaves Associates. In Houston's hinterland, tour attendees at The Woodlands Town Center and Waterway were treated to water taxi rides narrated by Sheila Condon, principal of Clark Condon, and Robert Heineman, vice president of planning for The Woodlands Development Co.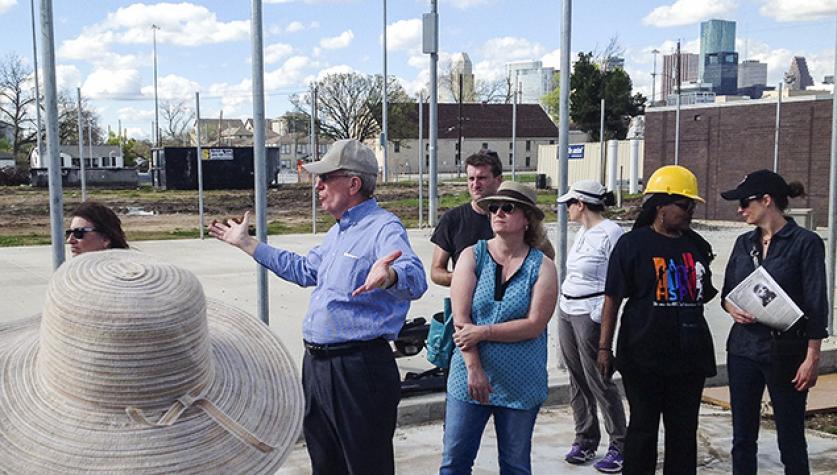 Staff members of Houston Parks and Recreation Department (HPARD) led several tours: Joe Turner, HPARD's director, was joined by his colleagues at HPARD as well as various landscape architects who have worked on a number of the City's projects, including Gragg, Emancipation, Sam Houston, and Bethel Parks. As this year marks HPARD's 100th anniversary, it was especially fitting that so many of the Weekend's tours illustrated the recent enhancements to Houston's parks. For his leadership, Turner was presented TCLF's Stewardship Excellence Award in a reception following the conference. He remarked, "It was a great honor to be a part of your event and to be able to show the Houston we know to so many people this weekend. I am proud of the work my department has done to improve parks and recreational facilities in Houston and I feel profoundly inspired by the efforts of those before us. Having these public areas recognized by a prestigious organization like The Cultural Landscape Foundation is confirmation of all of the efforts that have been put forth by our citizens, conservancies, partners, foundations, governmental entities, landscape architects and our team."   
Tours on Saturday of other public parks included Kerry Goelzer's outing to Tranquillity Park and Hermann Square, a walk through Memorial Park led by Thomas Woltz, principal at Nelson Byrd Woltz Landscape Architects, and an expedition into the Houston Arboretum and Nature Center led by Steven Spears of Design Workshop. The day ended with a tour of Glenwood Cemetery by Jim Parsons, director of special projects with Preservation Houston. Parsons also gave a tour of the University of St. Thomas campus earlier that day, and he treated attendees to a lively and informative walk around the Broadacres Historic District on Sunday as well.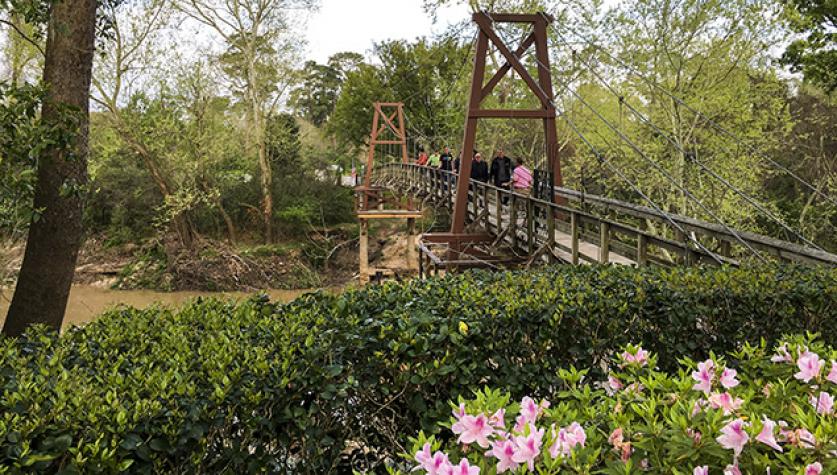 The second day of tours began at the Bayou Bend Collection and Gardens, where curator Bart Brechter gave an account of Ima Hogg's enduring gift to Houston. For something completely different, Robb Berg, principal at Design Workshop, led a tour of Houston's signature commercial artery, Post Oak Boulevard. Berg, who met tour attendees at the dramatic Gerald D. Hines Waterwall Park, talked about upgrades to the streetscape that will improve transit and pedestrian experiences. His colleague at Design Workshop, Amy Benoit Harbert, also reflected on transformations to streetscapes that make them more habitable by describing recent work done on Bagby Street and Bagby Park in Houston's Midtown. Along Buffalo Bayou, Lauren Griffith led a tour of Sesquicentennial Park, a linear park designed by Team HOU (of which Griffith was a member) in 1985 to commemorate the 150th anniversary of Houston's founding. The seminal project for all of the subsequent bayou development, Sesquicentennial Park is the gateway to downtown from the west. Griffith ended the excursion at Market Square Park, another of her significant contributions to Houston's public open-space network. Along another of the city's bayous, a bicycle tour of the White Oak Bayou Greenway was led by Tom Bacon and Michael Skelly, chairman and board member, respectively, of the Houston Parks Board, a public-private partnership that is working to create a 150-mile-long network of parks along the city's bayous.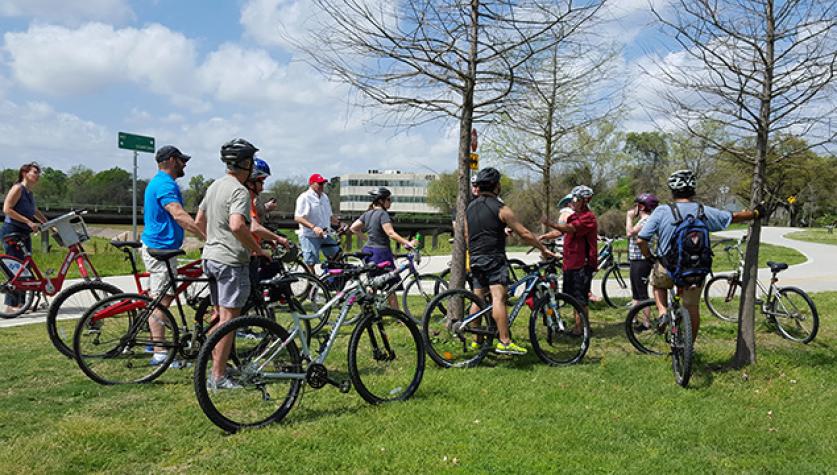 Johnny Steele, a local landscape architect who worked with Isamu Noguchi in the 1980s on the design of the Lillie and Hugh Roy Cullen Sculpture Garden, led a tour of that landscape in Houston's Museum District. Nearby at Rice University, architectural historian Stephen Fox discussed the Beaux-Arts campus plan in a fascinating tour that ended at the Raymond and Susan Brochstein Pavilion with a discussion led by Andrew Albers, vice president of The Office of James Burnett, the firm that designed the pavilion's landscape. In the final tour of the Weekend, Albers helped tour goers see CityCentre Houston in a different light, giving an account of his involvement with the site's development and its impact on Houston.

Illustrated descriptions of nearly 40 sites throughout Houston, along with maps, designer profiles, and narratives about the history of the city's landscape development, are now available through the interactive, online What's Out There Houston Guide. The fifth in TCLF's ongoing series that also covers Washington, D.C., Denver, Chicago, and Toronto, the Guides are living documents that are updated as new research is conducted and new facts are discovered about each city. Many of the landscapes that were included as tour sites in the What's Out There Weekend Houston are also featured in TCLF's newest print guidebook, the eleventh in a series produced in tandem with Weekends in Miami, Los Angeles, Chicago, Philadelphia, and many other cities.