Landslide
North Carolina State University's Postwar Landscape Architecture Enrolled as a Landslide At-Risk Site
N.C. State University, located approximately three miles west of downtown Raleigh, was founded in 1887 pursuant to the Morrill Act of 1862, which made federal land available for the purposes of establishing higher education facilities for the teaching of agriculture, mechanical arts, and military science. Originally serving fewer than 100 students in a single building, the institution has since grown to 2,100 acres encompassing the Central, North, South, and Centennial Campuses.
HISTORY
In 1919 architect Hobart Upjohn and landscape architect Warren Manning developed the first comprehensive master plan for the campus (now North Campus). Construction for Memorial Belltower at the campus' Hillsborough Street entrance began in the 1920s, with stonework completed in 1937 through Works Progress Administration funding. In 1958 an updated plan called for expansion to a second, south campus, and designated a central pedestrian area, University Plaza, for connectivity between the two spaces. In 1963 Richard Bell's newly formed firm, Richard C. Bell Associates, completed the master plan for the contiguous campuses. The firm implemented a new system for vehicular traffic and designed University Plaza as a paved open space bordered by lawn and trees, earning the nickname "The Brickyard" for its red and white brick paving (a nod to the university's official colors). The unique mosaic paving pattern was born of necessity—Bell's associate Hal McNealy created a design that used only whole bricks, eliminating the need (and associated costs) with brick cutting. This modernist piazza has brick paving inspired by the Piazza San Marco in Italy and is among the most significant landscapes on a university campus from the Modernist period. Bell is a recipient of the American Society of Landscape Architects (ASLA) Medal, the professional association's highest award.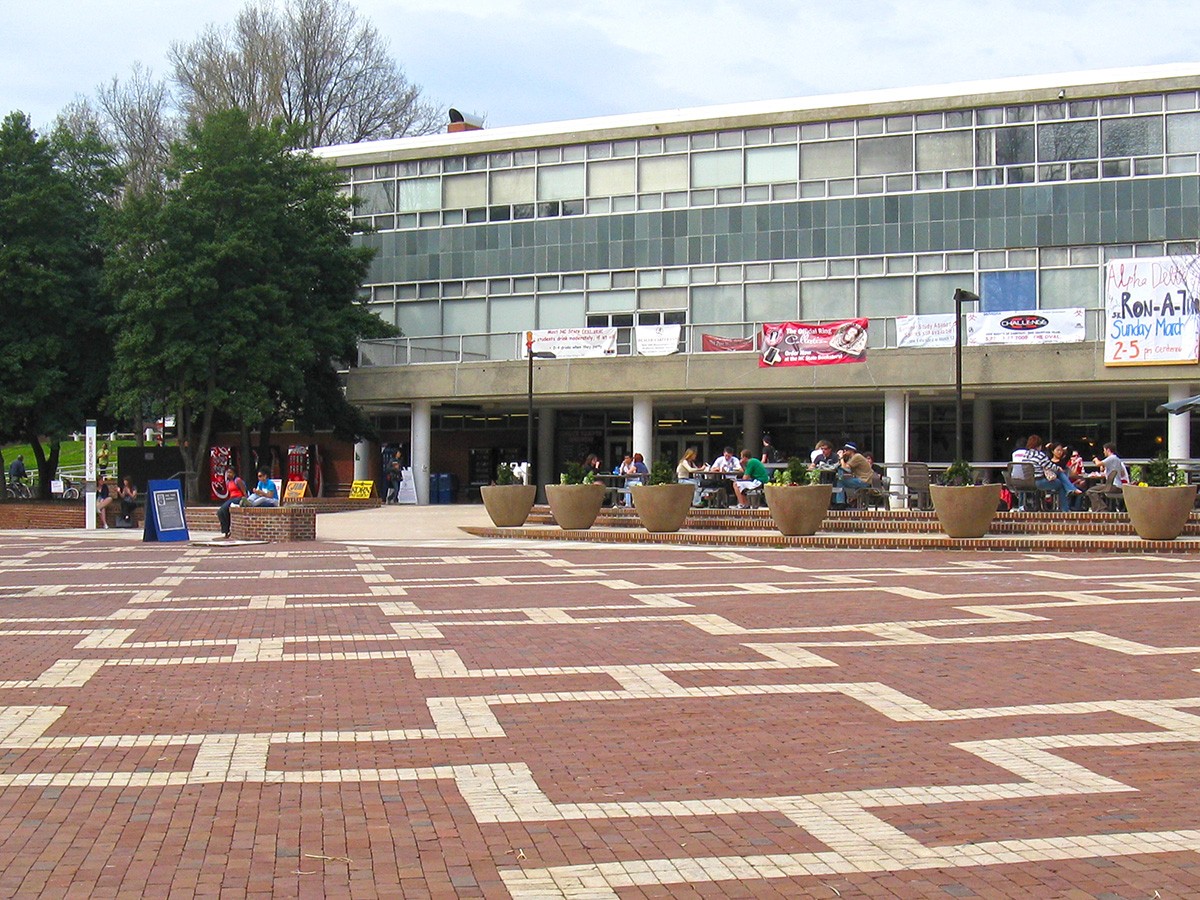 The Brickyard is one N.C. State's nine "Hallowed Places" defined by the university as "irreplaceable campus buildings, landscapes and natural settings that have accrued special meaning over time." Officially known as University Plaza, the 45,240-square-foot site, comprised of some half million red and white bricks (hence its nickname) in a distinctive geometric pattern, can "hold roughly half of the university's student population at one time." The Brickyard is featured in TCLF's digital What's Out There Cultural Landscapes Guide to Raleigh-Durham and the cover of the What's Out There Raleigh-Durham-Chapel Hill Guidebook. The site is so popular that "upward of 500 of the plaza's … bricks are swiped as souvenirs annually."
The adjacent Burlington Nuclear Engineering Lab housed the first nuclear research reactor designed, built, and operated by an academic institution in the United States. When the building by architect George Milton was completed in 1953, it was described by the Associated Press's science editor as "The First Temple of the Atom." The McLean-designed landscape was completed in 1972 and wraps around three sides of lab.  McLean designed a sculptural landscape that drew on Modernist ideas while foreshadowing later Postmodern motifs with whimsically elevated everyday objects. The landscape's paving, planters, steps, and sculptures are made of the red brick found throughout much of the university's campus.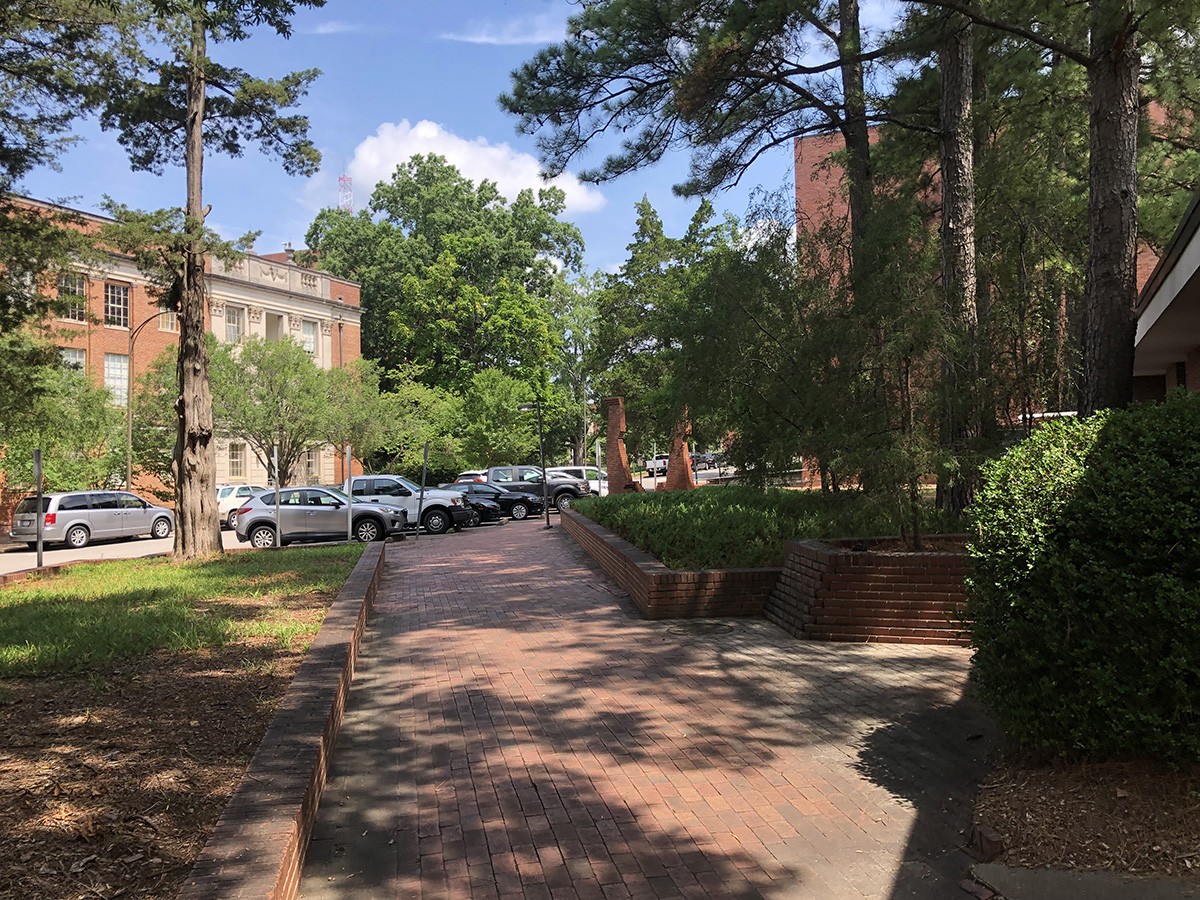 McLean used brick to construct an angular sculptural landscape for sitting and gathering, embellished with planters that play with perspective, zig-zagging and tilting in and out to create ziggurats and inverted ziggurats. Utilitarian elements like manhole covers and grates are accentuated, rather than hidden, by multifunctional sculptures of brick that take the shape of abstracted human forms. One that resembles an anthropomorphic chimney appears to walk over a grate and is the focus of a seating area with floating wood benches. However, in 2022 one of the site's sculptural compositions that incorporated a water meter (seen in above photo) was demolished. The sculpture was determined by the school's facilities department to be a safety threat based on some cracked and chipped bricks.
Another significant phase of university expansion occurred in 1984 with the creation of Centennial Campus, which extended the original campus boundaries to the south and west and more than doubled its size.
THREAT
A campus master plan currently under review could lead to the alteration of some contributing sites, including the iconic Brickyard by landscape architect Richard Bell, and the Burlington Nuclear Engineering Lab Area by Raleigh-based landscape architect Geoffrey McLean, an N.C. State graduate (1969). The master plan's lack of specificity has raised concerns about the future of the campus' postwar landscape architecture legacy. Another Modernist landscape on campus, pictured below, was demolished when a new student union building was constructed between 2014 and 2015. Its destruction serves as a harbinger of the threats facing other campus landscapes.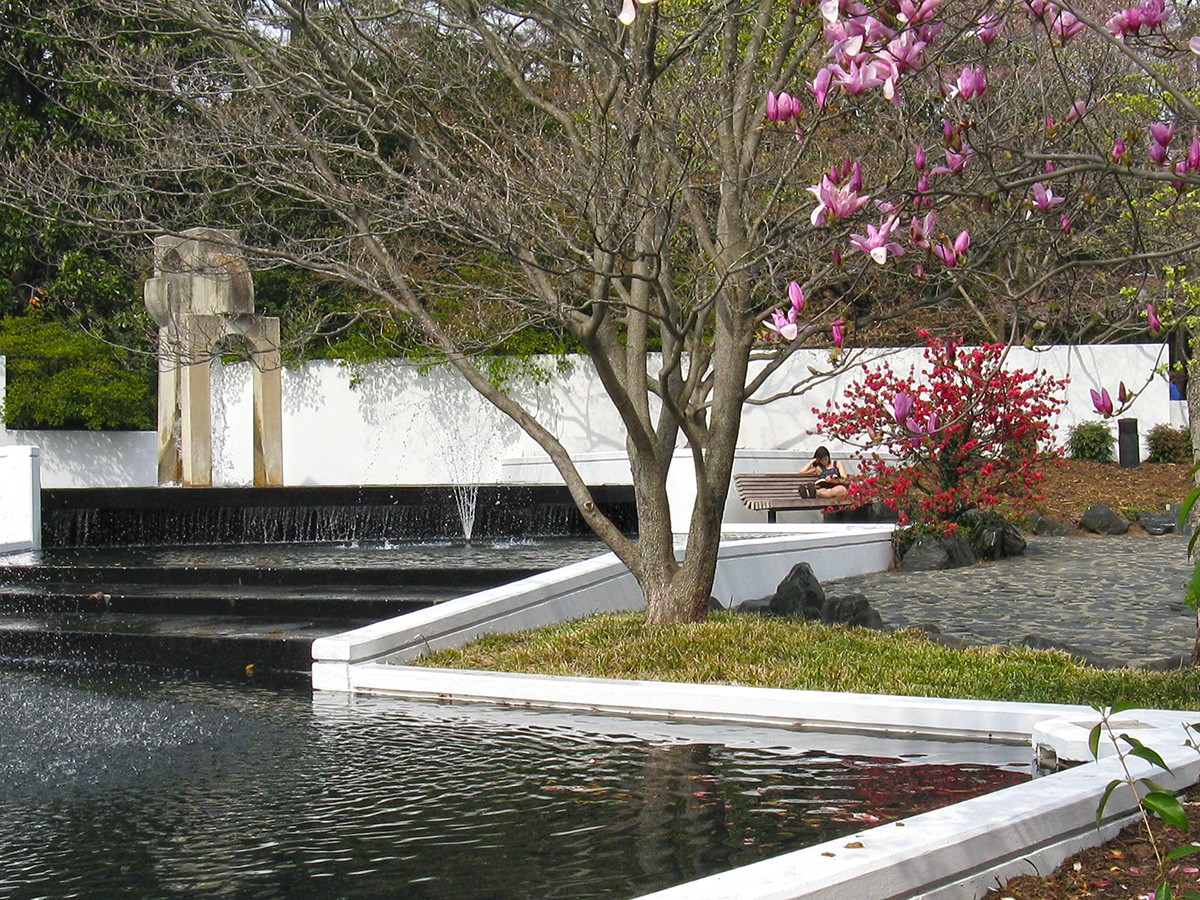 TCLF believes the Brickyard and the Burlington Nuclear Engineering Lab Area are likely eligible for listing in the National Register of Historic Places and recommends that N.C. State commission National Register nominations for these sites. TCLF also recommends that N.C. State undertake a thorough survey of its historic landscape resources on campus, as well as the creation of guidelines for landscape architecture in the context of new construction, similar to what was done at University of North Carolina at Chapel Hill and some 80 other institution because of support from the Getty Campus Initiative.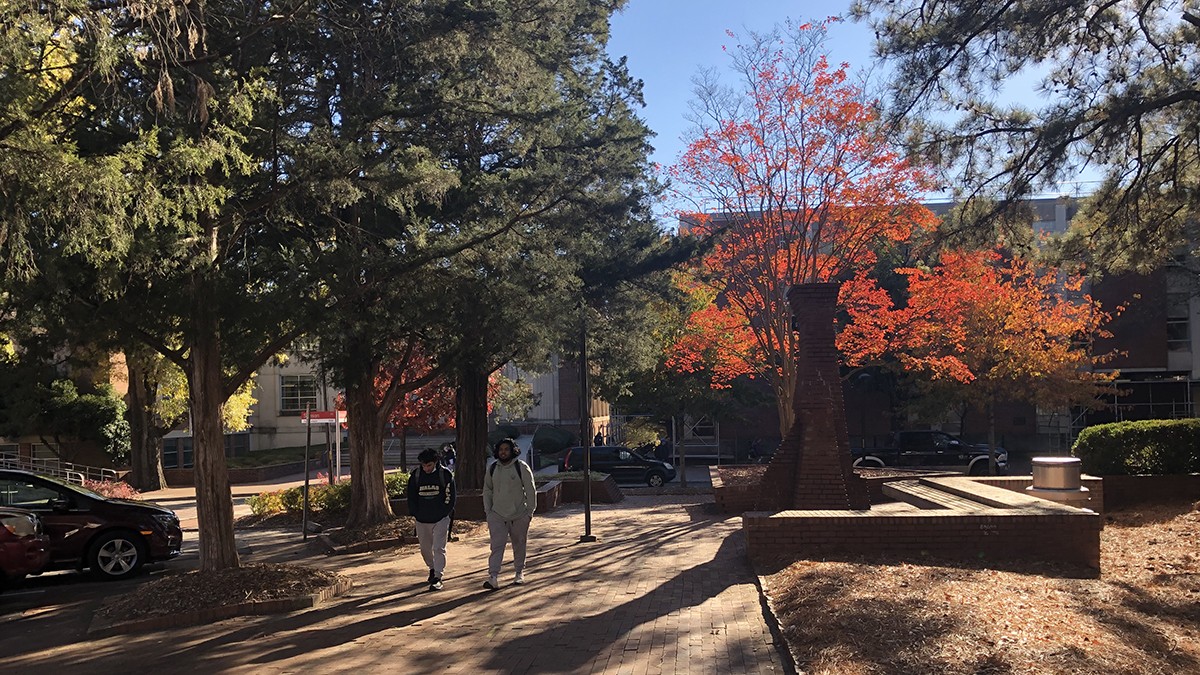 WHAT YOU CAN DO TO HELP
Please contact the following officials at N.C. State about the need for a thorough survey of the university's historic landscape resources on campus, as well as the creation of guidelines for landscape architecture in the context of new construction, and the recommendation that National Register for Historic Places nominations be prepared for the Brickyard and the Burlington Nuclear Engineering Lab Area:
Mr. Tom Skolnicki
University Landscape Architect
Ms. Lisa Johnson
University Architect
Mr. Rich Holly
Executive Director for the Arts
Dr. Randy Woodson
Chancellor