Landslide
Peavey Plaza Rehab Begins
The Peavey Plaza saga is headed for a happy ending. After a lawsuit by The Cultural Landscape Foundation and Preservation Alliance of Minnesota stopped the City of Minneapolis from demolishing the plaza, the city hired Coen+Partners to develop renovation plans that meet the Secretary of the Interior's Standards for the Treatment of Historic Properties. Global Specialty Contractors began construction in May 2018, with a grand reopening scheduled for June 2019. The $10 million project is funded by $4 million from the city, $2 million of state bonds, and $4 million from private donors.
The process of saving Peavey Plaza is noteworthy on many counts. It was the first National Register designation for a work by landscape architect M. Paul Friedberg, and the plaza was only 38 years old when it received that honor in 2013—qualifying as an "exceptionally important" site, a requirement for properties younger than 50 years. The preservation effort won the first Advocacy Award of Excellence from DOCOMOMO for the "consortium of local and national organizations [that] came together to successfully communicate Peavey Plaza's ongoing importance and prevent its demolition." As part of this process, local members of the American Society of Landscape Architects documented the plaza for the Historic American Landscape Survey (HALS), introducing one of the first Modernist landscapes to this archive, housed at the Library of Congress.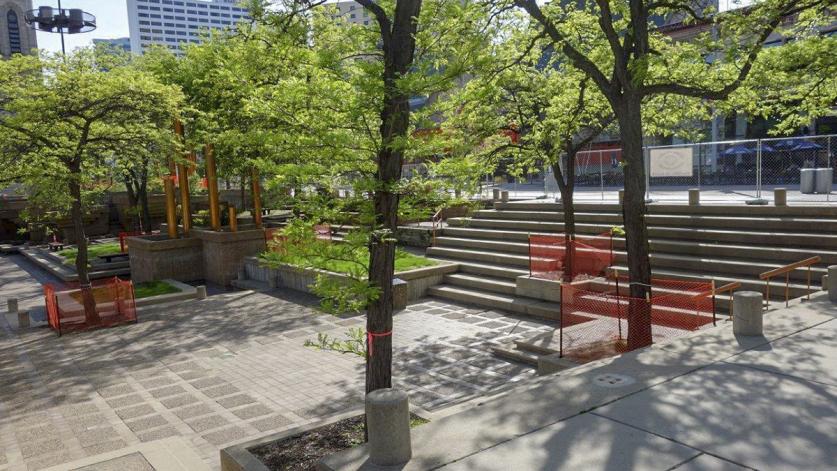 On a local level, Peavey (opened in 1975) is one of the state's youngest properties to be listed in the National Register of Historic Places. The lawsuit was a decisive win for the Minnesota Environmental Rights Act, setting a precedent for future preservation efforts. It also proved that you can fight City Hall—a welcome victory in a time when environmental laws are increasingly under threat.
Updates and more information on the rehabilitation of Peavey Plaza can be found on the City of Minneapolis website.