RFQ Issued for Halprin's Freeway Park
RFQ Issued for Halprin's Freeway Park
RFQ Issued for Halprin's Freeway Park
On January 2, 2019, Seattle Parks and Recreation (SPR) issued a Request for Qualifications (RFQ) to select a design team to carry out the $10 million Freeway Park Improvement Project, which will include $9,250,000 for capital improvements to the park and $750,000 for activation. The project, slated to begin in April 2019 and to extend through December 2021, is part of the public benefits package negotiated as part of the Washington State Convention Center Expansion Project. The deadline for responses to the RFQ is 4:00 p.m. on January 31, 2019.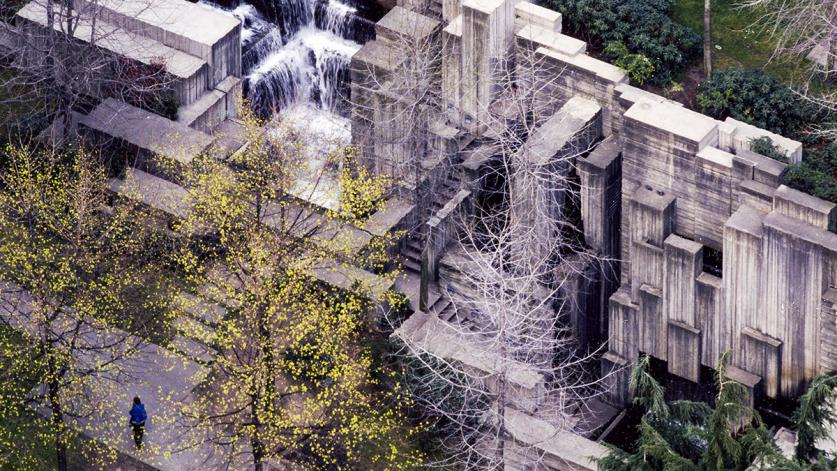 Featured prominently at the beginning of the RFQ's "Scope of Work" is the following paragraph:
The Consultant will work with SPR to secure all necessary local, State and/or Federal permits and approvals in accordance with the following timeframe. Note also that all future Freeway Park improvements, including improvements designed and implemented through this RFQ, must be completed following the Secretary of Interior's Standards and Guidelines for the Treatment of Historic Properties, as well as specific guidance for parks found in the Secretary of Interior's Guidelines for the Treatment of Cultural Landscapes.
Conceived by Lawrence Halprin & Associates under the design direction of Angela Danadjieva and built atop Interstate 5 in downtown Seattle, Freeway Park was the progenitor of a new design typology—emulated to this day—that boldly reimagined the role of the public park as an element of infrastructure. The park's linked plazas are intertwined and enclosed by board-formed concrete planting containers and walls. The separate areas of the park, known as the Central Plaza, East Plaza, and West Plaza, are differentiated by dynamic water features but are nonetheless unified by a shared materials palette of concrete, broadleaf evergreen plantings, and site furnishings.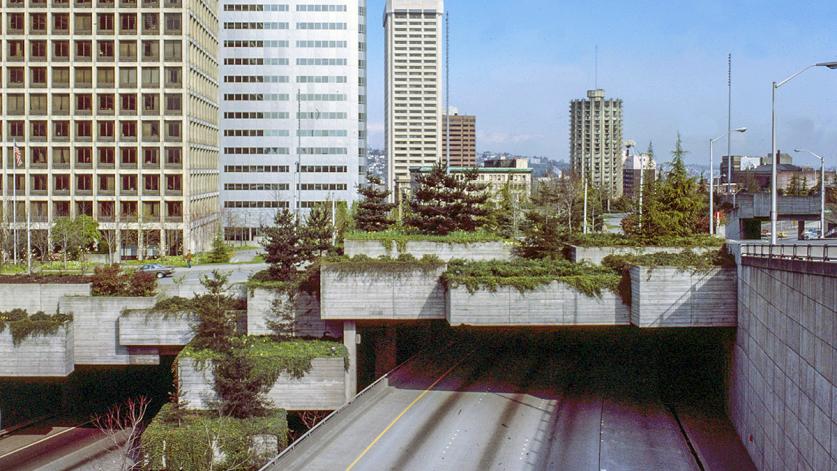 In 2016 Freeway Park became the subject of a Section 106 review initiated by the Federal Highway Administration in the wake of plans for a $1.7 billion expansion of the Washington State Convention Center. TCLF served as a consulting party to the review, which culminated in a Programmatic Agreement specifying that a National Register of Historic Places nomination be completed for Freeway Park. As TCLF's Charles Birnbaum noted in an October 2017 letter to the Seattle Design Commission, Freeway Park "ranks as one of Halprin's most important and influential works…it is not only destined to be listed in the National Register of Historic Places, I believe it may potentially be named a National Historic Landmark and, as a progenitor of a typology by a master designer, a future UNESCO World Heritage Site." Halprin's Open Space Sequence in Portland, Oregon, was listed in the National Register of Historic Places in 2013, as is Park Central Square, in Springfield, Missouri (listed in 2010) and Heritage Park Plaza, in Fort Worth, Texas (also listed in 2010).