Landslide
Halprin's Freeway Park Added to National Register
On December 19, 2019, Seattle's Freeway Park, the first park in the world to be built atop a freeway, was listed in the National Register of Historic Places (NRHP). With the initial phase of construction completed in 1976, the groundbreaking work of landscape architecture was created by Lawrence Halprin & Associates under the design direction of Angela Danadjieva. The NRHP listing noted the park's significance at the national level under Criterion A, recognizing "its direct connection to the recreational needs of the citizens of Seattle…as an example of an innovative urban design solution," and Criterion C, "as a resource that embodies the distinctive characteristics of its type, period of construction and method of construction."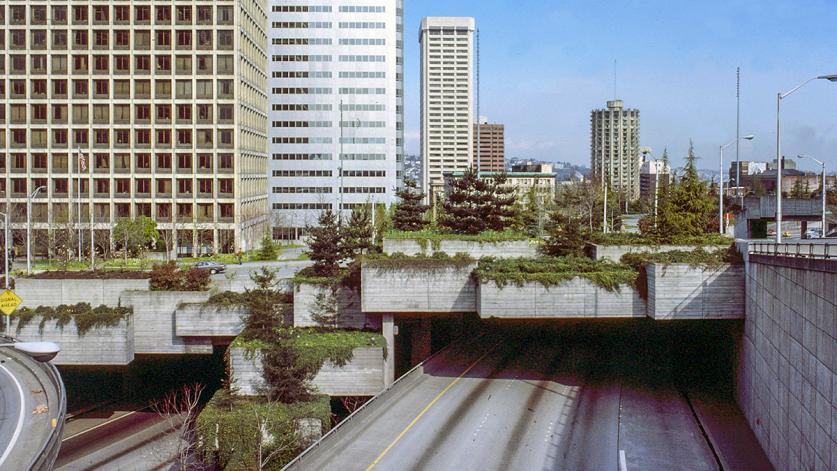 Freeway Park was a daring and innovative response to the newly built Interstate 5, which, in the 1960s, had cleaved Seattle's downtown from the First Hill neighborhood, virtually cutting the city in two. As the NRHP nomination noted, "The park was not only a victory over the nation's growing freeway system," it also "served as an example of the power of public involvement in urban planning."
Although Freeway Park has suffered from deferred maintenance in recent decades, its integrity is much intact. Occupying more than five acres as it stretches over the interstate, the park is defined by a series of irregular, linked plazas enclosed by board-formed concrete planting containers and walls. The separate areas achieve consistency and cohesion through a shared materials palette of concrete, broadleaf evergreen plantings, and site furnishings, while the spaces are differentiated through the dynamism of bold water features. Significantly, the National Register nomination noted the full range of the park's character-defining elements, from its fountains, paths, and plazas to its light standards, benches, trash receptacles, and its board-formed concrete finish.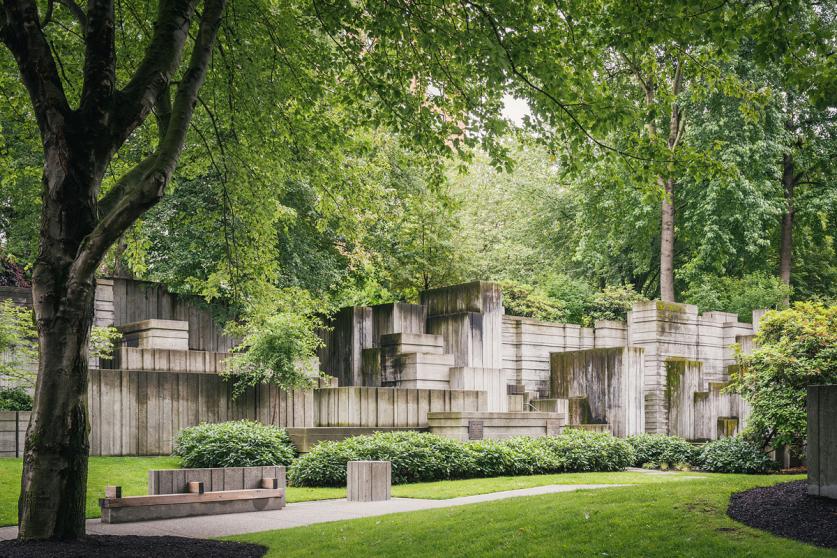 Charles Birnbaum, TCLF's president and CEO, reacted to the news with the following statement:
"We are delighted to see that Halprin's revolutionary design has now been recognized in the National Register of Historic Places, earning a distinction that has been afforded his other projects in Missouri, Oregon, and Texas. As the progenitor of a typology, and a seminal work in a career that spanned 60 years, Freeway Park is now undergoing a program of restoration and rehabilitation, and we look forward to the day when this Seattle neighborhood park is further elevated to the status of a National Historic Landmark—a distinction that, to date, no other Halprin landscape can boast."
The recent National Register listing stems in part from a Section 106 review initiated by the Federal Highway Administration in October 2016, which began after plans were announced for a $1.7 billion expansion of the Washington State Convention Center (WSCC). TCLF was an official consulting party in that review, which culminated in a Programmatic Agreement signed on March 22, 2018, specifying that the WSCC would complete an NRHP nomination for the park. The WSCC's expansion also resulted in a public benefits package negotiated by the Community Package Coalition, which included the non-profit Freeway Park Association. The coalition successfully obtained $10 million in funds to support the Freeway Park Improvements Project, which is now in the development and design phase, with construction slated to begin in summer 2020.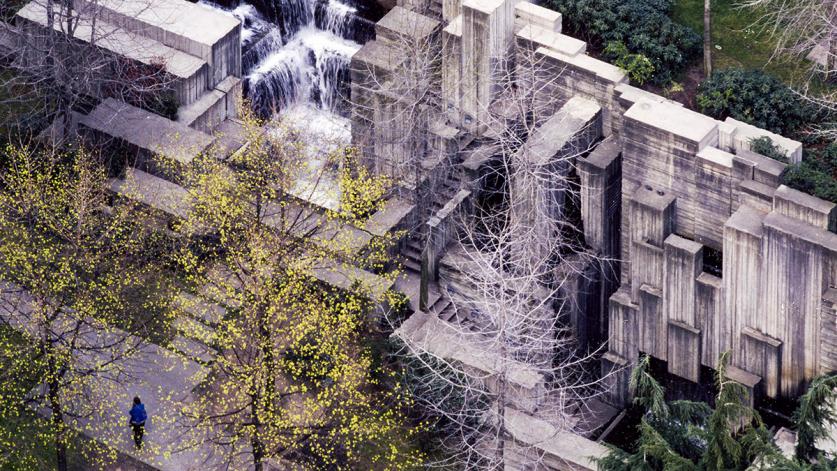 Efforts to rehabilitate the park, led by the landscape architecture firm Walker Macy, will also be subject to the mandates of the Programmatic Agreement, according to which any work on the park must comply with the Secretary of Interior's Standards and Guidelines for the Treatment of Historic Properties, as well as specific guidance in the Secretary of Interior's Guidelines for the Treatment of Cultural Landscapes.
At an open house and panel discussion held at Town Hall Seattle in October 2019, Walker Macy's Lara Rose assured the audience of her firm's commitment to honoring the park's significance: "We intend to approach the project with a great deal of rigor and respect," Rose said, adding that "this project will honor the original design intent." As that work moves forward, TCLF has joined with other groups, including Historic Seattle and Docomomo US/WEWA, in refocusing their efforts on designating Freeway Park as a local landmark.
TCLF included Freeway Park in its Landslide program more than a decade ago in the wake of proposals that would have significantly altered the park's visual and spatial composition, including the removal of two of its character-defining fountains and the demolition of several of its retaining walls. While those proposals were ultimately averted, the park has nonetheless suffered from years of deferred maintenance. But its recent inclusion in the National Register, and the ambitious and comprehensive planning efforts that are now underway, suggest that there are many reasons to be optimistic about the future of Halprin's postwar icon.