Further Recognition for Seattle's Freeway Park

Further Recognition for Seattle's Freeway Park
Further Recognition for Seattle's Freeway Park
On May 18, 2022, Seattle's Landmarks Preservation Board will meet to consider the nomination of Freeway Park for landmark status. Completed by Lawrence Halprin & Associates under the design direction of Angela Danadjieva, the first phase of this 5.5-acre park opened in 1976 and remains one of the most compelling treatises on postwar landscape architecture. The meeting will be held virtually and members of the public can attend.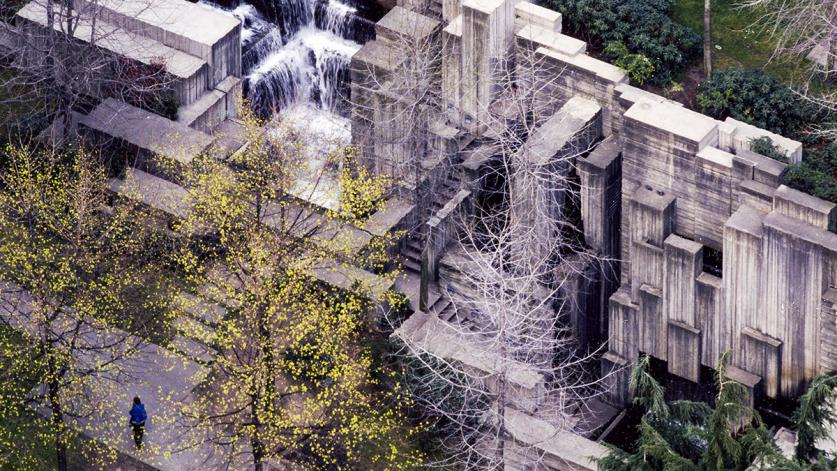 Freeway Park was listed in the National Register of Historic Places (NHRP) on December 19, 2019, and this latest move is further recognition of the site's significance in the constellation of influential work of postwar urban landscape architecture. Freeway Park was a daring and innovative response to the newly built Interstate 5, which, in the 1960s, had cleaved Seattle's downtown from the First Hill neighborhood, virtually cutting the city in two. As the earlier NRHP nomination noted, "The park was not only a victory over the nation's growing freeway system," it also "served as an example of the power of public involvement in urban planning."
The current nomination, which is informed by the earlier NHRP nomination, notes: "Lawrence Halprin is now heralded as one of the twentieth century's greatest landscape architects." But the authors also state that Halprin's influence went beyond his role as a designer: "Halprin is also credited with amplifying the role landscape architects played in urban planning. By the 1970s, Halprin's firm was heralded as an example of how the landscape architecture field was changing to embrace historic preservation and the reuse of underutilized urban spaces. As described by [The Cultural Landscape Foundation], Halprin and his contemporaries 'reasserted the landscape architect's role in regenerating the American city, made vital social and pedestrian spaces out of formerly marginal sites such as historic industrial complexes or the spaces over or under freeways.'"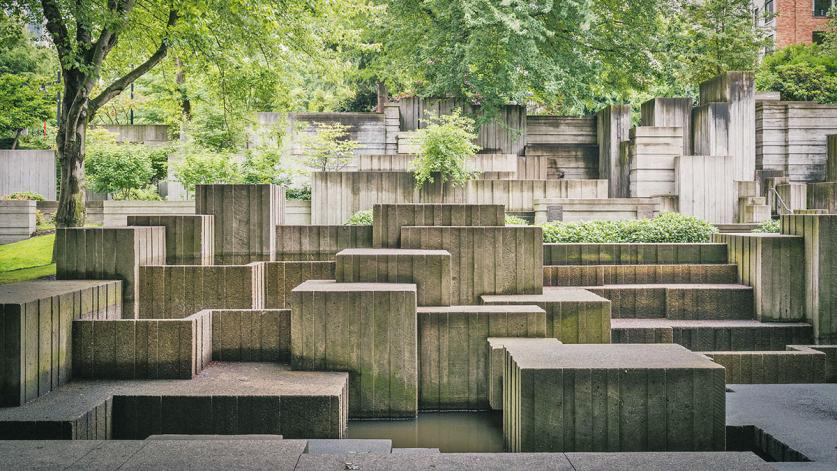 TCLF included Freeway Park in its Landslide program more than a decade ago in the wake of proposals that would have significantly altered the park's visual and spatial composition, including the removal of two of its character-defining fountains and the demolition of several of its retaining walls. Those proposals were ultimately averted. With the park's inclusion in the National Register, the move for local landmark status, and the ambitious and comprehensive planning efforts that are now underway, TCLF is encouraged about the future of Halprin's postwar icon.