feature
A Spectacular What's Out There Weekend in St. Louis & Missouri River Valley
A perfectly crisp and sunny early Autumn weekend greeted more than 600 attendees for 35 free, expert-led tours organized by The Cultural Landscape Foundation (TCLF) as part of What's Out There Weekend St. Louis & the Missouri River Valley. Guides and participants explored some of St. Louis' best-known and beloved landscapes, including Forest Park, Tower Grove Park, and the Missouri Botanical Garden, and also traveled further afield to discover hidden gems throughout the city and the Missouri River Valley, including Jefferson Barracks, Laumeier Sculpture Park, and the historic Country Store Corridor along the Katy Trail. The What's Out There Weekend programming spurred renewed appreciation for the region's wealth of public parks, gardens, vernacular landscapes, and historic sites, and energized the community to learn more about and invest in these sites even beyond the weekend tours. "[The tours] build knowledge of our cultural landscape resources and tend to make you pass on the experience to others, " explained one attendee.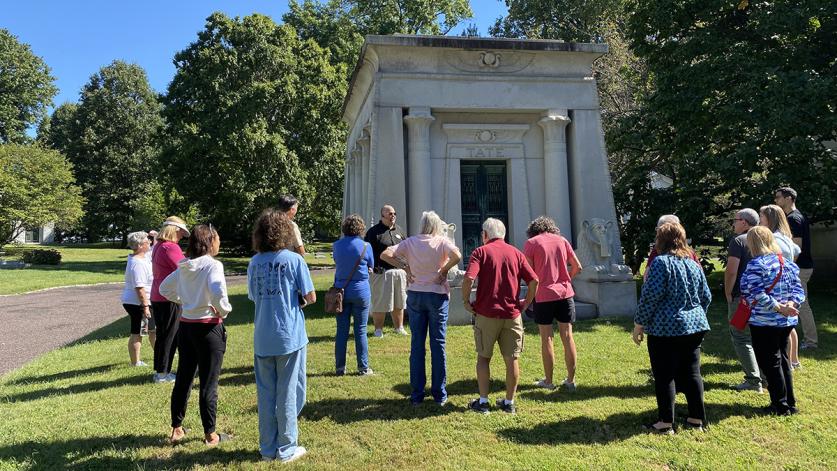 The weekend's program kicked off with a reception generously hosted by Tower Grove Park in the Palm House. Attendees were in no rush to get home and left with brand-new copies of the 64-page What's Out There St. Louis & the Missouri River Valley guidebook (available for purchase and as a free downloadable PDF), and the unveiling of a new, ever-growing What's Out There St. Louis & the Missouri River Valley digital guide, which launched with 55 sites and nearly 50 biographies of designers and shapers that spans three centuries from the city's colonial era to the present day.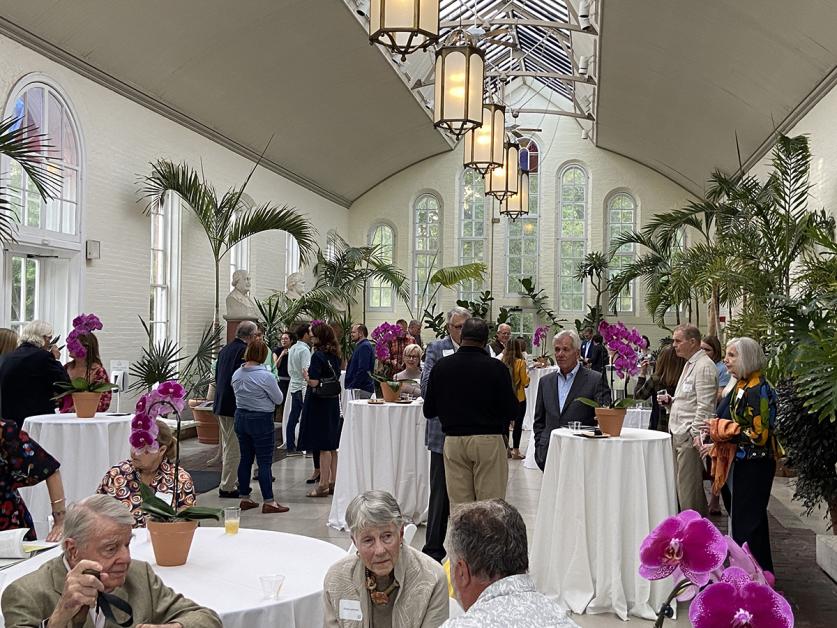 Around the city, guided tours invited St. Louisans to learn more about often-overlooked sites with rich histories and offerings, such as Lafayette Park, a charming Victorian designed landscape that holds the distinction of being the city's first public park – and the first public park west of the Mississippi, dedicated in 1851. Attendees also had the chance to discover contemporary works of landscape architecture, like Washington University in St. Louis campus' revived East End and the Pulitzer Arts Foundation – a campus comprised of multiple sites including a vacant urban lot transformed into a vibrant native plant garden and the extant masonry shell of a fire-ravaged former church reimagined as an inviting community space and garden. The course of the two days offered privileged insight from landscape architects, historians, and designers that one attendee referred to as "a unique and quality deep dive that gave me even more appreciation for these wonderful sites."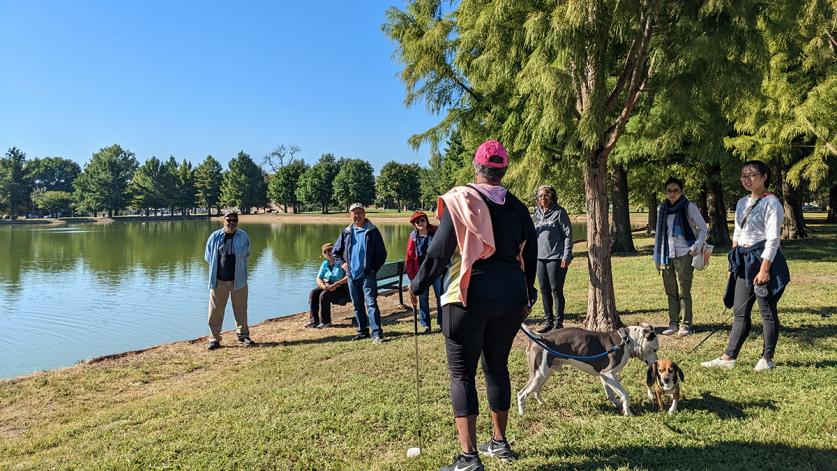 The list of expert tour guides was a who's who of landscape architecture by celebrated local and national practitioners including project leaders from Michael Van Valkenburgh Associates, Nelson Byrd Woltz Landscape Architects, SWT Design, H3 Studio, Arbolope Studio, DTLS Landscape Architecture, and Lamar Johnson Collaborative, along with historians and stewards from the National Park Service, the National Building Arts Center, and the Missouri Historical Society.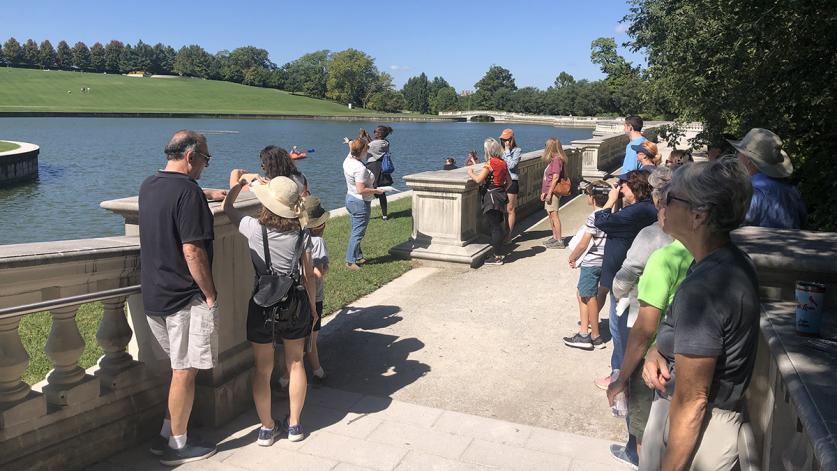 From vernacular landscapes to icons of Modernism, from grand Beaux-Arts masterpieces to exciting contemporary projects, attendees had the opportunity to experience a full range of diverse cultural landscapes in the St. Louis region. "I am so hopeful your organization or someone in the St. Louis area will offer this event again. I would be thrilled to volunteer my time to make that happen," enthused one attendee.
What's Out There Weekend St. Louis and the Missouri River Valley would not have succeeded without support our Lead Sponsors Magnificent Missouri, William T. Kemper Foundation, Mrs. Joseph F. Gleason, and Christy Love; Presenting Sponsors Anova, Bartlett Tree Experts, Edward Jones Foundation, Landscape Forms, Victor Stanley, Dierberg Family Foundation, Ferring Family Foundation, Mary Morgan, Ulrike and Tom Schlafly, Steve and Lisa Trulaske, Love Family Charitable Trust, Anabeth Cadwell Weil; Event Partners Explore St. Louis, Missouri Humanities, and Tower Grove Park; Educational Partner ASLA St. Louis, and all our Supporting Sponsors, and Friends. Also essential was the tireless involvement of Dan Burkhardt, Mary Morgan, and many more who generously volunteered their time and knowledge.