feature
What's Out There Weekend D.C. A Monumental Success
During two remarkably beautiful and mild June days, The Cultural Landscape Foundation (TCLF) hosted What's Out There Weekend Washington, D.C., featuring free expert-led tours of dozens of landscapes throughout the nation's capital. The District was the site of the very first and wildly popular Weekend a decade ago, but much has happened since then: Pershing Park is now the site of a national World War I Memorial; a roof garden has been added to this city's Mies van der Rohe-designed central library building; and a section of 16th Street Northwest near the White House is now known as Black Lives Matter Plaza.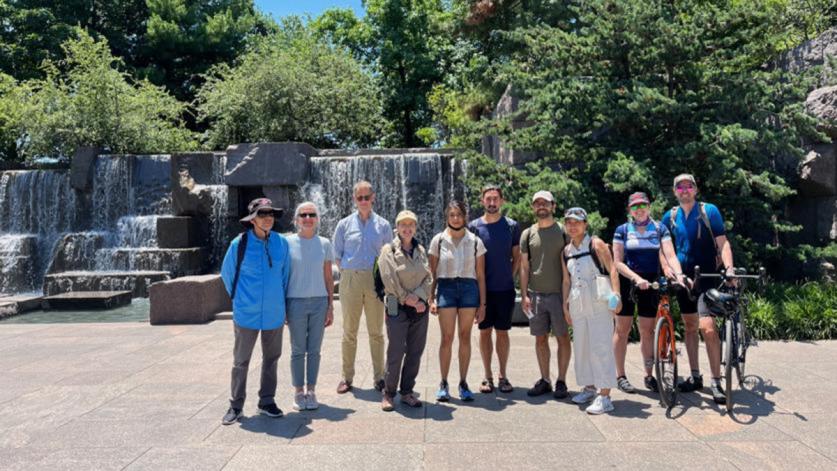 There were also many familiar destinations: Dumbarton Oaks and Dumbarton Oaks Park; the Franciscan Monastery of the Holy Land; Hillwood Estate, Museum and Gardens; and sites along the National Mall. "Everything was wonderful," exclaimed one attendee. The Weekend was   accompanied by the publication of a new 64-page What's Out There Washington, D.C. guidebook (available for purchase and as a free downloadable PDF) and the unveiling of a newly expanded What's Out There Washington, D.C. Cultural Landscapes Guide, an ever-growing digital guide that now features more than 100 sites and 100 designers. "Kudos to all for the tour organization and execution," raved another attendee, "and the book is excellent, too." 

Expert tour guides including David Rubin of David Rubin Land Collective, Doug Reed of Reed Hilderbrand Landscape Architects, National Arboretum Director Dr. Richard Olsen, Oberlander Prize Curator John Beardsley, landscape architect and new TCLF Board Member Liza Gilbert, Professor Bradford Grant of Howard University, and principals and designers from Nelson Byrd Woltz, Michael Vergason Landscape Architects, Wolf Josey, and Oehme, van Sweden (OVS), among others, offered personal and professional insight on D.C.'s cultural landscapes, from its historic, monumental core to its newest parks and public spaces.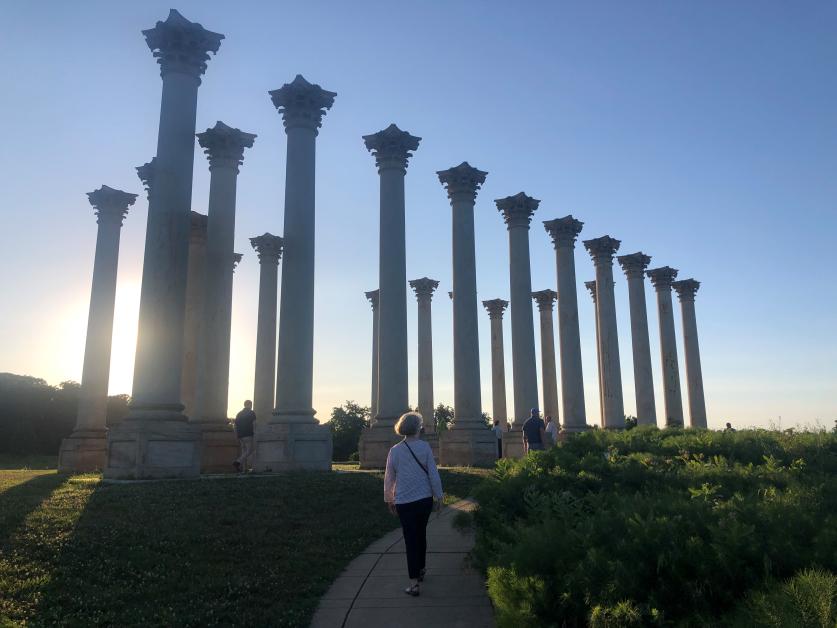 Saturday began with two tours led by the National Park Service, at Theodore Roosevelt Island and the C&O Canal National Historical Park. The day continued with tours of sites across D.C., with the gardens of the Franciscan Monastery, the M. Paul Freidberg-designed Fort Lincoln Park (undergoing a current rehabilitation by Lee and Associates), the U.S. National Arboretum in Northeast Washington; the Washington National Cathedral and the Hillwood Estate in Northwest; the new OVS-designed roof garden at the Martin Luther King, Jr., Memorial Library downtown, and the Wharf development along the city's Southwest waterfront.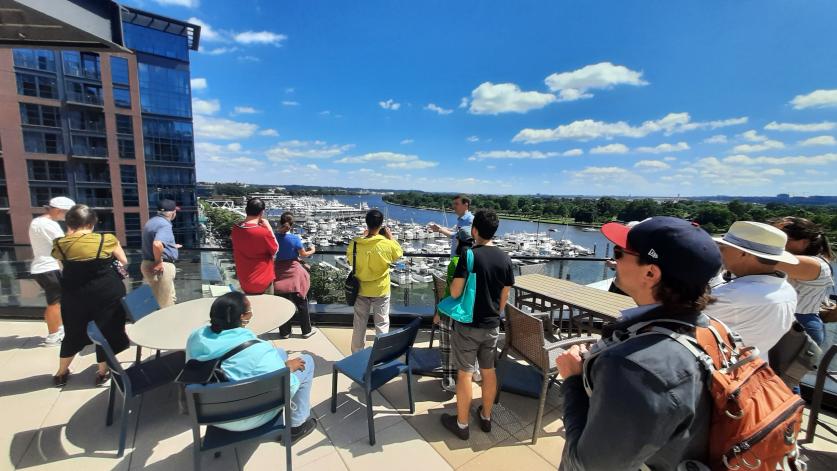 On Sunday, attendees visited two of the District's newest public spaces, Alethia Tanner Park by Nelson Byrd Woltz and Black Lives Matter Plaza. Tours of the National Mall and some of D.C.'s most iconic monuments and public squares highlighted the ingenuity and integrity of the L'Enfant and McMillan Plans, the influence of which can still be seen throughout the city. Simultaneously, opportunities to see some of the city's best Modernist designs abounded, with tours of the Watergate complex, Dan Kiley's Harbour Square landscape, Lawrence Halprin's Franklin Delano Roosevelt Memorial, and M. Paul Friedberg's Pershing Park (transformed with the addition of the World War I Memorial designed by architect Joseph Weishaar, with landscape architecture by David Rubin). In the afternoon, tours of Dumbarton Oaks, Dumbarton Oaks Park, the American University campus, and Tregaron offered What's Out There Weekend tour participants special access and expert insight.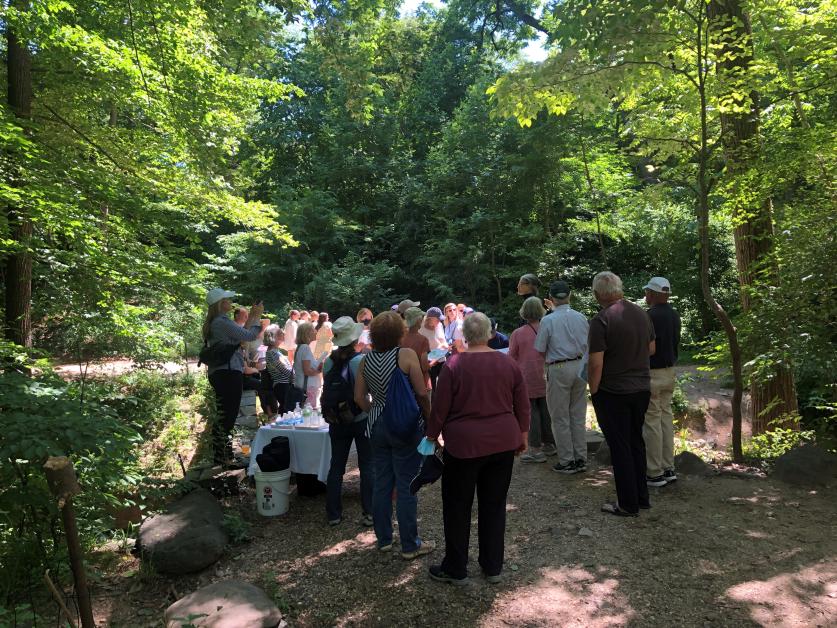 In addition to showcasing some of the District's most beloved and well-known sites, the Weekend revealed to residents the incredible history, significance, and value of sites they may experience every day without a second thought. "I learned so much about the place I live," said one resident of Harbour Square who joined Elizabeth Miller of the National Capital Planning Commission and Nancy Witherell of the General Services Administration for a tour of that landscape, designed by Dan Kiley in 1963 to complement Chloethiel Woodard Smith's residential towers. 
What's Out There Weekend Washington, D.C. would not have succeeded without support from the Lead Sponsors the National Endowments for the Arts and Select Trees; Presenting Sponsors ABC Stone, Bartlett Tree Experts, Landscape Forms, Lapitec, Lee and Associates, the National Trust for Historic Preservation, Nelson Byrd Woltz Landscape Architects, Oehme, van Sweden, and Victor Stanley; Educational Partner ASLA Potomac and the National Building Museum; and additional support from David Rubin Land Collective, Sasaki, Walnut Hill Landscape Company, Michael Vergason Landscape Architects, and Telesis Corporation.