feature
Art Patrons Sydney and Walda Besthoff Condemn Plans to Destroy MARABAR (2020)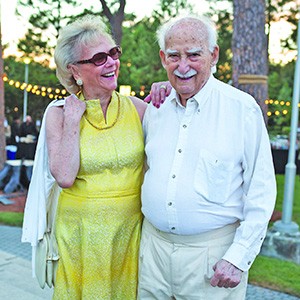 Editor's Note: On April 27, 2020, Sydney and Walda Besthoff, patrons of the Sydney and Walda Besthoff Sculpture Garden at the New Orleans Museum of Art in Louisiana, wrote the following letter to the D.C. Historic Preservation Review Board (HPRB) concerning plans that would demolish the sculpture MARABAR at the National Geographic headquarters in Washington, D.C. Completed in 1984, MARABAR is the work of celebrated artist Elyn Zimmerman, whose artistry is also featured in the sculpture garden founded by the Besthoffs. Zimmerman recently spoke with TCLF about her career and the National Geographic commission in particular. After officially listing the National Geographic headquarters in its Landslide program for threatened cultural landscapes and landscape features, TCLF also requested that the HPBR revisit the case in light of information that the review board lacked when it rendered its initial decision.
Gentlemen:
O Woodsman. Spare that tree! We feel just as emotional as the poet. At this point in time, when women are finally achieving recognition as important artists, it would be a tragedy to trash this seminal piece of work by Elyn Zimmerman. The polished stone and pool comprising MARABAR, erected at National Geographic headquarters, still serves as a welcoming oasis, in addition to being an early and stunning large-scale public work.
It retains freshness and excitement, and it is difficult to believe that it is almost 40 years old. It is our sincere hope that plans to renew this space will retain MARABAR.
Sincerely,
Sydney and Walda Besthoff
New Orleans