Landslide
Buckland, Virginia: A Vision of Early American Commerce
Buckland, Virginia, has been recognized by some of the nation's leading architectural and landscape historians as one of the most intact examples of late-18th century to mid-19th century vernacular villages now documented. With twenty-one of the original twenty-six structures extant in their original context, the only period of great loss was during the 1950's, when the Virginia Department of Transportation removed five of the village's original buildings for a transportation project.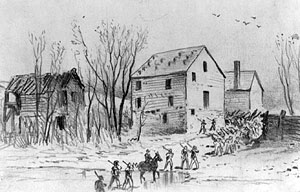 However, with the aid of ground penetrating radar and archaeological investigation, the buildings' foundations have recently been located. Since that time, the structures have been slowly restored with the aid of 19th and 20th century drawings and photographs. The Buckland Preservation Society has also assembled an important collection of papers on 18th and 19th century American commerce including account books, deeds, letters, and other business records for the purpose of creating a center of learning for the early national period. This project is supported by University of Mary Washington, George Mason University, and University of Virginia. These resources allow the restoration of the village to commence with tremendous insight and assure its continued authenticity.
The village of Buckland has been designated as a National Register Historic District comprising twenty-one buildings. The entire viewshed of the village consists of a Priority II Civil War battlefield in "nearly pristine condition" eligible for the American Battlefield Protection Program's matching funding for conservation easements. This makes it possible to preserve the village AND its equally significant viewshed. While these designations are exciting, Buckland is just 35 miles from Washington, D.C., and as such advancing sprawl now surrounds this historic area is its entirety. This scenario is unfortunately not new, but what is unusual at Buckland is that a majority of its contiguous property owners understand that preserving this important historic site is potentially more rewarding over the long-term than the tremendous profit potential offered by development in the short-run.
For Buckland, is it possible to preserve a cultural landscape while real estate values soar? Is it acting responsibly towards future generations if we choose to significantly alter a cultural landscape while simply leaving a marker to what was once there? Finally, if places like this can be preserved, can they serve as a renewable resource bringing long-term tourism to the local economy?
Continuing threats to the historic integrity of Buckland are two-fold:
Recently, land at the perimeter of the Buckland battlefield has been sold and the new owners are seeking zoning changes to increase development density and add commercial zoning. Moreover, current transportation proposals by state and federal agencies have astonishingly not triggered the essential Section 106 Review process - -  potentially resulting in an adverse affect to the integrity of the National Register Historic District and Civil War battlefield landscape, potentially jeopardizing future federal funding.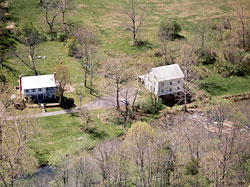 Since Buckland was first recognized in TCLF's 2004 Landslide feature, local citizens at Buckland have sought the advice and support of multiple preservation organizations, including the National Trust for Historic Preservation, American Battlefield Protection Program, Virginia Department of Historic Resources, and the Association for the Preservation of Virginia Antiquities.
This cooperation has accomplished a great deal. It has facilitated the purchase of key properties to protect the cultural resources and restore associated structures; enabled the expansion of the Buckland National Register Historic District from nineteen acres to incorporate the entire village of more than three hundred acres; and led to Buckland's recognition as a Designated Cultural Resource (DCR) by Prince William County, affording it additional layers of protection against insensitive development.
Additionally, Buckland has been the fortunate recipient of two prestigious Save America's Treasures Grants allowing the documentation and assessment of the historic resources; multiple American Battlefield Protection Program grants that allowed for archaeological investigation of the Buckland battlefield landscape; a Federal Preservation Plan grant from the National Park Service's American Battlefield Protection Program for the long-term preservation of the battlefield (including the identification of contributing features and key military terrain); and a Transportation Enhancement Program grant to archeologically investigate, preserve, and protect Virginia's first McAdam Road-bed (only the second in the U.S.).
While multiple factors threaten the preservation of this significant cultural landscape, the combined work of interested organizations and individuals to preserve the site has the potential to render Buckland, Virginia, a nationally recognized example of how historic preservation planning and treatment practices CAN co-exist amidst present-day use and development pressures. Honoring the past by preserving and interpreting places such as Buckland that possess such a high concentration of significant historic, cultural, and environmental resources not only safeguards our American heritage for future generations, but enhances the long-term future values of newly developed surrounding properties.
Get Involved
To learn more about how you can help support the preservation of Buckland, Virginia, go to www.buckland.org or contact DavidBlake@BucklandVa.org.