Garden Dialogues 2019: Greenwich, CT
Garden Dialogues 2019: Greenwich, CT
Garden Dialogues 2019: Greenwich, CT
THIS EVENT IS SOLD OUT
Some of the country's most beautiful and exclusive residences can be found in Greenwich, Connecticut, an historic town (settled in 1640) an hour's ride from midtown Manhattan. Eric Groft, a principal at Oehme, van Sweden and a board member of The Cultural Landscape Foundation, has been involved for many years with two residential projects to be featured in the inaugural 2019 Garden Dialogues on Saturday, May 18. Both properties display the horticulturally exuberant and seductive swaths of grasses and lush greenery that are hallmarks of Oehme, van Sweden gardens.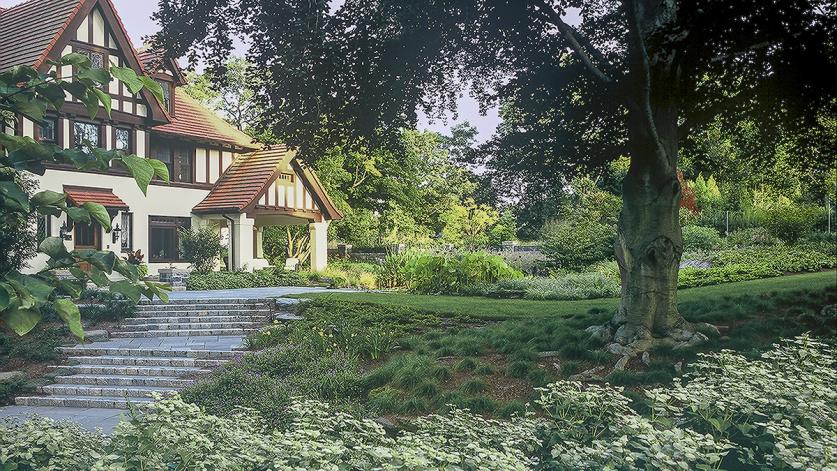 The Perfect Mix of Old and New - The Parkhurst Garden
A lush and expansive landscape for a large and active family has been created for the historic, 110-year-old Tudor-style Everett N. Blanke House. Stone steps from the driveway lead to an inviting garden terrace and one of the landscape's focal points, a large lily pool that seems to emerge from the ledge/bedrock. A walled terrace garden and water feature placed on axis with the front door and library is the backdrop for a dining ter­race and outdoor kitchen. Off the expansive porch, a bowling lawn, surrounded by roses and boxwoods, gives way to a raised swimming terrace with a large, 60' x 20' pool surrounded by built-in annual planters. An in-ground trampoline and lawn terrace surround the space. Lawn steps lead to a sweeping great lawn that can accommodate informal games of lacrosse and formal tent parties. The hidden garden is largely composed of an array of different ferns, along with mountain mint and spring favorites like white bleeding heart.
1.25 LA CES™ professional development hours will be available to attendees.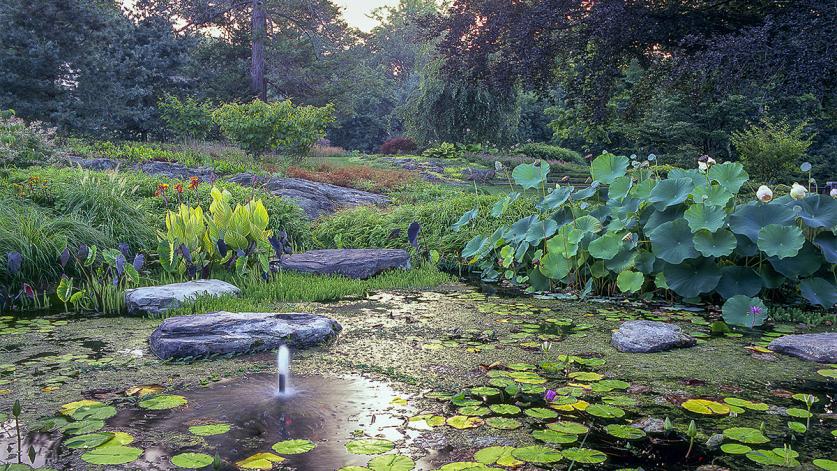 An Australian-inspired New American Garden - Tubby House
The Australian owners of this three-acre residence, with a home originally designed and owned by architect William Tubby, wanted a "bush" landscape reminiscent of their homeland. This was achieved with American trees, shrubs, grasses, and forbs that provide interest in all four seasons. Evergreens punctuate masses of perennials with rich texture, movement, color, and fragrance, while the garden's hardscape elements complement the historic integrity of the architecture. An entry garden features an intricate paving pattern of cut bluestone squares with elegant, red-brick borders, and a granite fountain fills the entryway with the sound of water and provides a visual accent visible from within the house. Centered on the kitchen window is a lily pool, alive with aquatic flora and fauna. A stream forms the border of the property, where native wetland plantings are an appropri­ate addition to an ecologically sensitive area. Truly a landscape worthy of admiration, this Australian-inspired garden is featured in TCLF's traveling exhibition The New American Garden: The Landscape Architecture of Oehme, Van Sweden and has been published in numerous periodicals, including Metropolitan Home and Garden Design Magazine.
1.5 LA CES™ professional development hours will be available to attendees.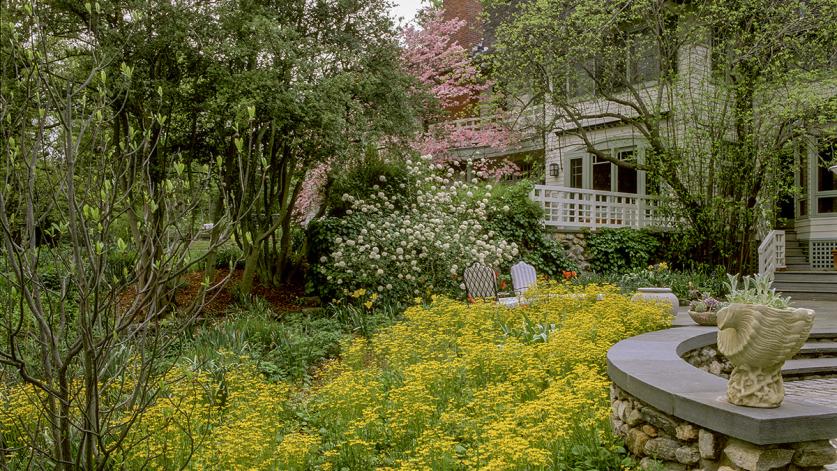 Refund Policy
Cancellations and Refunds will be granted according to the following schedule:
Up to two (2) weeks in advance: 90% (Deduction represents administrative processing fees)
Less than two (2) weeks in advance but up to seven (7) days prior: 70%
No refunds will be made for cancellations seven (7) days prior to event
No refunds will be made for "No Shows" (a person who registers for a program but who does not cancel registration or attend the program).
Refunds will be processed as they are received or after the conclusion of the program, depending on the program date and when cancellation occurs. Refunds may take five (5) to seven (7) business days to process.