A Halprin Landscape Re-design Raises Concerns

A Halprin Landscape Re-design Raises Concerns
A Halprin Landscape Re-design Raises Concerns
In March 2021 the City of Denver hosted workshops on the re-design of Skyline Park, which was designed by Lawrence Halprin in 1975 but heavily modified nearly twenty years ago, leaving only pieces of Halprin's work. The current re-design seeks to enliven the park. However, local advocates are concerned that the remaining Halprin elements have not been addressed in the visioning process.  These elements represent the work of an important international designer, and they contribute to the story of downtown Denver's evolution and development.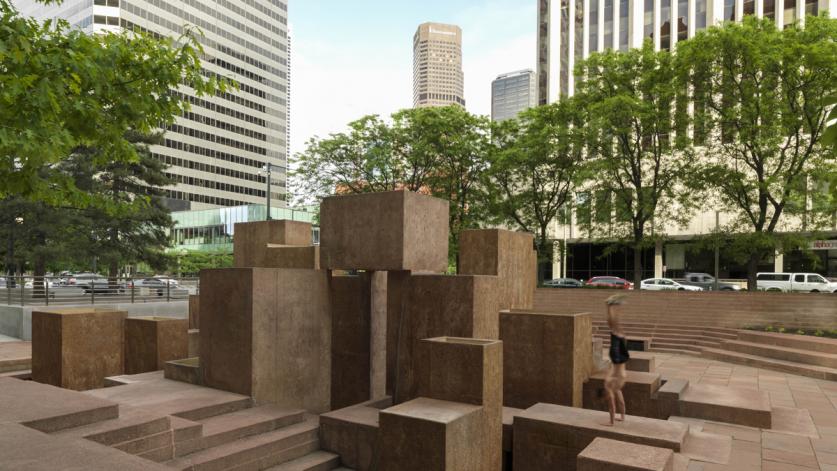 Skyline Park was born out of the Skyline Urban Renewal Project, which like other urban renewal efforts of the era led to the demolition of historic structures and neighborhoods to make way for redevelopment projects and highways, as was originally intended for the area around Skyline Park. The Denver Urban Renewal Authority (DURA) not only built upon but erased much of the city, and today this era is epitomized in Denver's LoDo historic district as well as in major civic projects like Halprin's Skyline Park and I.M. Pei's 16th Street Mall. The remaining elements of the Halprin design are touchstones, connecting the dots between the city's history and the shared experience of the place over time- it's a part of the city's narrative. 
When Denver hired landscape architect Lawrence Halprin to design the park the city's leaders envisioned Skyline Park as a place where new businesses could thrive and citizens could connect in a vibrant urban setting. Halprin's outstanding reputation as a leading designer of urban projects – from freeways to pocket parks, urban pedestrian malls to interactive fountains – led the city to approach him for this design. The project brief asked that he create a setting where office workers could find respite and relaxation and visitors would experience a contemporary urban park reflecting Denver's modern spirit.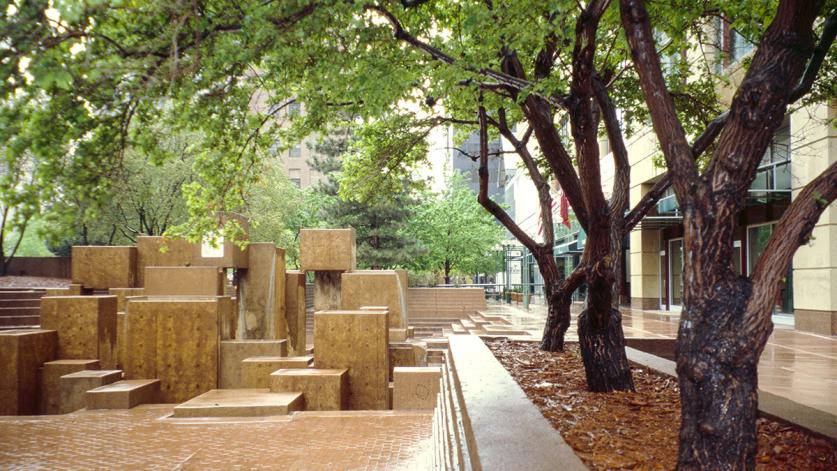 Halprin and his San Francisco office team carefully crafted a unique response for this linear park. They studied Denver's physical context as well as the city's intensive program requesting both active gathering spaces and "oases" from the urban bustle. Typical of Halprin's nationally significant projects, their proposal developed unique fountains for each of the three blocks. These distinctive water features were meant to attract visitors to explore the linear park's path as they traversed a highly sculptural landscape of abstracted "foothills" and planted berms. The design's sophisticated use of cast-in-place, board-formed concrete and local brick echoed modernist materiality and construction techniques even as it showcased local references through coloration and patterning.
Despite the removal of much of Halprin's vision, the remaining pieces stand alone as masterful examples of his design. The fountain in the 1600 block of Arapahoe St. is a sculptural work of art, recognizable as a Halprin fountain; it could be reestablished as a functional water feature or re-contextualized as public art.  The Helvetica font lettering identifying "Skyline Park" on a concrete wall along 15th St. serves as a perfect "historic" gateway to welcome residents and visitors to the park. 
It would be a loss to Denver's architectural history and built environment if Halprin's work is erased, along with the collective memory of Denverites that experienced the park as it once was. As the project moves into its final design phase, local advocates are urging the city to retain the Halprin features so that future Denverites can enjoy them for generations. If you'd like to add your name to the chorus of those hoping to keep Halprin's legacy visible in Denver click here: https://preserved.wufoo.com/forms/z1c58apq1blocu2/.