New Proposals for Halprin's Skyline Park in Denver
New Proposals for Halprin's Skyline Park in Denver
New Proposals for Halprin's Skyline Park in Denver
I am extremely pleased that recently some cities, such as Portland, Oregon, when faced with similar problems, have been able to carefully navigate the fine line between careful modification and protection of original design intent. In the future I believe that such thoughtful attention will become second nature when faced with such challenges. In that way, we can protect the special places that speak to our history and evolution.
Lawrence Halprin in Epilogue to Skyline Park (2012) published three years after Halprin's passing.
In June 2002, The Cultural Landscape Foundation (TCLF) officially recognized Skyline Park as a Landslide at-risk landscape, one of the earliest such designations in the infancy of the Foundation that had been founded four years earlier. At the time, Halprin was 86 years old and still practicing. In fact, three years later he completed three major commissions in California: Sigmund Stern Grove in Pine Lake Park and the Letterman Digital Arts Studio at The Presidio, both in San Francisco; and the Yosemite Falls Corridor in Yosemite National Park. Consequently, in 2002, Halprin's career could not be bracketed and his built legacy could not be assessed or evaluated for consideration for listing in the National Register of Historic Places.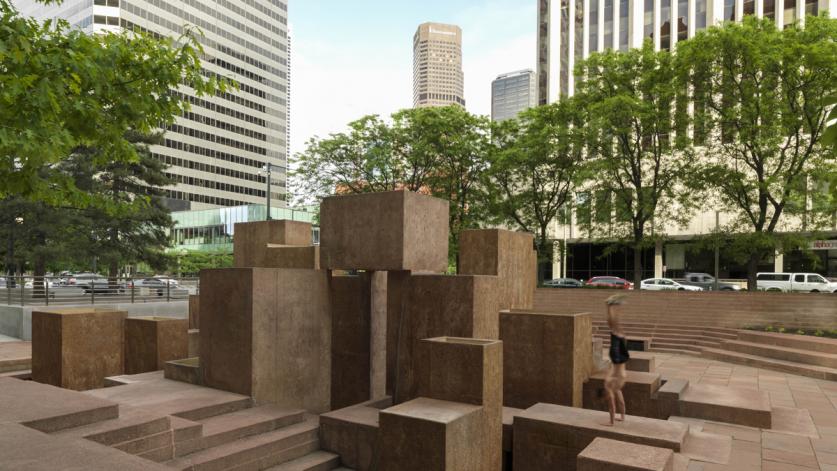 Since then several landscapes designed by Halprin and his associates have been listed in the National Register including Park Central Square, Springfield, MO (2010); Heritage Park, Fort Worth, TX (2010); Halprin Open Space Sequence, Portland, OR (2013); and Freeway Park, Seattle (2019).
In addition to these designations, a number of Halprin-designed public landscapes have undergone sympathetic rehabilitation efforts including the Charlottesville Mall, VA (2008), Babi Yar Park, Denver, CO (2011), Manhattan Square Park, Rochester, N.Y. (2017), and the Portland Open Space Sequence, OR (2019). Moreover, current rehabilitation efforts are underway at Heritage Park and Freeway Park – both of which require the new planning and design work to meet standards established in The Guidelines for the Treatment of Cultural Landscapes. Over the past decade, not only have we seen a renaissance for Halprin's design legacy, but the veil has been lifted on Halprin's collaborators like Satoru "Sat" Nishita and Jean Walton, both of whom contributed substantively to the design of Skyline Park.
Today in Denver
Now, after more than 15 years since the completion of the earlier rehabilitation efforts, new work is once again proposed at Skyline Park. With $2.5 million in dedicated funding from the Elevate Denver Bond Program for project visioning and phase one construction, the new effort is being led by Denver's Department of Parks and Recreation (DPR), in consultation with the Elevate Denver Bond Program and local stakeholders.  Efforts are now underway "to assess, reimagine and transform Skyline Park to once again become an iconic and vibrant civic park at the heart of downtown Denver." As Gordon Robertson, Director of Planning Design and Construction at DPR noted in his opening remarks at the second of three Public Workshops on March 4, "as we work on this Skyline Park Project we honor the responsibility to be good stewards of this precious space."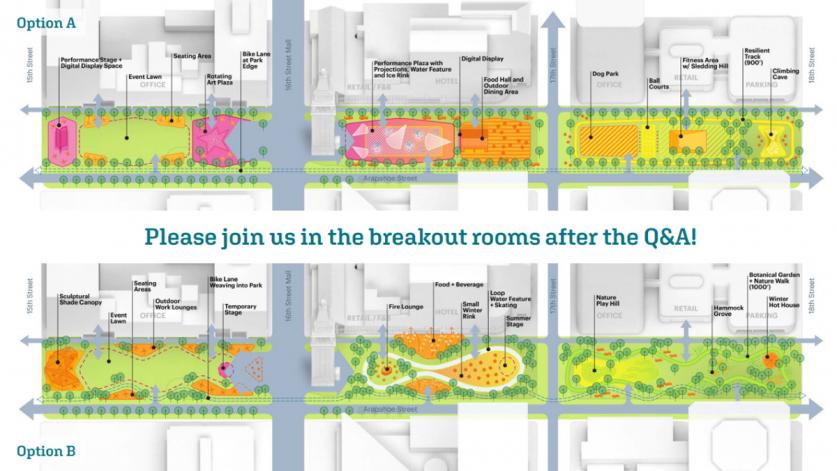 We believe that in order to be "good stewards" DPR should undertake a Determination of Eligibility (DOE) of the Halprin design (within its urban renewal historical context) to ascertain its eligibility for listing in the National Register. This is foundational to understand as an "existing condition" in the same way that existing natural and ecological resource values are considered when managing change in the public realm.
What You Can Do
Remarkably, during the March 4 presentation, only one person asked about one of the two remaining Halprin-designed fountain. Oddly, there was no mention of Halprin in any of the drawings shown. The presenters, however, did say: "we challenge you to help us to continue to dream big about the future of Skyline Park and how it can become an authentic and contemporary expression of Denver's urban outdoor lifestyle."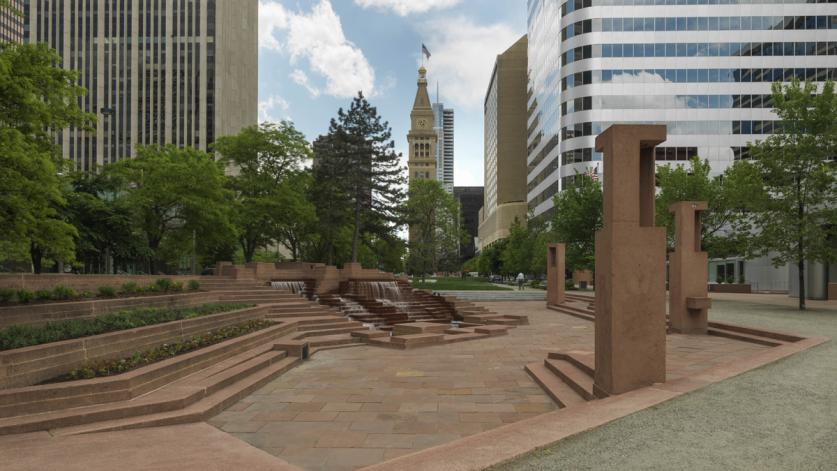 The D&F Tower, an authentic remnant example of the City Beautiful movement that survived the urban renewal era was evaluated for listing in the National Register in 1969, sits prominently within Skyline Park. What remains of Halprin's authentic 1975 design should be viewed as a parallel example of significant period features. Perhaps no place in the downtown can better tell the story of urban renewal – from the Beaux Arts to the Modernist eras.
In addition to viewing the project PowerPoint and video summaries from the March 4 presentation, there is also a survey that can be taken until April 4, 2021. We urge readers to take the survey.
You can also share your opinion with Adam Perkins, Senior Manager for Urban Planning with the Downtown Denver Partnership. As Mr. Perkins notes, "Our parks and public spaces are the places that bring us together. Skyline Park is a downtown gem, offering a natural respite in urban life as well as space for the community to safely gather. We each have a unique opportunity, and responsibility, to take part in the design process to ensure this renovation leads to a more inclusive space that is welcoming to all." You can reach him at: Aperkins@downtowndenver.com
Closing
The current project design team is the Los Angeles-based landscape architecture firm RIOS working with fountain consultant Fluidity. As we have seen in other projects like RIOS' own work at Grand Park in Los Angeles, (also with Fluidity for the fountain design), it is possible to adapt the historic water feature while making the park more porous within its historic bone structure. As the RIOS' website notes, Grand Park has 'no smaller aim than to express the multicultural diversity of Los Angeles through landscape design and architecture. RIOS transformed a 12-acre space filled with parking lots into "The Park for Everyone," an adaptable community gathering place that has redefined the future of downtown Los Angeles.'
As RIOS principal Nate Cormier noted near the close of the recent public presentation, "each of these decisions that we make have tradeoffs." The challenge is that the process should begin with a shared understanding of the park's natural and cultural assets. This would include an evaluation of the Halprin work that survives today for a determination of eligibility - one that could also answer Cormier's stated desire that we "be smart about the limited resources we have."