Threats Continue to Modernist Skyline Park
Threats Continue to Modernist Skyline Park
Threats Continue to Modernist Skyline Park
Denver Parks and Recreation is finalizing plans for new work on Skyline Park, the city's long-neglected modernist icon designed by visionary landscape architect Lawrence Halprin with Satoru Nishita. The Cultural Landscape Foundation, local partners, and community members continue to encourage the city to integrate and rehabilitate rather than demolish the remaining original character-defining elements. Skyline Park, a three-block linear park and plaza sunken below street level, was once a signature landmark for the city. Designed by Halprin as part of a 1950s plan to revitalize Lower Downtown Denver, Skyline Park was intended to be an urban oasis and gateway to central downtown. Initially the park was a huge success, but in the latter decades of the twentieth century, lack of appropriate maintenance resulted in declining park conditions – old and worn surfaces, broken site furniture, inadequate lighting, overgrown vegetation, and failing mechanical systems. Neglect diminished the character of the park and made it less inviting to the public, and park use began declining significantly in the late 1980s. The city attempted to rehabilitate the space with a full redesign in 2003, removing a fountain in Block One and several berms, and replacing Halprin's original planting plan with a simpler palette. Two of Halprin's original fountains, in Blocks Two and Three, were kept intact in the 2003 redesign, but are once again under threat again in the city's most recent plans to revitalize the significant Modernist landscape.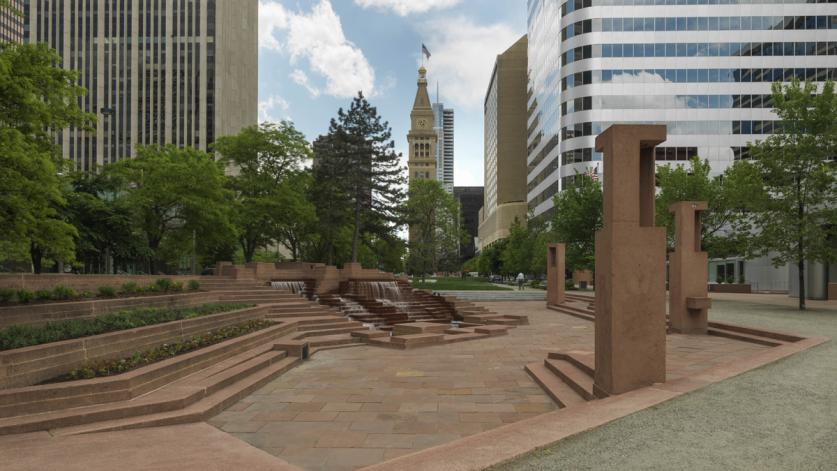 Equipped with funding from the Elevate Denver Bond Program, the city hopes to mitigate issues caused by decades of neglect, including limited access and visibility from perimeter streets, circuitous movement through the park, public safety concerns,  and maintenance and infrastructure challenges. Despite objections raised by stakeholders and the public at a Spring 2021 public engagement session, Denver Parks and Recreation has refused to commit to preserving the remaining iconic fountains, stating that "the design team will evaluate all existing park elements to see how they can support the project's vision and goals."  Sustained public feedback and advocacy by historic preservation specialists, and those that view the Halprin work as a significant artistic expression, urged the project design team, led by Los Angeles-based landscape architecture firm RIOS and fountain consultant Fluidity, to prioritize protecting and rehabilitating the two remaining fountains, which are likely eligible for listing in the National Register of Historic Places. The city and the design team intend to release a final concept plan for the site, which advocates hope will protect Halprin's sculptural fountain in Block Two, repair Block Three fountain, and improve visual and physical access to the park. As of September 2021, the funding available for the park only covers part of the work envisioned for Block Two. Further public support will be necessary to raise funds to protect and rehabilitate the fountains in Blocks Two and Three.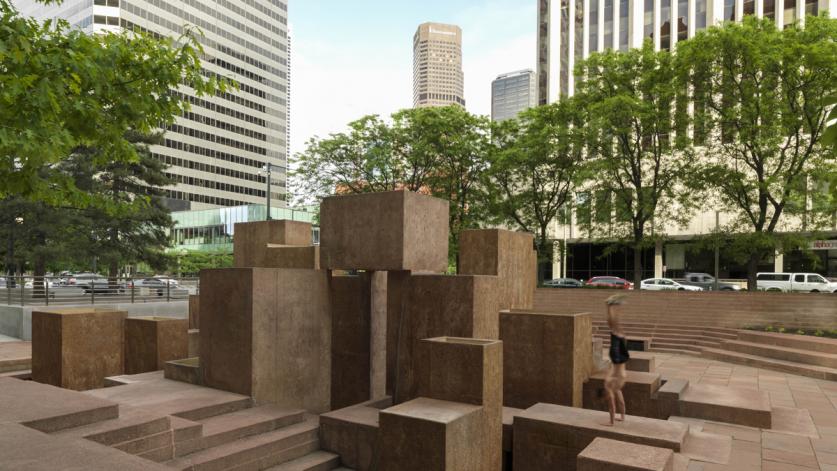 The distinctive water features once enticed visitors to traverse a highly sculptural landscape of abstracted "foothills" and planted berms inspired by the rugged beauty of Colorado. The design's sophisticated use of cast-in-place, board-formed concrete and local brick demonstrated the artistry of modernist materiality and construction techniques and emphasized the spirit of place through coloration and patterning. Though much of Halprin's original vision has been diminished or neglected, the remaining fountains stand alone as a rare regional example  of his unique design approach and, when viewed in concert with the National Register-listed D+F Tower, are unique and unrivaled witnesses to the city's urban renewal era.
To express your support for the protection of this park's historic fabric, contact:
Historic Denver
1420 Ogden Street Suite 202
Denver CO 80218
303.534.5288, ext. 7
Downtown Denver Partnership
Sharon Alton, Senior Vice President, Downtown Experience
1515 Arapahoe St., Tower 3, Suite 100 
Denver, CO 80202
303.571.8224
Denver Parks and Recreation