Lord and Schryver Legacy

Lord and Schryver Legacy
Lord and Schryver Legacy

Designed by: Elizabeth Lord and Edith Schryver
As principals of the first professional, woman-owned practice in the Pacific Northwest, Elizabeth Lord and Edith Schryver encouraged propagation of new plant varieties by working with local growers to introduce many East Coast plant species into the Northwest. The resulting subtle, but distinctly regional plant palette that influenced the work of countless designers. Today, their legacy is threatened by a lack of awareness of their significant contributions to the landscape architecture profession.
"Order is beauty and beauty is order. But too much neatness without careless grace will not produce charm." -Edith Schryver
History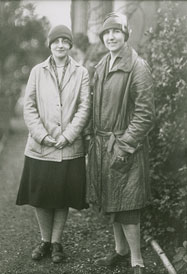 The Lord and Schryver landscape design firm was founded in 1929 by Salem-born Elizabeth Lord and Edith Schryver, a highly accomplished landscape designer who worked in Ellen Shipman's New York office in the early 1920s. Although they both attended the Lowthorpe School of Landscape Architecture in Groton, Massachusetts, they met in 1927 on a study tour of European gardens sponsored by Lowthorpe and Cambridge School. While sharing similar tastes and aesthetic responses, their interests and skills were complementary; Schryver's specialty was design and construction, Lord's was plant composition. And thus they embarked on a 40-year career, based in Salem, Oregon, during which they designed over 250 projects, including residential, civic, and institutional landscapes throughout the Northwest.
Historically, Lord and Schryver's work represented a transition from a formal, symmetrical style of garden design influenced by Gertrude Jekyll and Ellen Shipman to one which responded in a distinctive way to the unique features of Northwest climate, soil, topography, and plant material. They created a style often characterized as "informal formality." In addition, introduced many plant species from the east coast into the Northwest palette by working with local growers, educating and encouraging them to propagate new varieties. Their work is characterized by subtle and creative plant combinations rather than by use of exotics.
In addition to their prolific and highly sought-after garden designs, Lord and Schryver were regarded as consummate professionals in the broadest sense as they worked to raise the profile of landscape architects by involving an audience beyond their clients. Lord took a keen interest in civic activities and worked with the Salem Parks Advisory Board, Salem Tree Committee, and the Capitol Planning Commission for more than a decade. Schryver taught advanced landscape design at Oregon State College, now Oregon State University, throughout her career. The pair also worked to educate the general public through newspaper articles, lectures, by participating in the regular regional radio broadcast, Home Garden Hour.
They made their home, Gaiety Hollow, and conducted their practice in a house they had built in 1932 in the heart of Salem. They chose the most accomplished Salem architect, Clarence Smith, with whom they were to collaborate many times thereby putting into practice one of their cardinal principles; i.e., the integration of house and garden. Arguably the best of their designs, the Home Garden shows their skill at its most refined and most personal as they were unfettered by clients' wishes.
In Space, Style and Structure: Building in the Northwest America, Wallace Kay Huntington describes the founding of the firm as "one of the milestones in the history of Northwest garden design." The legacy of Lord and Schryver is important not only for its intrinsic historical value but also for its relevance for today. It is a composite of incorporating past influences, working within the realities of their time and setting a new standard of garden design and professionalism.
The Lord & Schryver Conservancy was founded in 2005 as a 501(c) 3 community based non-profit organization with the mission of "preserving and interpreting the legacy of Lord and Schryver to promote a greater understanding of their contribution to Northwest landscape architecture." One of the major efforts of the Conservancy has been the acquisition of the Home Garden with the ultimate goal of opening it to the public. While the current owners have been good stewards of the property for 20 years, the Conservancy has obtained a basic Right of First Refusal in hopes of protecting the property over the long-term. They have also undertaken a cultural landscape report to document the site's history and existing conditions and serve as a basis for future rehabilitation of the grounds.
While their heritage is an essential piece in the continuum of Northwest landscape design, it is the relevance of their life and work for the contemporary scene that makes their legacy a vital force today. In a series of 9 articles written for the Portland newspaper, The Oregonian, in 1932 they outlined the "main points to consider in designing an attractive garden" for a small urban lot. While several of their projects involved large estates, many were for areas around a city home. Indeed, their own Home Garden, without doubt the tour de force of their design principles, occupies 1/3 acre. That their basic design principles can be used today to achieve a place of wonder and repose in the ever diminishing land surrounding homes is the ultimate testament to their inherent value.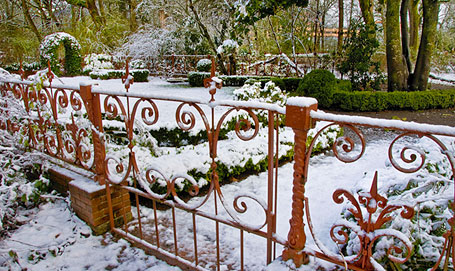 The iron fence is in the Scroll Garden, Deepwood Estate, Salem, OR
Threat
All the gardens designed by Lord and Schryver, with one exception, are in private ownership. With time, most of them have degraded for various reasons including lack of knowledge and/or interest as ownership changes, the labor intensive maintenance requirement, and the increased growth of tree canopy altering the growing conditions.
Their single project accessible by the public, the gardens at Historic Deepwood Estate, is a heavily-used park owned by the City of Salem. Designed as a series of garden rooms around an 1894 Victorian house, the site illustrates many of their design principals, however it is not exemplary of their skill at integrating house and garden due to the pre-existing conditions.
Therefore, the most significant threat to Lord and Schryver's legacy is that a lack of access to their work hinders raising public awareness about their design practices.
Get Involved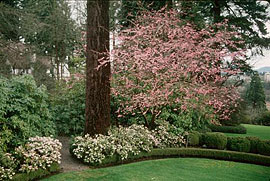 The Lord & Schryver Conservancy evolved out of a growing awareness of the treasure embodied in the legacy and a specific concern about the fate of the remaining gardens, most notably the Home Garden of Lord and Schryver. Along with educating the public about Lord and Schryver's legacy, the Conservancy has undertaken several project associated with both the Home Garden, Gaiety Hollow, and the gardens at the Historic Deepwood Estate. The projects include assembling an archive to supplement the collection of professional papers at the University of Oregon, conducting oral histories and documentation of surviving gardens, digitizing slides, and rehabilitating and maintaining the gardens as Deepwood Estate. The Conservancy would welcome volunteers of all skill levels to become involved with their wide-range of projects. Those interested in donating their time can contact the Conservancy at Info@lord-schryverconservancy.org or (503) 838-0527.
Learn More
Historic Deepwood Estate
1116 Mission Street SE
Salem, Oregon 97302
Print Resources
Huntington,Wallace Kay. Lord & Schryver Monograph: Essentials of Landscape Architecture. Lord & Schryver Conservancy, 2003.
Vaughan, Thomas. Space, Style and Structure: Building in the Northwest America. Oregon Historical Society, 1974.
Archives
Lord & Schryver Archives
Special Collections at the University of Oregon Knight Library
Online Resource
Lord & Schryver Conservancy