Little Havana: A vernacular mélange of Latin American influence

Little Havana: A vernacular mélange of Latin American influence
Little Havana: A vernacular mélange of Latin American influence

All photos by Corinna J. Moebius
*This feature was created for What's Out There Weekend Miami, held on April 12th and 13th, 2014. Learn more about the weekend tours and events.
Though portrayed in tourist literature as a Cuban neighborhood, Little Havana is actually an ethnic mix from Cuba and all across Latin America. Lying south and west of the curving Miami River, its eastern edge borders Miami's Brickell neighborhood while its western edge extends to SW 27th or 37th Avenues, based upon subjective interpretation. The main east-west corridors of Little Havana are SW 8th Street (Calle Ocho) and W Flagler Street.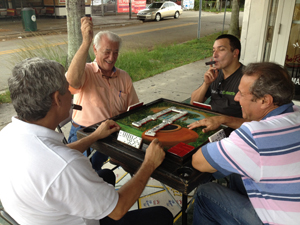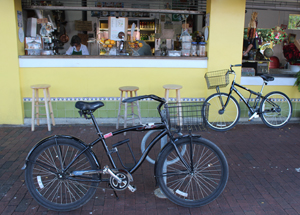 The community has witnessed successive influxes from Fidel Castro's Cuba from the 1950s to the present. After facing socio-economic hardships beginning in the 1980s, the neighborhood has now witnessed a rise in popularity due to revitalization efforts.
Design guidelines for Miami's expansive Latin Quarter—including Little Havana—were in effect from 1979 to 2010. One of the strongest advocates for design-based zoning in Little Havana was City of Miami planner Jose Casanova, who spearheaded projects including the preservation and restoration of the iconic art deco Tower Theater on Calle Ocho, built in 1926 and listed in the National Register of Historic Places. Casanova also led the creation of Domino Plaza (la placita) next to the theater, which transformed a block of SW 15th Avenue into a public gathering place. It features a colorful granite walkway accented with a domino design bordered by a curving mosaic art wall designed by Cuban-born, identical twin artists Ronald and Nelson Curras. In the plaza, seniors – usually men – sip Cuban coffee and smoke cigars on breaks from playing dominos in Maximo Gomez Park (Domino Park) next door.

Casanova also played a lead role in the expansion of Cuban Memorial Park, which extends along SW 13th Avenue from SW 8th Street to Coral Way. A winding path passes by a number of monuments including the Bay of Pigs Memorial, designed in 1972 by Monolo Reboso and Tony Lopez. Another landmark found in the park is the massive Ceiba with twisting aerial roots.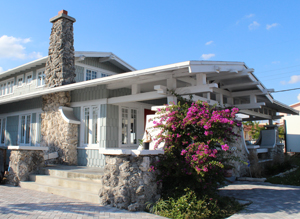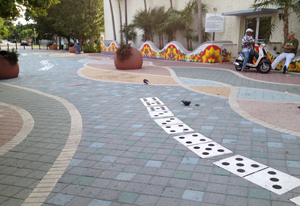 Little Havana's unique character is distinguished by its covered walkways and in the way its cafes, restaurants, and bakeries open to the street through small windows known as ventanitas. Design attributes create a smooth transition between public and private uses, supporting everything from dominos and cafe culture to open air fruit markets and festivals. At the northeast corner of SW 12th Avenue and SW 6th Street, an L-shaped building houses a dance studio, art galleries, a Hispanic theater, and other small businesses. Owner Bill Fuller designed its courtyard with native and edible plants, a small stage, and colorful metal chairs.
The residential areas of Little Havana include many historic bungalows. The best preserved, a Belvedere Bungalow, is owned and managed by Citizens for a Better South Florida. The rehabilitated site includes a restored cistern now used to irrigate native plants in its demonstration garden.
Along the Miami River below an overpass is the Jose Marti Riverfront Park designed in 1985 by Wallace Roberts & Todd with extensive public input.  Locals and tourists alike take in the Miami skyline from this urban oasis, while its recreation center and playgrounds are popular with local residents.