feature
New Online Guide to Denver's Landscape Legacy


This guide to the Mile High City is the first in a new series that will compile illustrated descriptions and designer profiles to illuminate the landscape heritage of the nation's urban centers. Denver's broad and regionally distinct designed landscape legacy features work by pioneers in the field including Olmsted Brothers, George Kessler, Satoru Nishita, Lawrence Halprin, S.R. DeBoer, and Jane Silverstein Ries.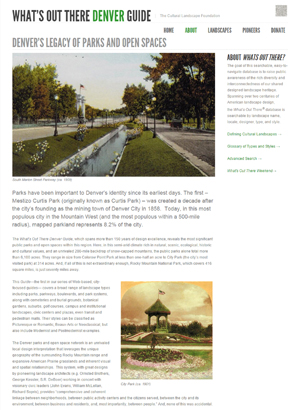 From Picturesque parks and suburbs to Modernist plazas and pedestrian malls, Denver's landscapes stretch from the heart of the city to the edge of the Rocky Mountains. Landscapes such as Inspiration Point Park, City Park Esplanade, and Civic Center Park frame views of natural surroundings and connect Denver's cultural sites. The Picturesque 165-acre Washington Park designed by Reinhard Schuetze in 1899 preserves a remnant of the City Ditch, a 27-mile long hand-dug irrigation canal that helped transform arid Denver into an oasis of tree-lined streets, parks, and gardens. Constructed in the 1890s on a former city dump, Arlington Park was later developed by S.R. DeBoer and now preserves an extensive Italianate formal flower garden in Alamo Placita Park and a commemorative memorial in Hungarian Freedom Park. Completed in 1982 I.M. Pei and Hanna/Olin collaborated on the Modernist 16th Street Mall, a catalyst for economic and cultural transformation of downtown. The 14,141-acre Denver Mountain Parks- envisioned by Frederick Law Olmsted, Jr. in 1912- includes 31 named parks and sixteen unnamed parcels that span all of Colorado's life zones – the plains, foothills, mountain, sub-alpine, and alpine. In 1986, fifteen parks and sixteen parkways laid out by George Kessler in 1907 were listed in the National Register of Historic Places as the Denver Park and Parkway System, one of the earliest comprehensive listings. 
Explore these sites and many others in What's Out There Denver Guide. Featuring more than 60 sites, 24 designer profiles, and spanning 150 years, the Guide is produced in tandem with American Society of Landscape Architects (ASLA) National and the Colorado Chapter, landscape architecture students led by Ann Komara at the College of Architecture and Planning at the University of Colorado Denver, and with support from Design Workshop. Optimized for iPhones and similar handheld devices and linking to What's Nearby, a GPS-enabled function that locates all sites in the database within a 25-mile radius, What's Out There Denver Guide is designed to help you discover the landscape heritage of the Mile High City.