feature
Revealing Canadian Connections
In May 2015, TCLF presented its What's Out There Weekend Toronto, the first such event in the program's history to take place outside the United States. The Weekend was accompanied by the What's Out There Toronto Guide and Guidebook, which, along with free, expert-led tours, sought to educate the public about Toronto's significant landscape legacy and those who shaped it. As the scope of our efforts and research broadens to include sites in Canada, so, too, does our understanding of the interconnectedness of many pioneering people and institutions whose impact was, and continues to be, felt across borders.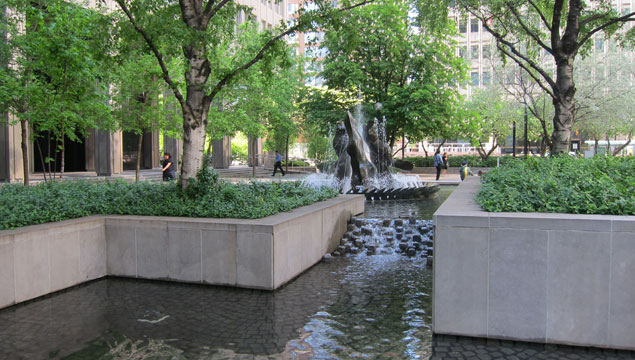 Queen's Park Complex, photo by Charles A. Birnbaum
More than any other person, Frederick Law Olmsted, Sr., defined the profession of landscape architecture, so it is perhaps unsurprising that thumbnail histories of landscape architecture in Canada often begin with this prominent American. Olmsted was initially drawn to Canada in the mid-1870s to design Mount Royal Park in Montreal, and his firm and its successor would receive important Canadian commissions for more than half a century. As impactful as the firm's Canadian projects were, however, even more so were the men it trained—designers who subsequently built careers in Canada and helped to professionalize landscape architecture there.     
Frederick G. Todd apprenticed with Olmsted, Olmsted & Eliot before arriving in Canada in 1900 in connection with the Mount Royal project. Todd would continue to work in his adoptive land for nearly 50 years, designing parks and planning communities throughout Canada, where he was purportedly the first resident practitioner to use the title 'landscape architect.' Rickson Outhet, a native of Montreal, also gained experience with the Olmsted firm before launching his career in Canada as a town planner and landscape architect. And in the early 1930s, Canadian Gordon Culham, a Harvard graduate, returned home after several years' work with the Olmsteds in the United States, becoming a founding member of the Canadian Society of Landscape Architects and Town Planners (now the Canadian Society of Landscape Architects) in 1934 and serving as its first president. Another founding member of the CSLA was J.V. Stensson, who had returned to Toronto from Harvard, where he had just earned his M.L.A.  If Culham were an apt representative of Olmsted's influence on Canadian landscape architecture in the early twentieth century, then the young Stensson was a harbinger of what was to come.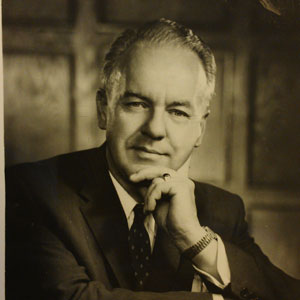 J. Austin Floyd
After World War II, the profession that Olmsted had established increasingly demanded a professional education, which budding Canadian landscape architects often sought in the U.S. Harvard's program in landscape architecture (established in 1900, principally by Frederick Law Olmsted, Jr.) is the oldest continuous such program in North America, and its Graduate School of Design (GSD; formed in 1935-'36) would prove a seedbed for generations of Canadian practitioners. Among the earliest proponents of the Modernist style in Canada, J. Austin Floyd was educated at the GSD, as was Cornelia Hahn Oberlander, who would become one of that country's most celebrated landscape architects. Within five years of graduating from the GSD in 1952, Macklin Hancock founded the Toronto-based, multidisciplinary firm Project Planning Associates, Ltd.  The firm grew to have a presence on five continents and employed young GSD alumni Richard Strong and Bradley Johnson, among others, who would in turn establish important Canadian practices of their own. It was Strong's Canadian partnership in the 1960s with his former Harvard professor Hideo Sasaki that produced the Queen's Park Complex, a beacon of Modernism in the heart of downtown Toronto.
Harvard's was not, of course, the only influential American graduate program in landscape architecture, but its status as a preeminent university capable of attracting top international students guaranteed its impact on the profession north of the border. What is more, pioneering American practitioners at the forefront of the Modernist style—Thomas Church, Lawrence Halprin, Garrett Eckbo, Dan Kiley, and James Rose, for example—all had roots at the GSD, and their writing and work would inspire future generations of designers. Even so, the full maturation of Canadian landscape architecture lay not in the realm of design, but in training: In the mid-1960s, GSD alumnus Victor Chanasyk helped found Canada's first baccalaureate program in landscape architecture at the University of Guelph, while nearly contemporaneously Richard Strong was instrumental in establishing the University of Toronto's program. In a discipline that chiefly celebrates creativity, these strides in education are milestones too easily overlooked. And while the impact of Canadian firms and institutions on landscape architecture in America is a page to be written another day, its outline may well be taking shape in the practitioners and educators that Canadian universities have now begun to export to U.S. faculties–including Harvard's GSD.    
Further Reading:
Pollock-Ellwand, N. "The Olmsted Firm in Canada," in Lawliss, L. et al. (eds.) The Master List of Design Projects of the Olmsted Firm 1857-1979. District of Columbia: National Association for Olmsted Parks and National Park Service, 2008, pp. 15-17.