feature
What's Out There Weekend Goes North
"I know that place, it's important to me. It's much more than just a park or a monument, but a place of serious cultural and design importance to all of us." – Lloyd Alter, Treehugger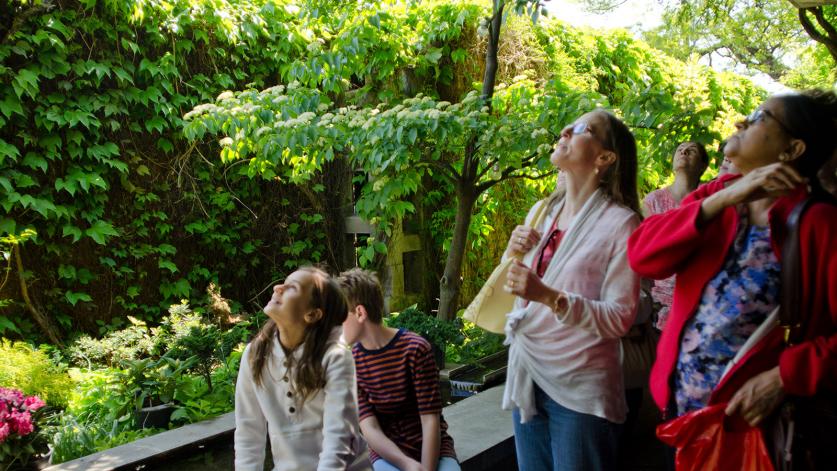 With more than 1,600 registered attendees, What's Out There Weekend Toronto was TCLF's biggest Weekend in the program's five-year history. Following on the heels of the Second Wave of Modernism: Leading with Landscape conference—attended by more than 430 people and led by an esteemed panel—two days of free, expert-led tours provided critical context about the historic and contemporary landscape legacy of the "city within a park."
Building upon research conducted in 2014 by Nina-Marie Lister's Ryerson University Urban Planning students, TCLF worked closely with the Ontario Association of Landscape Architects to develop an extensive list of Toronto's most significant landscapes. Illustrated descriptions of more than 80 of these sites—as well as maps, designer profiles, and narratives about the history of the city's landscape development—are presented in the interactive, online What's Out There Toronto Guide. The third in TCLF's ongoing series that also includes Washington, D.C. and Denver, CO, the Guides are flexible in design and capable of expanding as new research is revealed. A number of the landscapes that were included as tour sites in What's Out There Weekend Toronto are compiled in TCLF's newest print guidebook, the tenth in a series produced in tandem with Weekends in Miami, Los Angeles, Chicago, Philadelphia, and more.
Much like the conference panel, the Weekend tours were led by a distinguished group of individuals, some of whom have been working within the fields of landscape architecture and urban planning in Toronto for decades. Additionally, What's Out There Weekend was conducted in conjunction with the sixteenth annual Doors Open Toronto presented by Great Gulf, which exponentially increased TCLF's exposure to our new audience in Toronto.
Dating back to the founding of Toronto by John Graves Simcoe in 1793, Fort York National Historic Site attracted capacity crowds: Over the course of the two days, Fort York's manager David O'Hara led four tours of the historic Garrison Common, reflecting on the changes that the Gardiner Expressway made to the surrounding context. A short distance eastward and on the other side of the Expressway, three exceptional tours of the waterfront made visible the transformation that is underway. Led at various times by Pina Mallozzi and Christopher Glaisek of Waterfront Toronto, David Leinster of The Planning Partnership, and Jelle Therry of West 8, attendees were provided detailed and big-picture information about the extensive and dramatic transition from an industrial harbor to a multi-use destination with unique parks as well as commercial and residential developments.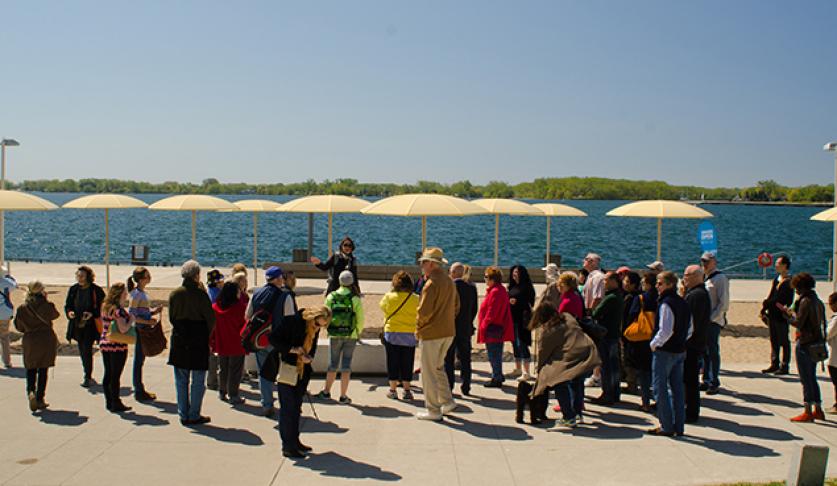 Also along the waterfront, other tours provided attendees a better understanding of the historic fabric of Toronto. At Ontario Place, Alena Grunwald of Ontario Place Revitalization and Tamara Anson-Cartwright from the City Planning Division were joined by Walter Kehm of LANDinc as they described the rise, decline, and (now ongoing) rejuvenation of this impressive Modernist park. Led by Robin Salt and Jennifer Gibb of the City of Toronto's Parks, Forestry and Recreation, a tour of the 161-hectare Picturesque High Park (once on the waterfront but interrupted by the construction of the Expressway in the 1950s) helped participants understand the complexity of providing stewardship of remnant black oak savanna in an urban area. A good distance to the east on a dramatic escarpment overlooking Lake Ontario at Guild Park and Gardens, John Mason and Janet Heise of Friends of Guild Park and Gardens, Lara Herald from ERA Architects, and Jane Fairburn, author of Along the Shore: Rediscovering Toronto's Waterfront Heritage described the original settlement of the property in 1805, the establishment of the an artist's colony there in 1932, and its subsequent transition into a 36-hectare park. Fairburn remarked "Toronto's current waterfront renewal process is truly transformative for the city. I look forward to a day in the not too distant future when the Guild can regain its place as one of the city's premier lakefront sites, with new and exciting uses of which we can all be proud."
But Toronto is much more than just a waterfront. In fact, as the Weekend's tours revealed, it is a complex assemblage of interconnected parks, neighborhoods, plazas, and historic sites, each contributing to a larger identity. In the heart of Toronto's downtown, Michael McClelland of ERA Architects (and co-coordinator of the Leading with Landscape conference) and Leo deSorcy of the City of Toronto Planning Division provided tours of the Financial District, with stops at Ludwig Mies van der Rohe and Alfred Caldwell's Toronto-Dominion Centre and I.M. Pei's Commerce Court, two significant Modernist examples of public space surrounded by Toronto's ever-growing landscape of skyscrapers. The knowledgeable and collaborative deSorcy was very busy with tours throughout the Weekend, leading excursions of the Old Town of York with landscape architect Claude Cormier, Devonian Square with landscape architect Bruce Corban, and Trinity Square with George Baird, architect and former Dean of the John H. Daniels Faculty of Architecture, Landscape, and Design.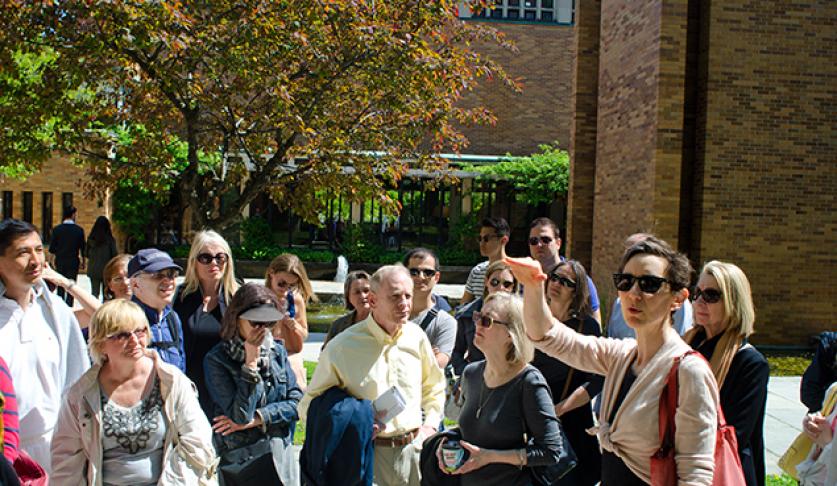 Even after presenting an extensive body of work at the conference on Friday, the unflappable Jane Wolff, Associate Professor at the University of Toronto John H. Daniels Faculty of Architecture, Landscape, and Design, led an exceptional tour of Trinity College, Massey College, and the Philosopher's Walk on the St. George campus. Chris Pommer of PLANT and Brendan Stewart (also a conference presenter) of ERA Architects weaved their attendees through Nathan Phillips Square, Osgoode Hall, the McMurtry Gardens of Justice, and University Avenue. Stewart joined McClelland for a walk through Allan Gardens to discuss the glass conservatories and Victorian Gardenesque plantings there in the context of urban renewal. And Janet Rosenberg, one of the driving forces behind the development of the conference and the tours (as well as instrumental in a number of landscape projects around Toronto), led a tour of the Postmodernist Village of Yorkville Park and other sites in Yorkville, a former bohemian enclave turned upscale shopping and residential district.
Further afield, tours of Glen Stewart Ravine and Park Drive Ravine highlighted the natural landscape that runs through Toronto, giving shape to its neighborhoods and providing important ecosystem services—the significance of which was demonstrated in 1954 when Hurricane Hazel led to disastrous flooding and resulted in the creation of the Metropolitan Toronto and Region Conservation Authority. Excursions to Don Mills, Lawrence Park, and Leaside provided background on Toronto's suburban neighborhoods and a tour of the Gooderham and Worts Distillery Complex illustrated how a formerly industrial district can be transformed into a thriving mixed-use nexus of commercial, residential, and entertainment establishments.
What's Out There Weekend Toronto was made possible through the generous support of the TD Friends of the Environment Foundation, the City of Toronto, the Ontario Association of Landscape Architects, and numerous other partners. Later this year, TCLF's What's Out There Weekend initiative, sponsored by Bartlett Tree Experts, returns to the U.S. with events in Denver in October and Austin in November. We hope to see you soon.