Save the Date – March 11-13, 2016, in Houston for Leading with Landscape

Save the Date – March 11-13, 2016, in Houston for Leading with Landscape
Save the Date – March 11-13, 2016, in Houston for Leading with Landscape


©
 William Tatham courtesy of SWA Group
Houston provokes the question "Can a city that has developed largely without a plan also be at the forefront of leading with landscape?" This will be addressed during a daylong conference, Leading with Landscape II: The Houston Transformation, on Friday, March 11, 2016, followed on Saturday and Sunday by What's Out There Weekend Houston, featuring free, expert-led tours of approximately 30 sites. Organized by The Cultural Landscape Foundation (TCLF) in association with local partners, these events will collectively demonstrate that Houston's transformation, led by landscape architecture, is worthy of local, national, and international attention.
The conference, which will be held in the Houston Museum of Fine Arts' Brown Auditorium Theater, will feature three consecutive moderated panel discussions. The first two panels will examine, respectively, completed projects and projects in the planning phases or under construction, assessing the influences of culture, history, and ecology in the evolving Houston cityscape. The final panel will provide a comprehensive appraisal of the projects and issues presented and assess their implications on city shaping. Participants in the first two panels include the following innovative and influential practitioners:
• Kinder Baumgardner: Managing Principal, and Scott McCready: Principal, SWA Houston;
• James Burnett: President, and Chip Trageser: Principal, Office of James Burnett;
• Jane Curtis: Director of Horticulture for the McGovern Centennial Gardens in Hermann Park;
• Mary Margaret Jones: President and Senior Principal, Hargreaves Associates;
• Jamie Maslyn Larson: Principal, West 8;
• Doug Reed: Partner, Reed Hilderbrand;
• Steven Spears: Partner and Principal, Design Workshop;
• Matthew Urbanski: Principal, Michael Van Valkenburgh Associates;
• Thomas Woltz: Principal, Nelson Byrd Woltz.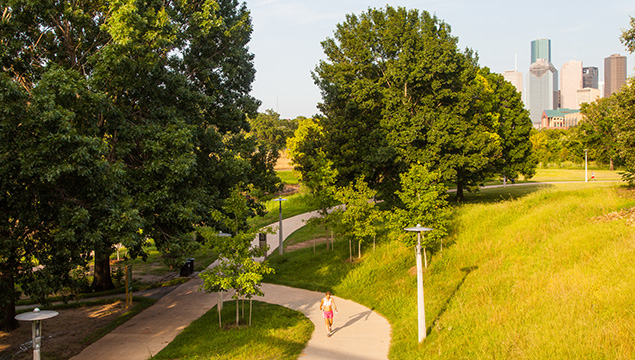 Sabine-to-Bagby Promenade. Photo © Barrett Doherty
History
Houston's highly urbanized landscape, encircled and traversed by ribbons of highways, is comprised of parks, university campuses, suburbs, and public open spaces spanning the Picturesque, Beaux-Arts, and Modernist styles amidst dense residential, commercial, and industrial enclaves. The city's first comprehensive plan was developed by Massachusetts-based landscape architect Arthur Comey in 1913. Three years later, the Houston Parks and Recreation Department was created to provide oversight for two parcels—the 20-acre Sam Houston Park, founded in 1889, and the 285-acre Hermann Park, donated to the City in 1914. A century later, the Houston Parks and Recreation Department now manages a network of parks and open spaces comprising more than 23,000 acres, including a portfolio of high-profile, recently completed projects and numerous others underway. The conference will illuminate the historical and ecological foundations of many of Houston's public open spaces while delving into the role that these new public landscapes will play in shaping Houston's future.
TCLF's Role
Over the past fifteen years, TCLF has organized numerous conferences that examine urban planning and landscape architecture. Two recent conferences, Second Wave of Modernism III: Leading with Landscape (Toronto) and Bridging the Nature-Culture Divide III: Saving Nature in a Humanized World (San Francisco), have taken multidisciplinary approaches to understanding the balance that exists  between the stewardship of natural and cultural resources and the evolving identities of urban areas. Conference attendees include landscape architects and allied practitioners, urban planners and related municipal officials, stewardship advocates, educators, and other interested parties. In developing the conference and related events in Houston, TCLF is working with, and has received support from, Lead Sponsors the Houston Parks Board and Uptown Houston; Presenting Sponsor the Houston Parks and Recreation Department; and Partner in Education, the Rice Design Alliance.
Many more details about this exciting event will be provided in early January 2016.
For more information about becoming a sponsor for the Leading with Landscape conference click here.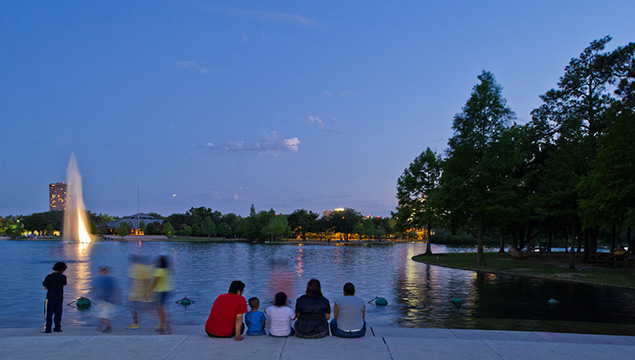 Hermann Park. Photo © Nash Baker