feature
Spring 2015 Updates on Landslide 2014
Since the October 2014 announcement of Landslide: Art and the Landscape there have been recent developments affecting several of the sites. Let's start with the good news first: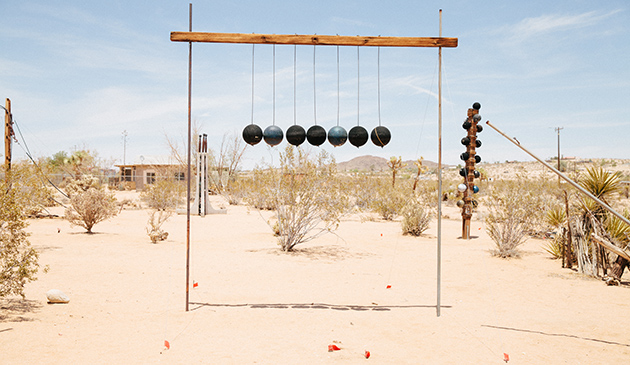 Noah Purifoy Outdoor Desert Art Museum of Assemblage Sculpture, photo by Liz Kuball
One of the single largest installations, the Bay Lights on San Francisco's Willie L. Brown, Jr. Bridge, was slated to permanently go dark this month. Though originally created as a temporary art project, the 1.8-mile long L.E.D. installation by New York-based artist Leo Villareal became an international sensation, its 25,000 lights creating constantly changing patterns (there was even a 24-hour Web cam that broadcast live over the internet). Following a successful campaign that raised more than four million dollars, it was announced the Bay Lights would be reinstalled in 2016, in time for Super Bowl 50 at Levi's Stadium in Santa Clara, following previously scheduled bridge maintenance.
The 156-acre Wells Petroglyph Preserve in northern New Mexico has been increased by 25 acres thanks to an acquisition by the Archaeological Conservancy. The Preserve features a collection of between 8,000 and 10,000 images carved and/or marked on stone – including representations of humans and animals – in the 36-square-mile Mesa Prieta, a section of the state estimated to contain nearly 70,000 individual petroglyphs, and 5,000 archaeological features, among them rock walls, fields, and terraces. 
In Des Moines, IA, Greenwood Pond: Double Site, a pioneering work of land art by Mary Miss, has been battered by bad weather, vandalism, and floods, and many of the work's wooden elements have long surpassed their life expectancy. Fortunately, the City of Des Moines has committed to providing $800,000 to remedy some of the problems and the Des Moines Art Center will invest $500,000 to replace the wooden structures.
Noah Purifoy, who created the Outdoor Desert Museum of Assemblage Sculpture in Joshua Tree, CA, is the subject of a new exhibition at the Los Angeles County Museum of Art (LACMA) Noah Purifoy: Junk Dada, on view from June 7, 2015 through February 28, 2016.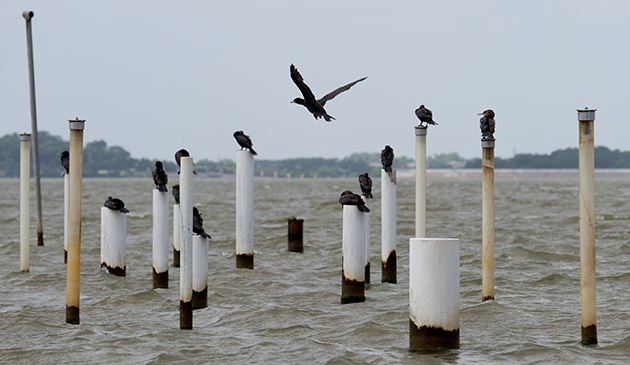 White Rock Lake Wildlife Water Theater, photo by Allison V. Smith
Unfortunately, all of the news is not good. The White Rock Lake Wildlife Water Theater in Dallas, by Texas-based sculptors Tom Orr and Frances Bagley, has suffered (along with other public projects) because the city cut its maintenance budget for public art. The estimated cost of restoring the work was approximately $200,000 and the city's Cultural Affairs Commission voted in February to deny the funding. However, the Commission is considering replacing the project with a new work by the artists.
The future of the Russell Page-designed garden at the Frick Collection is still uncertain. Procedurally, the New York Landmarks Preservation Commission must approve the museum's proposed addition, though a date for any hearing has not been set. Fortunately, a new exhibition at the Garden Museum in London is drawing greater attention to Page's life and career. The museum has recently secured a treasure trove of archival materials (including photos, drawings and planting plans) that had been stored at a private home in Belgium. Museum officials are currently looking through their news holdings for Frick related material.