The only founding woman member of the American Society of Landscape Architects in 1899, Farrand was born in New York City and studied horticulture and garden design under the tutelage of Charles Sprague Sargent, director of the Arnold Arboretum. Through her New York social connections, she received major estate commissions and quickly developed a reputation for her elegant, restrained style and rich architectural detail. Her thoroughness of approach and attention to detail was appreciated by such exacting clients as Abby Aldrich Rockefeller, whose garden at Seal Harbor, Maine, Farrand designed, and Mildred and Robert Woods Bliss, with whom she collaborated for 26 years on Dumbarton Oaks in Washington, D.C. Dumbarton Oaks remains her finest surviving work. Farrand is also recognized for her campus work, including Princeton and Yale.

Beatrix Farrand was one of America's most celebrated landscape architects, renowned for the private estate gardens she designed for East Coast society as well as her work as a landscape consultant at some of the country's most prestigious private universities and colleges. Dumbarton Oaks, the Abby Aldrich Rockefeller Garden (Maine), and the old campus at Princeton University are among her most visible masterpieces today. To this list several recent landscape restorations help enhance our understanding of this important early design professional.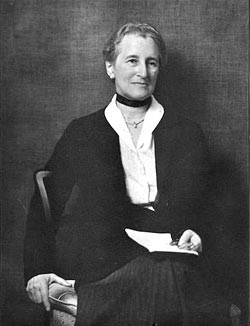 Variously hailed as "the Gertrude Jekyll of America" and "the doyenne of the profession," Farrand owed her success to her unerring eye for design, profound knowledge of horticulture, and deep commitment to her profession that inspired others to follow in her footsteps. She was influenced in particular by André Le Nôtre, whose grand parterres inspired many of her designs; William Robinson, who popularized naturalistic gardening; Gertrude Jekyll, who revolutionized the art of planting; and Charles Sprague Sargent, who first opened her eyes to horticulture and design. She was famous for her complex flower borders as well as her advocacy of native landscapes and plants, which she wove into a classical design framework. In her university work, she championed the concept of vertical gardening, pinning shrubs and climbers to walls to save space, and the selection of plants that would provide interest during the school term. Her landscapes always showed restraint, and many lasted as long as they did because of her vigilance about maintenance.
During her fifty-year career, Farrand received more than two hundred commissions, mostly from Old Guard families from New York, Philadelphia, and Boston. In addition to work for private clients, Farrand also established a landscape study center at Reef Point, Maine, where students benefited from demonstration gardens, a herbarium, and an extensive reference library that she had assembled over many years. Farrand's gift of her professional papers and collections to the University of California, Berkeley, in 1955 set a precedent among other landscape architects to similarly value their work. It is that collection of material that has enabled the continuing study of her career and inspired the restoration of several of her gardens.
Among Beatrix Farrand's few surviving gardens from her early period, two important designs—a small country garden for her Newbold cousins' retreat in Hyde Park, New York, and a magnificent public display garden in New York City—have recently been renovated and replanted. The Newbold garden had fallen into disrepair after the property was donated to the National Park Service in 1976, and it was not until nearly twenty years later that a volunteer group reclaimed it. The bones of the garden, including the stone walls, edging stones, and remnants of the long hemlock hedges were still in place, but the original plants and planting plans had long since disappeared. In 1912, Thomas and Sarah Newbold asked their cousin to design a simple, old-fashioned garden to complement the colonial-era house. Farrand's basic theme of an enclosed formal flower garden surrounded by an informal Robinsonian wild garden recurs in her later work on a grander scale, notably at Dumbarton Oaks. The restored garden is now part of the Roosevelt-Vanderbilt National Historic Sites.
In 1915, Farrand was asked to assist in designing a large rose garden for public enjoyment at The New York Botanical Garden. Up until that time, her commissions had included several residential rose gardens, but nothing on the scale envisioned by the botanical garden. Farrand followed the natural lines of the topography—a natural bowl formed by a former pond—to produce an asymmetrical triangular configuration of approximately one and a quarter acres, surrounded by iron lattice fencing. The project, a collaboration with the Horticultural Society of New York, reached the planting stage, but the fencing and ornamental features were not completed until 1985, when the garden was renamed the Peggy Rockefeller Rose Garden. In 2007, the garden underwent a major renovation that brought the collection of roses into the twenty-first century under the direction of a new garden curator, with 600 varieties of plants representing both historic and modern roses.
The recently renovated gardens for the Edward and Mary Harkness summer estate near Waterford, Connecticut, present an excellent example of Farrand's mid-career work. Now known as Harkness Memorial State Park, Farrand began her work here in the early 1920s, around the time she was working on Dumbarton Oaks, several Long Island estates, and campus consultations at Yale and Princeton. Some of the grounds had originally been laid out by Wayne E. Stiles of Brett and Hall. In addition to replanting the existing Italianate garden, Farrand created several new gardens, mainly an East garden with an Asian theme, an alpine rock garden, and a boxwood parterre. The garden restoration, which was initiated by a volunteer group, is now under the direction of the State of Connecticut.
Farrand's gardens at Bellefield, The New York Botanical Garden, and Harkness Memorial State park are all open to the public and provide insight into her diverse design skills. Her final legacy, however, is the ongoing restoration of a small, personal garden she designed for herself at Garland Farm, her last residence, in Mount Desert, Maine. After the loss of Reef Point in 1955, due to financial issues, Farrand moved to Garland Farm to spend the remaining years of her life. Now the headquarters of the Beatrix Farrand Society, Garland Farm is presently restoring her gardens—a formal flower garden and an Asian-inspired garden—as well as establishing the educational center with a library and archives that Farrand envisioned at Reef Point.
References
Judith B. Tankard, Beatrix Farrand: Private Gardens, Public Landscapes (The Monacelli Press/Random House, 2009). Read Press Release: New Book by Judith Tankard About Beatrix Farrand
Learn More
Beatrix Farrand Society, Mount Desert, ME
Beatrix Farrand Garden at Bellefield, Hyde Park, NY
Dumbarton Oaks, Washington, D.C.
New York Botanical Garden (Peggy Rockefeller Rose Garden), Bronx, NY
All Images courtesy the author. Banner Lover's Lane Pool, Dumbarton Oaks, Washington, D.C.