Stewardship Excellence Award: The City of Minneapolis
The Cultural Landscape Foundation (TCLF) has named the City of Minneapolis, Minnesota, as the recipient of the organization's 2019 Stewardship Excellence Award, citing the successful revitalization of the city's Peavey Plaza as a praiseworthy achievement deserving of recognition. The plaza officially reopened with a ribbon-cutting ceremony on Thursday, July 18, 2019, following years of work to rehabilitate the once-imperiled landscape.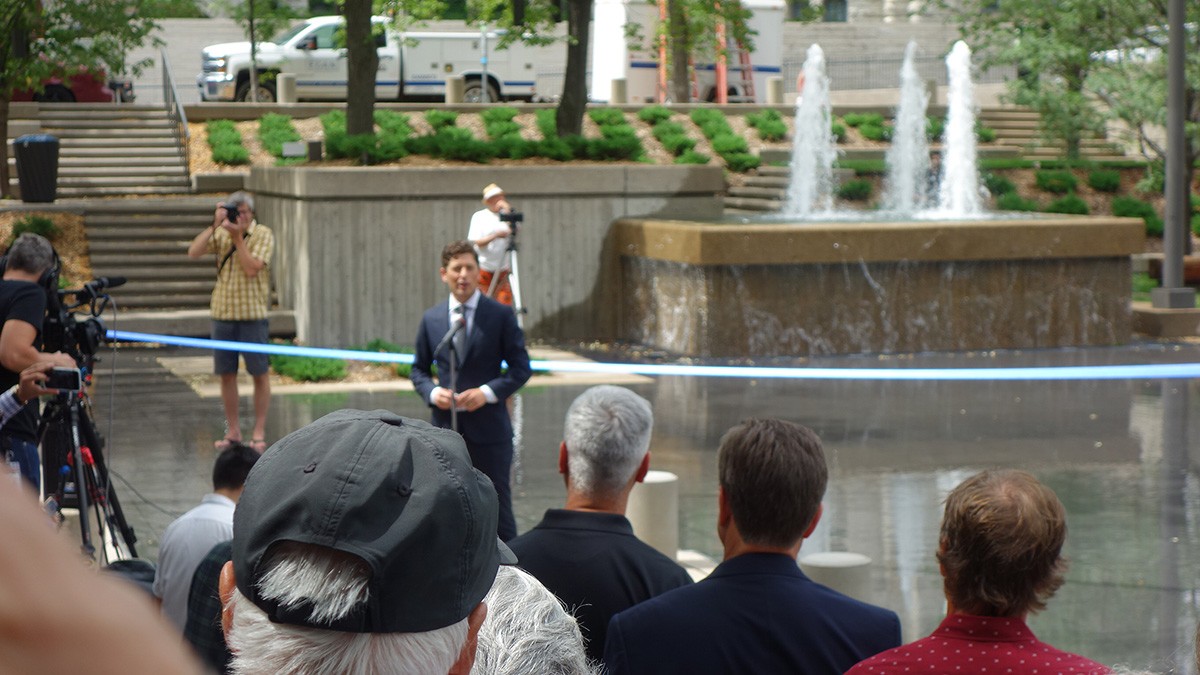 Peavey Plaza is the innovative park-plaza created in 1975 by celebrated Modernist landscape architect M. Paul Friedberg, who once described the two-acre site as "a mixture of the American green space and the European hard space." Although plans were announced in 2012 to demolish the plaza, which lies adjacent to the city's Orchestra Hall, the news quickly drew the attention of local and national advocacy organizations, including TCLF. Peavey Plaza was then listed in the National Register of Historic Places in January 2013. The city subsequently hired Coen + Partners to develop plans that meet the Secretary of the Interior's Standards for the Treatment of Historic Properties. With construction beginning in May 2018, the formerly dry fountains and other infrastructure were repaired, new trees, plantings, and lighting elements were put in place, and the plaza was updated to improve accessibility for the physically challenged.
TCLF's Charles Birnbaum announced the Stewardship Excellence Award in a letter to Mayor Jacob Frey on September 24, 2019, noting that while the efforts and advocacy of myriad individuals and groups supported the years of planning and work to rehabilitate the plaza, it was "ultimately the leadership and decision-making of the city's elected representatives that brought the project to fruition, rehabilitating a key public amenity and ensuring the survival of an historically significant, National Register-designated work of landscape architecture."
Birnbaum further noted that "the long-term success of the efforts to bring Peavey Plaza back to life lies in the fact that the work was rooted in principles outlined in the Secretary of the Interior's Standards for Rehabilitation, thus ensuring that both an historic designed landscape and a vibrant urban space would emerge in the end—one that retains the essential character of Friedberg's Modernist design while accommodating the needs of the physically challenged."
"In the larger context, the project also shows that the spirit and design intent behind great works of landscape architecture can be maintained while accommodating contemporary needs and uses," he added.