feature
May Flowers and Free Tours in Newport County
TCLF and all the partners and collaborators are truly to be congratulated on expanding everyone's knowledge base about the cultural and landscape assets, their layered histories, and challenges that enhance this uniquely scenic city. It was, indeed, a wonderful set of experiences to see these landscapes- some for the first time; some as renewed acquaintances- through various lenses. I learned so much in a most enjoyable way, through fog and damp or brilliant blue sky and sun.
– Arleyn Levee, Hon. ASLA, landscape historian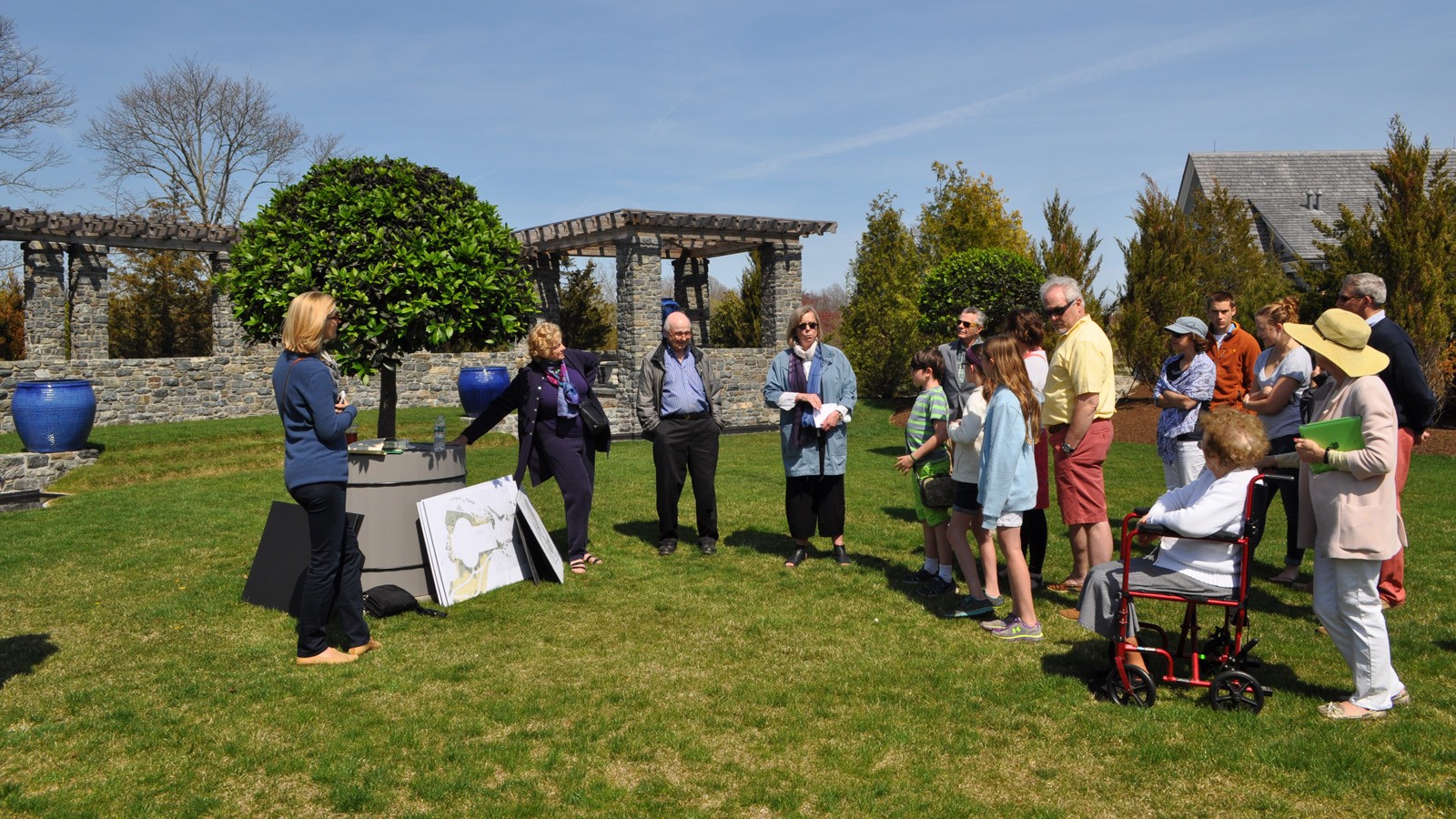 What's Out There Weekend Newport County ushered-in spring on Aquidneck Island with a breath of fresh air and a sigh of relief. After a year of planning and a long winter, Newport's magnolias and cherries were blooming, the Volvo Ocean Race had just landed at Fort Adams, and What's Out There Weekend provided more than two dozen free, expert-led tours of a diverse range of vernacular and designed landscapes across the county. City of Newport Building and Grounds Supervisor and Tree Warden Scott Wheeler said of the Weekend, "It was wonderful to work with TCLF on the preparation for the What's Out There Weekend because it was an opportunity to look beyond the individual properties I steward and to focus on the entire wealth of landscapes, architecture, and history Newport County is blessed with. The preservation of these assets are key to Newport County's economic health and this project is a great resource to support that effort."
Preparation for the event began last year with The Preservation Society of Newport County (PSNC) and the van Beuren Charitable Foundation providing crucial local support and guidance in the planning and presentation of the Weekend. PSNC provided two interns—Madeline Berry and Ellen Hassett—who visited Newport County's historic sites, vernacular landscapes, and designed spaces to document the diversity of types and styles prevalent on the island. These photographs and essays were added to TCLF's What's Out There database comprising more than 1,700 significant landscapes and provided the foundation for the development of the Weekend, proudly presented by Bartlett Tree Experts and numerous other partners.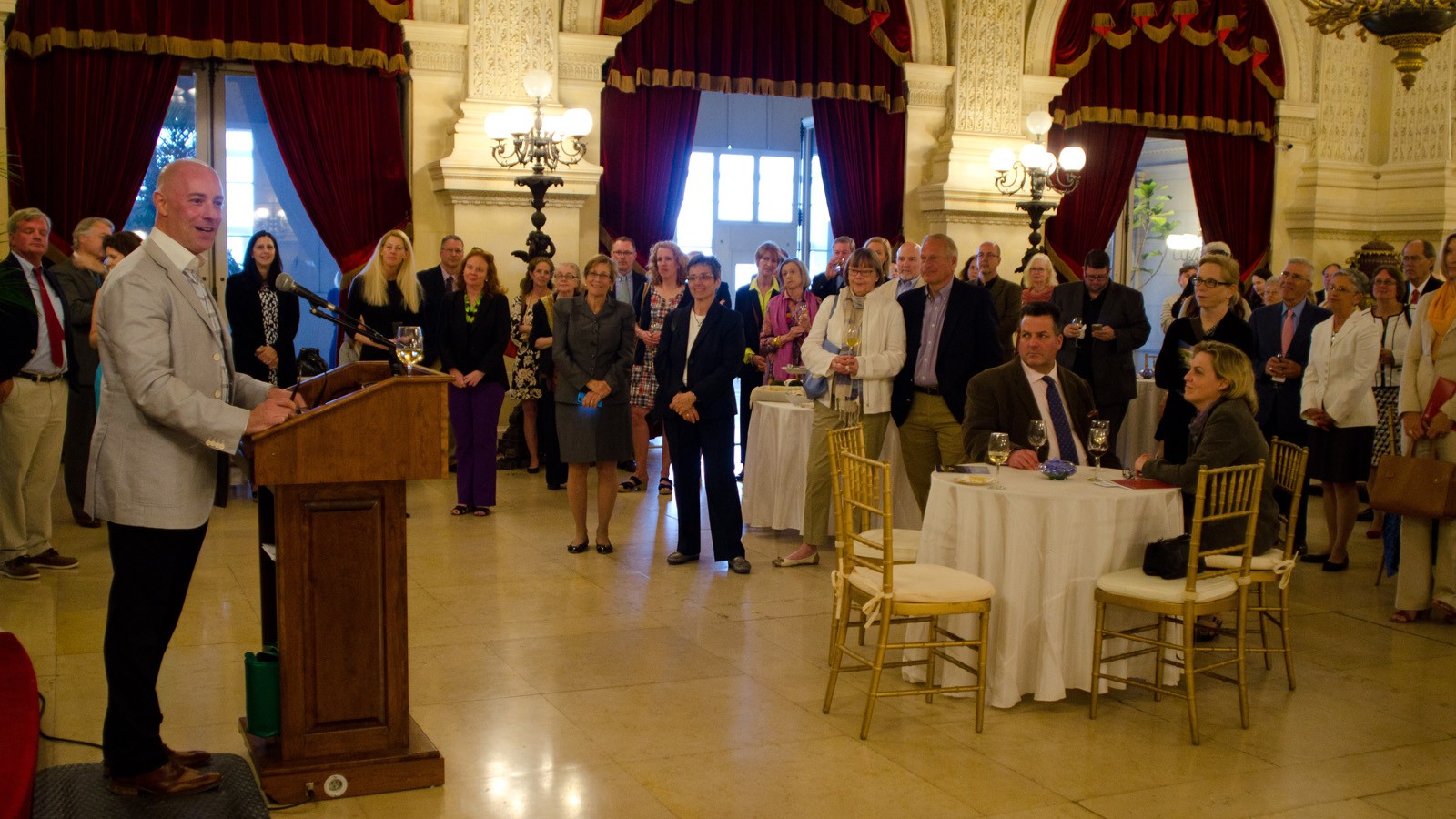 What's Out There Weekend Newport County kicked-off with a launch event sponsored by PSNC at The Breakers, a Gilded Age "cottage" on Bellevue Avenue designed for the Vanderbilt family in 1895 by Richard Morris Hunt and Ernest Bowditch. Now owned by PSNC and designated a National Historic Landmark in 1995, The Breakers came alive on Friday evening as more than 130 guests sampled wine provided by Weekend tour site Greenvale Vineyards. PSNC's CEO & Executive Director Trudy Coxe discussed the importance of collaboration in stewardship of Newport's unique heritage. TCLF's President & CEO Charles Birnbaum also talked about stewardship, reflecting on the importance of understanding the complex, multi-layered histories that comprise cultural landscapes.
A foggy Saturday morning commenced with a tour of Fort Adams, one of the largest and most complete nineteenth-century forts still standing in the country. Steve Marino of the Fort Adams Trust and Elena Pascarella, Principal at Landscape Elements, discussed the transition of the site in the 1970s from a military base to a State Park. Parade grounds were transformed into soccer and rugby fields and housing was removed to accommodate a diversity of recreational uses. Attendees were treated to a rare experience when Marino opened the gates to the historic "advanced redoubt," a stone fortress comprising a network of tunnels and ditches integrated into a constructed hillside designed to foil attacks from higher ground.
As the fog cleared, the Newport Historical Society provided a tour of colonial Newport that visited Trinity Church, the Touro Synagogue National Historic Site, and the Washington Square Historic District—the site of the natural spring that supplied early residents with drinking water. John Hirschboeck of the Cliff Walk Commission and Karen Beck of the Rhode Island chapter of the American Society of Landscape Architects led a tour of the northern section of the Cliff Walk, one that was repeated the next day under sunnier skies. Extending 3.5 miles and dating back to (at least) colonial fishermen, the Cliff Walk is a unique component of Newport's heritage, one that at once provides visual access to both the open sea and the Gilded Age mansions while also providing unique recreational opportunities. Frederick Law Olmsted, Sr.'s design for Rough Point at the southern extent of the Cliff Walk was featured in a tour at midday led by the Newport Restoration Foundation. Away from the cliffs, Ross Cann and Tanya Kelly led a capacity crowd on a tour of Bellevue Avenue and Memorial Boulevard, two of Newport's most important streets. Later in the day, Dr. James Yarnall presented a tour of Island Cemetery in Newport while Chuck Allott of the Aquidneck Island Trust and members of the congregation provided background on the cemetery and grounds at St. Mary's Episcopal Church in the agricultural land near Portsmouth. As fog descended again on Aquidneck Island, landscape architect Arek Galle of BETA Group described his firm's extensive and sensitive renovation of the abstract Portuguese Discovery Monument at Brenton Point.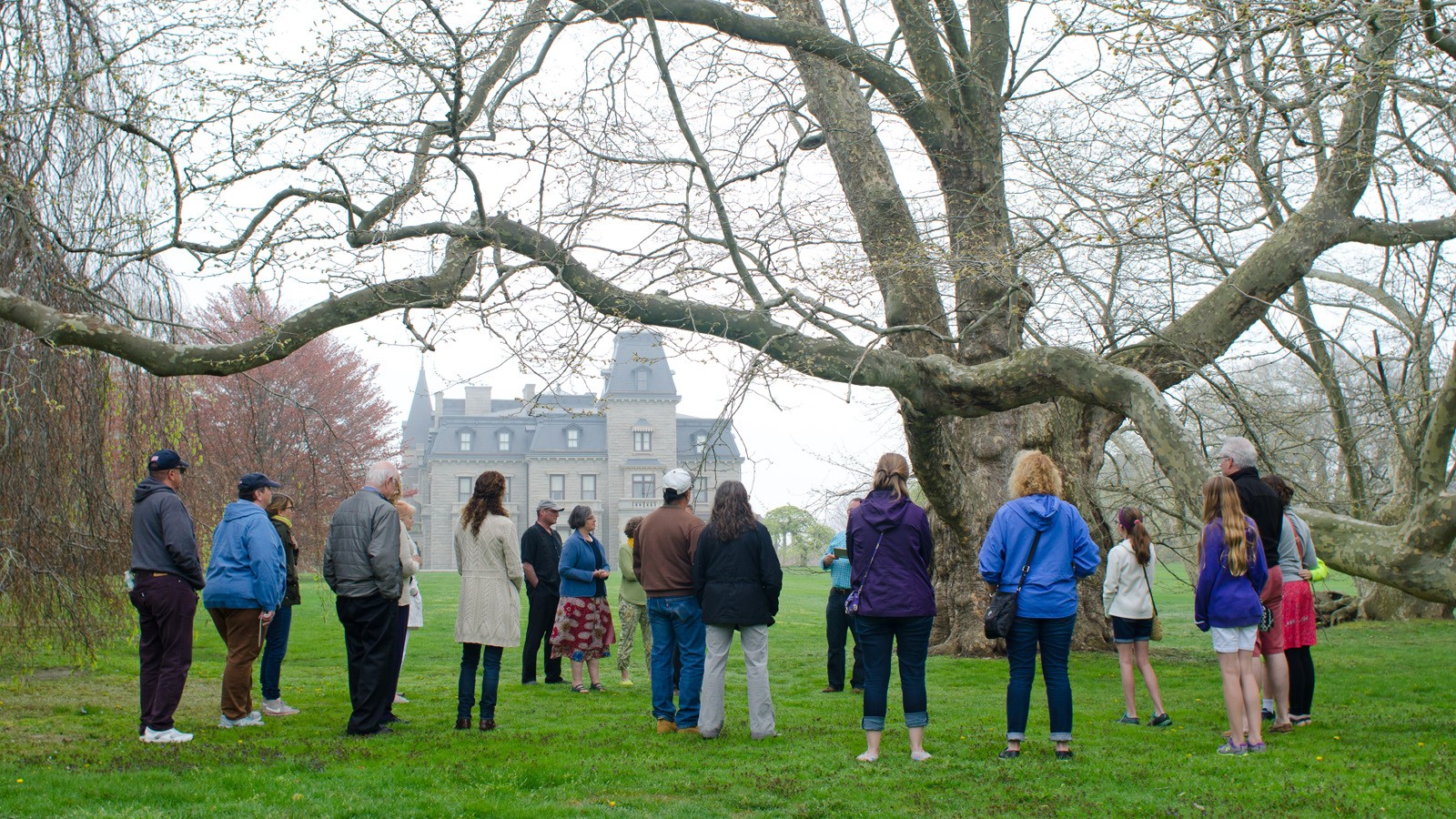 Sunday, warmer and sunnier, began with a tour of the Picturesque arboretum that envelopes Chateau-sur-Mer, designed by Ernest Bowditch, Olmsted Brothers, and others. PSNC's Curator of Historic Landscapes and Horticulture Jim Donahue described the challenges of maintaining the "castle-by-the-sea's" stately grounds, towering trees, and Sod Maze environmental art. Scott Wheeler brought participants through the densely wooded Miantonomi Memorial Park to the crown of Newport's highest hill. Once the seat of power for the Narragansett tribe, the hilltop now is graced by the 80-foot-tall fieldstone Memorial Tower completed in 1929 and designed by McKim, Mead & White to commemorate the 150th anniversary of the Battle of Rhode Island. Kaity Ryan, PSNC's Manager of Preservation Policy provided insights about the inspirational Paradise Valley at Sachuest Point and, a little later, Tanya Kelley led an excursion of the nearby Norman Bird Sanctuary. Sunday afternoon tours included the 125-acre campus of St. George's School, the vernacular landscapes at both Watson Farm (managed by Historic New England) and Prescott Farm (co-managed by the Newport Restoration Foundation and Rhode Island Master Gardeners), and (though technically just outside the Newport County boundary) the extensive display gardens and arboretum at Blithewold Mansion managed by Preserve Rhode Island. Keith and Theresa Stokes, founders of the 1696 Heritage Group, led a fascinating tour of the Common Burying Ground while PSNC's Director of Gardens and Grounds Jeffrey Curtis and architectural historian (and author of Eden of America) John Tschirch closed out the day with a well-attended tour of The Elms, a formal Beaux Arts landscape of terraces, gardens, and specimen trees.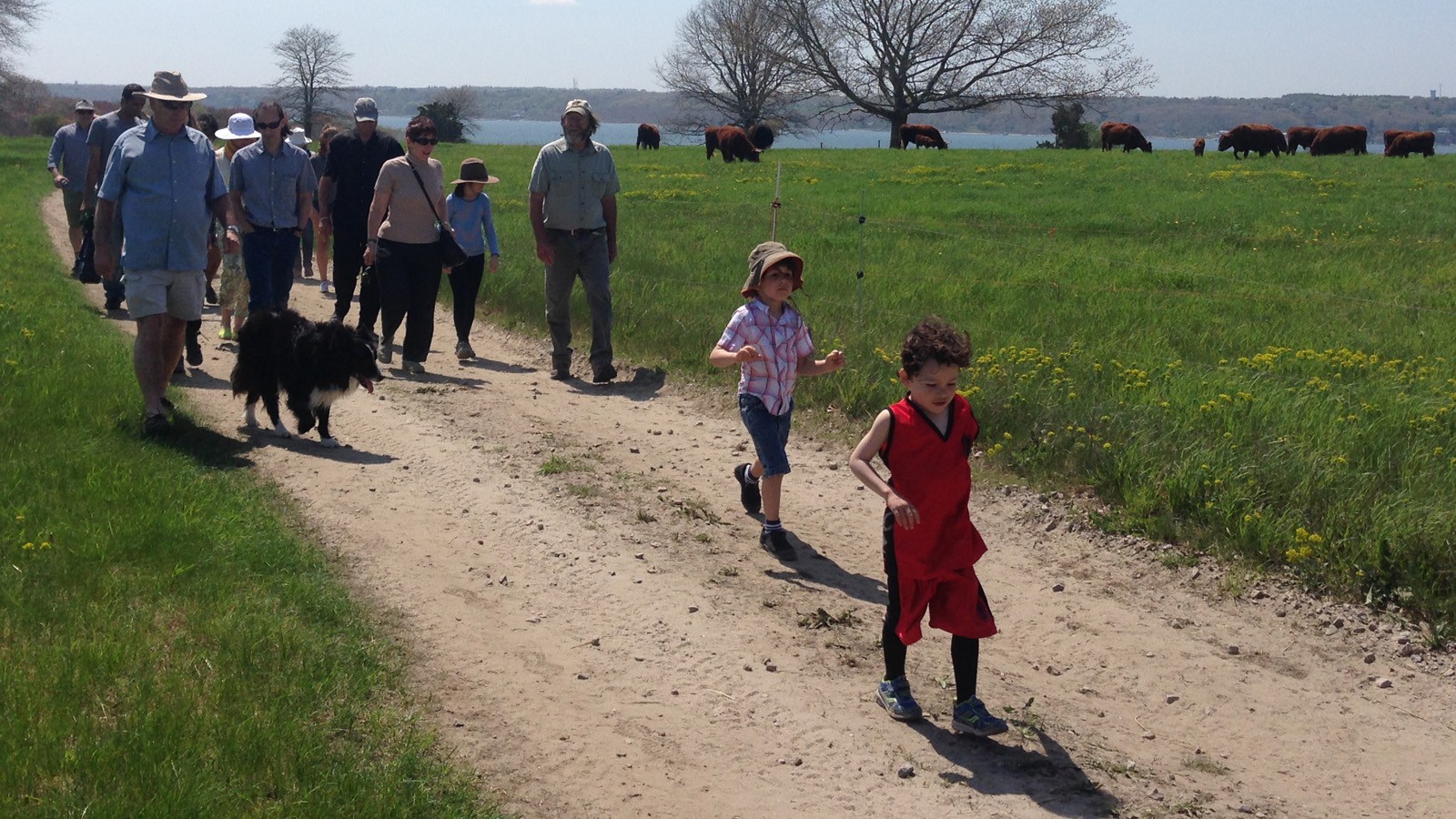 By all accounts, What's Out There Weekend Newport County was a tremendous success. Many of the free tours were completely booked and we hope to return to Newport again soon to for a Weekend redux. On behalf of The Preservation Society of Newport County, Kaity Ryan said "I am thrilled with the success of the Weekend and very proud of what we accomplished. Plus, it was fun! The Weekend has motivated our fellow Newporters in a really positive way. The outpouring of enthusiasm from our partners has been overwhelming and inspiring." 
TCLF will present What's Out There Toronto May 23-24 and, later this year, will host Weekends in both Denver and Austin. We hope you will join us for a future What's Out There Weekend.