feature
Race and Space: Revealing More Stories
The Cultural Landscape Foundation's (TCLF) Race and Space initiative, launched in 2020, is part of the broader national conversation about equity and racial justice and reflected in all the foundation's programming. Through What's Out There, Pioneers, Landslide, and the Cornelia Hahn Oberlander International Landscape Architecture Prize, TCLF is revealing and elevating stories of underrepresented landscapes, lifeways, designers, and more.
Supported by grant funding from the National Endowment for the Arts, TCLF has begun expanding the What's Out There database to add cultural landscapes and designers representing marginalized  communities. The database currently includes more than 2,500 sites, 1,100 biographical entries, and 12,000 images. Among the entries are some three dozen newly-added landscapes associated with Black, Latino, Native peoples, and other underrepresented populations, and pioneering designers like Hilyard Robinson, Edward Lyons Pryce, Anne Spencer, and more.
TCLF has partnered with leading experts (including Everett Fly, FASLA), landscape architecture firms, and students to research potential new database entries. TCLF worked closely with interns from Design Workshop's offices in Aspen and Denver, Colorado, to begin expanding the Denver guide. Interns received an introduction to the What's Out There database and a tutorial on TCLF's style guide before conducting scholarly and on-the-ground research. By encouraging the next generation of practitioners to engage with the layered social and cultural histories of the landscapes they encounter, TCLF hopes to foster a growing conversation about Race and Space within the discipline. More broadly, information about these historic cultural landscapes and their creators enriches the public's knowledge about our shared legacy and empowers site advocates and stewards.
In late 2021, TCLF released Landslide 2021: Race and Space, a report and digital exhibition focused on thirteen relatively unknown, but nationally significant cultural landscapes associated with African Americans, Hispanic Americans and Native peoples that are threatened and at risk. The threats range from lack of recognition, insufficient funding and deferred maintenance to outright erasure. Landslide 2021 features an introduction, commonly associated characteristics, illustrated histories with contemporary and newly commissioned photography, the threats posed, and Landslide Conversations comprised of eighteen richly illustrated short video interviews with historians, kin-keepers, and other commentators. All of the publicly accessible sites featured were added to the What's Out There database. Local and national coverage generated by the report catalyzed major advances for many of the sites, including Richmond, VA's Shockoe Hill African Burying Ground, which in 2022 was designated a Virginia Landmark and listed in the National Register of Historic Places. And plans for renewing Pensacola, FL's, Carpenter Creek, another Landslide 2021 site, have recently gotten a boost.
TCLF is also working with local advocates to prevent the Hiawatha Golf Course, which is significant to the African American community in Minneapolis, MN, from being reduced to nine holes from its historic eighteen-hole configuration. This advocacy includes getting the site listed in the National Register of Historic Places.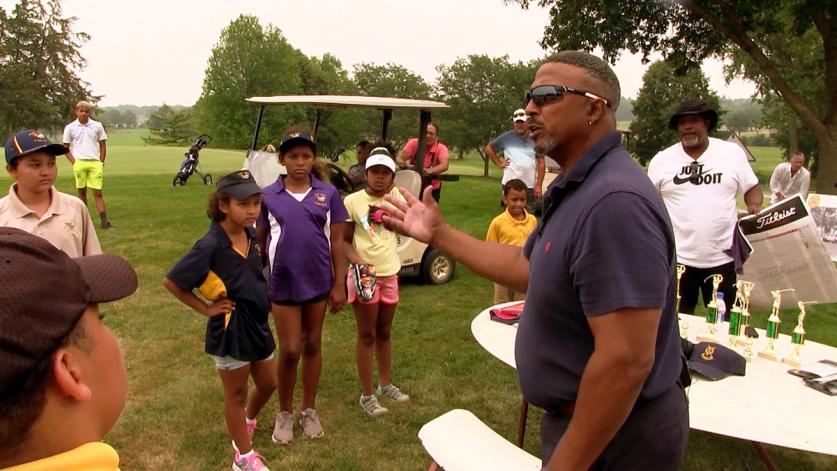 In Spring of 2022, TCLF launched Race and Space Conversations, a series of virtual dialogues centered on creating a spatial practice for a more equitable and just society. The wide-ranging discussions between kin-keepers, landscape architects, and activists, introduced hundreds of attendees to significant cultural landscapes in Colorado, Minnesota, Florida, New York, North Carolina, and elsewhere. Deeply personal stories and reflections, along with trenchant observations and perspectives from practitioners, engaged with issues including the right to occupy and enjoy public space and the need to reveal unspoken histories that continue to shape America's cultural landscapes. Two Race and Space Conversations are available to view in full on TCLF's YouTube page. To find out about the next Race and Space Conversation coming in Spring 2023, subscribe to TCLF's newsletter.
TCLF's Oberlander Prize Forum II: Landscape Activism conference, one of the public engagement activities associated with the international Oberlander Prize, featured a diversity of participants who emphasized the role of landscape architecture and design as a means of realizing equity and inclusion. Keynote speaker Jane Edmonds drew on her experience in politics and civil rights work to probe the political, social, cultural, and economic meanings of race. Panels featured dynamic speakers who explored topics such as landscape as a medium for healing and community-focused sustainable design practices. Richly edited videos from the conference will be available in early 2023 for viewing on TCLF's YouTube page.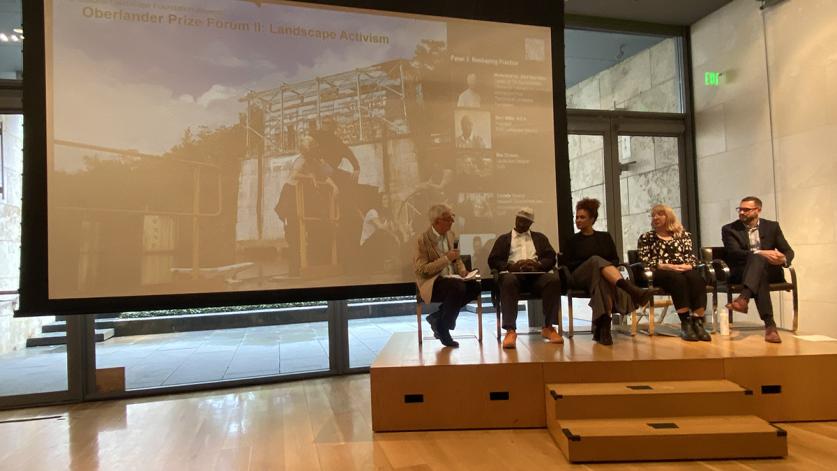 In addition to these focused efforts, TCLF incorporated the Race and Space initiative into its annual season of events by increasing the visibility of underrepresented cultural landscapes in Washington, D.C., and St. Louis and the Missouri River Valley, where TCLF hosted its What's Out There Weekends of free, expert-led tours in June and September of 2022, respectively.
For generations, our cultural landscapes have served as the setting for the origins, arrival, movement, and settlement of people in this country and the brutal consequences of the baseless assertion that one race is more entitled to space than others. Now, we find ourselves in a pivotal moment of reckoning with spatial inequities and reimagining our built and natural environment. In 2023 TCLF looks forward to creating even more opportunities to collaborate on educating, engaging, and advocating for underrepresented cultural landscapes, designers, and lifeways.